Commentary: VP choice not that big a deal for voters
Endy Bayuni

The Jakarta Post
Jakarta |

Mon, August 13, 2018

| 08:33 am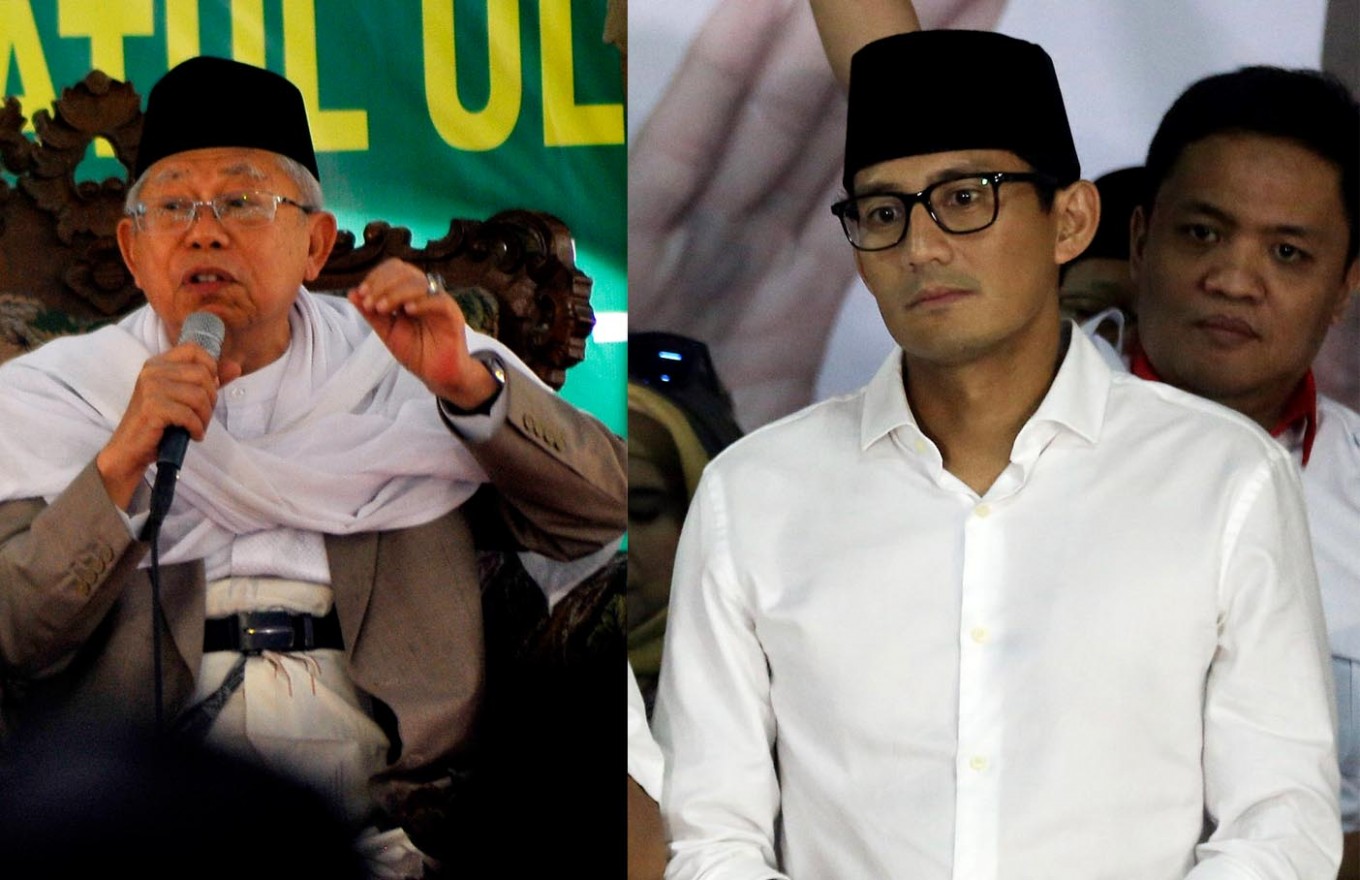 Vice-presidential candidates Ma'ruf Amin (left) and Sandiaga Uno. (Antara/ Asep Fathulrahman/JP/ Dhoni Setiawan)
Why is everyone making such a big deal out of the running-mate choices of Joko "Jokowi" Widodo and to a lesser extent of Prabowo Subianto? The real contest as far as voters are concerned, come April 17, is between the two presidential candidates.
Rarely did voters make their choices because they liked or disliked the VP candidate. Lest we forget, once in office, a VP will just be a "spare tire" to be used at the president's convenience.
How much of an influence or power a vice president enjoys is ultimately determined by the president and by his working relationship with his deputy. Ask past and present vice presidents. They were always the number two. Maybe even a distant number two.
Incumbent Jokowi on Thursday came under a lot of criticisms for his choice of Ma'ruf Amin, the chairman of the Indonesian Ulema Council (MUI) who has some questionable track records on religious tolerance. On a much lesser scale, challenger Prabowo, too, was attacked by his supporters for opting businessman Sandiaga Uno. He, too, if elected, will not become numero uno.
A quick glance at the role of Jusuf Kalla, current VP to Jokowi, could shed light on just how powerful, or not, the number two job in the country is.
Kalla, who like Ma'ruf was imposed on candidate Jokowi against his will in 2014, turned out to have served him well in the campaign, particularly in the three presidential debates, and in no small measure contributed to the election victory.
Once in office, Jokowi gave Kalla all the ceremonial functions but completely cut his deputy off from the daily grind of palace power-play, including in the three Cabinet reshuffles made in the first two years of his presidency. There were even times when their relations were strained and their differences exposed in the media.
Kalla was brought back into the center of power in late 2016 when Jokowi needed help to fight the 212 Movement launched by Muslim conservatives to shake and undermine his presidency. Kalla, who is close to the Muslim conservatives, did a great job. But his power was still limited by how much Jokowi allowed.
The 75-year-old Ma'ruf, who had a hand in the 212 Movement, will likely find his influence confined to what functions the President assigns him. Like Kalla, he will find Jokowi using him when it is convenient, but keep him at bay when not.
Any concerns that Ma'ruf will have such a huge influence on Jokowi's policies are just hyperbole. Jokowi's records on human rights, tolerance and freedom (speech, religion, association, etc…) and on almost all issues are his alone to set. Any shortcomings on his part will be pinned down on him and not on the VP.
Can we seriously blame Kalla for the shortcomings of Jokowi's first-term presidency? On the economy? On religious tolerance? On freedom and democracy? Hardly. The President takes all the credit as well as all the blame.
Understandable, many people are angry at Jokowi's choice of Ma'ruf. Traditional supporters in the Indonesian Democratic Party of Struggle (PDI-P) are angry and friends in civil society organizations have denounced him.
But Muslim conservatives are even furious at Jokowi for having effectively defanged the 212 Movement. They are also angry at Prabowo for defying their demand to pick an ulema for his running mate. There sure was a lot of angry people this weekend.
Social media amplified and lengthened the anger. Everyone wants to say their piece. The stronger their denouncement, the more likely their opinion will go viral. Some are talking about boycotting the election or about giving their votes to the other camp.
But that's the beauty of free speech and free and democratic elections.
Since voting is voluntary (although registration is mandatory), it is not uncommon for people to sit out elections; in 2014, more than 30 percent of registered voters did. They did so for many reasons. Some took advantage of the national holiday on voting day, thinking their voters mattered not; others did it out of apathy, and some because they were unhappy with the limited choices of candidates or even with the electoral system.
It is against the law however to advocate others to boycott the elections. Social media users, watch what you post.
Sooner or later, the nation has to get back to the real issues in the presidential election.
Voters need to know the personality, characters, background, leadership and managerial skills as well as the track records of the presidential candidates, and not so much of the running mates.
The running mates made the trending topics on social media this weekend. But we should not misplace our focus. The nation will be voting for a president, not a vice president.
Topics :
Join the discussions