China's Belt and Road Initiative and Indonesia's financial security

Jakarta |

Mon, October 1, 2018

| 01:45 pm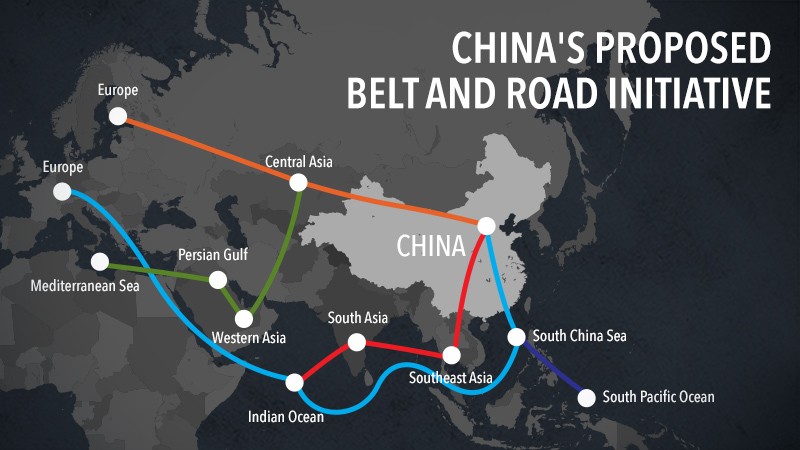 China-proposed Belt and Road Initiative (China Daily/File)
Indonesia has been a reluctant participant in China's Belt and Road Initiative (BRI), but as the country's financial insecurity becomes increasingly apparent we can expect to see greater interest in the BRI.

Indeed, financial insecurity is especially pertinent given the country's recent economic woes. The rupiah is among the world's worst performing currencies, down almost 9 percent this year despite the country's good macroeconomic fundamentals.

Partly responsible for this, as argued by Bloomberg columnist Shuli Ren, is the nature of Indonesia's creditors. Since President Joko "Jokowi" Widodo took office in October 2014, the amount of government rupiah bonds outstanding doubled to Rp 2.3 quadrillion (US$158 billion), almost 40 percent of which are owned by foreigners.

This creates an overreliance on hot portfolio money, and when emerging markets are in turmoil, such as in Argentina and Turkey, global fund managers indiscriminately pull their money out of other middle-income countries like Indonesia, putting pressure on their currencies.

What's more, the struggle to diversify and source finance for Jokowi's $355 billion infrastructure drive has left state-owned enterprises (SOE) unsustainably bearing the brunt of its costs.

Combined with the sharp decline of the rupiah, financial pressures meant the 2019 state budget saw a lowly 2.4 percent increase in infrastructure spending, the smallest increase since Jokowi took office, while $25 billion worth of power plant projects have recently been put on hold.

There is clearly a need for a long-term rethink on financial security, which will be enhanced if the country can secure greater access to finance and, crucially, diversify its source.

This is where the BRI becomes of increasing interest. Indonesia can tap into a huge pool of savings to finance projects that otherwise might not be built or would have taken longer to build. Moreover, the BRI offers a new source of finance that is unlikely to be suddenly withdrawn. The initiative is Chinese President Xi Jinping's signature foreign policy, and he was reelected for five more years in October 2017.

All is not rosy, however. This new source of finance is underpinned by Chinese economic statecraft, described by Brussels-based academic Ramon Pacheco Pardo as China's use of economic inducements to gain influence in target countries.

Countries such as Sri Lanka have been forced into debt-for-equity arrangements, with China taking over operations at the $1.5 billion Hambantota Port, which it helped finance and build, after the government struggled to repay its debts.

Meanwhile, the new Malaysian government has halted $22 billion-worth of BRI projects, and Prime Minister Mahathir Mohamad, speaking in Beijing on Aug. 20, accused China of securing influence via debt-funded infrastructure schemes that recipient countries could not afford, bluntly warning China against "a new version of colonialism".

Unsurprisingly, public suspicion of the BRI is prevalent, which is not entirely unfounded. Certainly, Indonesia's reluctance in the BRI is largely because of political rather than economic considerations.

The government often struggles to manage anti-Chinese sentiment, which has boiled over with news going viral, although grossly exaggerated, of the large number of Chinese on tourist visas working illegally on China-funded projects in Morowali, Central Sulawesi.

Yet, despite these caveats, the reality is that finance, especially that directed by a state, is never apolitical.

Indeed, United States Secretary of State Mike Pompeo announced in July a meager $113 million "down payment" on an Indo-Pacific investment fund. Pompeo superciliously stated that "the United States does not invest for political influence".

But Pompeo's statements draw skepticism, especially in light of Trump's America First policy. The very notion of the funds being a down payment suggests that if US economic statecraft does not get its return on investment, measured by political influence, further funding may not be forthcoming.

The fact remains that Indonesia needs to attract finance for its own financial security and national interests. The country must therefore find a balance where projects are financed under a mutually beneficial relationship that does not discriminate against Chinese money, especially when such discrimination is based on suspicion, or frankly racism, rather than strategic calculation.

To ensure BRI investments flow equitably, both politically and economically, it is crucial that China and Indonesia institutionalize a common understanding on normative differences through an investment agreement, which covers at a minimum labor standards, procurement, transparency and competition policy.

In emphasizing the importance of an agreement, it helps to get a sense of how BRI projects are developed. Many assume that the BRI is meticulously planned, an impression that China also likes to promote.

In truth, as reported by Singapore-based academic James Crabtree, BRI projects are much more chaotic and often emerge from below, devised by local politicians working with Chinese-backed companies and banks.

This kind of improvisation is dangerous and partly responsible for the debt trap countries find themselves in, while creating rent-seeking opportunities for local elites. An investment agreement and centralized screening process is thus necessary to mitigate risk and enforce mutually agreed norms.

Negotiations will not be easy, as seen when China and the European Union concluded a 15th round in October 2017 without agreement. Differences remain in transparency, sustainable development and the role of SOEs, issues that will be relevant for Indonesia.

But getting negotiations off the ground will signal to all stakeholders that norms and mutual understanding do matter. The absence of this will only lead to more friction and slow the implementation of potential projects. An agreement will also help China rebut criticisms that the BRI's true intention is to ensnare countries in debt traps.

If the government is to be successful in selling BRI projects to the public, it must highlight that Chinese funding is functional for improving the country's financial security and complements national interests.

Crucially, BRI funding should be a component of diversified finance, as diversification is key to financial security and will serve to hedge against the currency and project instability that we see today.
***
The writer is an emerging markets observer based in Jakarta and a former student of Ramon Pacheco Pardo. The views expressed are his own.
Disclaimer: The opinions expressed in this article are those of the author and do not reflect the official stance of The Jakarta Post.
Topics :

Join the discussions