Bali warns Uber, Grab drivers in traffic operation
Ni Komang Erviani

The Jakarta Post
Denpasar |

Thu, April 7, 2016

| 10:54 am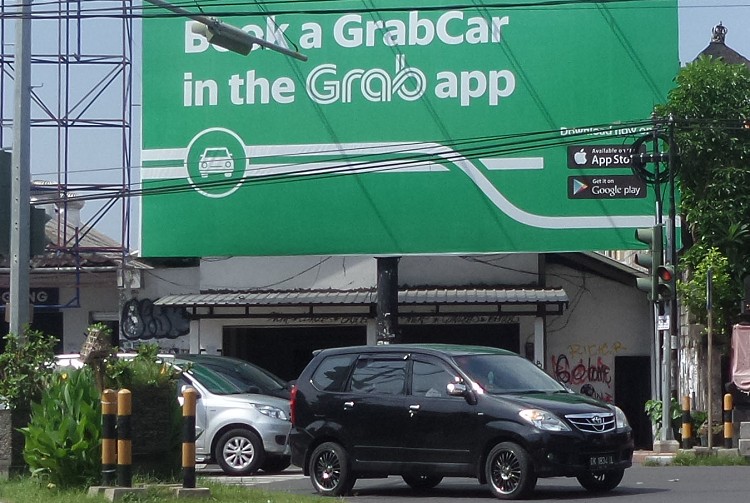 Vehicles pass a billboard advertising Grab on a street in Denpasar, Bali, on Thursday (thejakartapost.com/Ni Komang Erviani)
The Bali Transportation Agency has issued warning letters to drivers operating under ride-hailing apps Uber and Grab following the administration's ban on the transportation services.
More than 40 drivers were found to be operating under Uber and Grab during a traffic operation on Monday, agency traffic division head I Ketut Suhartana, who led the operation, said.
"We gave them warning letters and reminded them that Uber and Grab are banned in Bali," he said on Thursday.
A gubernatorial decree ordered a temporary ban on Uber and Grab until both services obtain the necessary permits to operate legally on the resort island.
During the operation, an agency team ordered Grab and Uber cars through their respective apps. "When they arrived, we checked their documents and gave them the warning letters," Suhartana said.
The cars are deemed legal for having rental car transportation permits; however they are not licensed to offer public transportation services.
The administration will continue the operation until the app-based firms acquire the necessary permits, Suhartana said.
Uber and Grab have been at the center of debate follow protests by conventional taxi drivers, who blame them for their dwindling incomes. The central government said that it would not ban the apps but would work on formulating regulations they would be required to comply with. (rin)
Topics :
You might also like :
Comments