Govt. readies moratorium on palm oil, mining permits
Ayomi Amindoni

The Jakarta Post
Jakarta |

Thu, April 14, 2016

| 06:14 pm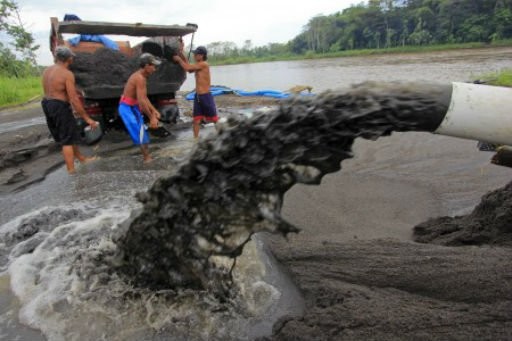 Men use a diesel pump to extract sand from Progo River in Pajangan, Bantul, Yogyakarta. (Antara/Herka Yanis Pangaribowo)
The government is preparing a moratorium on the issuance of new permits for oil palm plantations and mining operations.
"[We] are preparing a moratorium on palm oil and on mining areas," President Joko "Jokowi" Widodo said in Jakarta on Thursday.
Jokowi explained that the existing oil palm land was considered sufficient and that production capacity could be increased by maximizing the existing potential."As long as the seeds are of good quality, the production can be doubled," he went on.
The President also said there would be no permissions for mining companies to clear land for expansion. "We will not allow the overlapping of mining concessions and forest conservation areas to happen again," he added.
The announcement follows the recent introduction of Presidential Instruction No. 8/2015 on a permit moratorium and tighter governance of primary forests and peatlands, which has been in effect since May 2015.
Indonesia was a country rich in biodiversity and home to the world's third largest forest area, which made it the lung of the world, Jokowi said, calling on all parties to protect the environment.
In reaction to global expectations for Indonesia to maintain its natural wealth, the government has launched a nationwide initiative to preserve wild plants and animals.
The release of 200 Hawksbill turtle hatchlings, four adult Hawksbill turtles and 200 birds in Karya Island, Thousand Islands regency, Jakarta, on Thursday marked the start of the national movement.
The preservation of nature was not merely about planting trees, but should be seen as a preservation of the whole ecosystem, including all the species of plants and wildlife, the President stressed.
"The national movement to save wildlife is Indonesia's answer to the world's demands to be the lung of the world," Jokowi said at the launching ceremony.
The movement is part of the UN's International Day of Forests.
In addition to releasing the animals, the President also oversaw the transplanting of 1,000 specimens of corals and sea grass and the restoration of mangrove forests through the planting of 5,000 mangrove seedlings.
International Day of Forests on March 21 aims to raise awareness on the importance of forests and trees.
Based on a 2012 UN resolution, member countries are expected to promote the important role of forests and trees.
The 2016 theme for International Day of Forests is "Forests and Water, Sustain Life and Livelihoods". (bbn)
Topics :
You might also like :
Comments