Jokowi warns of illegal levies in land certification
Ganug Nugroho Adi

The Jakarta Post
Surakarta |

Mon, October 17, 2016

| 03:44 pm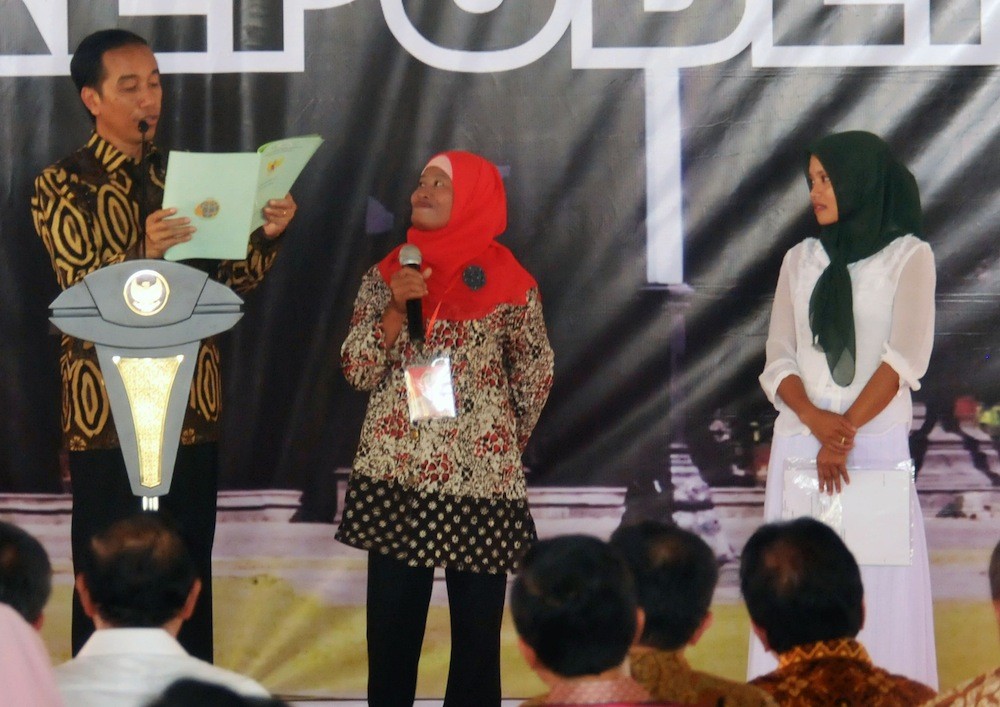 President Joko "Jokowi" Widodo gives 3,515 land certificates to people in Surakarta, Central Java on Oct. 16 as a symbolic gesture to encourage better land certification in Indonesia. (JP/Ganug Nugroho Adi)
President Joko "Jokowi" Widodo handed over 3,515 land certificates to people living in 15 regencies and municipalities in Central Java over the weekend in Surakarta, Central Java as part of the 2016 national strategic program.
Jokowi said on the sidelines of the ceremony on Sunday that the thousands of certificates he handed over was a symbolic gesture to encourage better certification for residents.
He said the national program for certification had been running since long before he became president. But up until now, only 44 percent of land in Indonesia had certificates, meaning that the government had a backlog of about 60 million certificates.
"Next year, I want 5 million more, the next year, 7 million, and the next, 9 million. I want the government to give certificates to people every day. I will monitor it closely, and remember, no illegal fees asked," he said.
He said the illegal fees were not about the amount of money but about "good habit, good and efficient working culture." He said when he was the mayor of Surakarta, he received many complaints from the people about red tape in the certification process and the practice of illegal fees collection.
The President said he had formed a team called Tim Saber Pungli (Eradication of Illegal Fees Team), which had a mandate to deal with corruption and illegal fees.
"It's probably only Rp 10,000 [76 US cents]. But if it is prolonged it will become trillions of rupiah," he said. "Let the Corruption Eradication Commission deal with big fish, but petty corruption, let me handle them," Jokowi said. (evi)
Topics :
You might also like :
Comments