A review of the 2016 Indonesian news
Devina Heriyanto

The Jakarta Post
Jakarta |

Wed, December 21, 2016

| 03:58 pm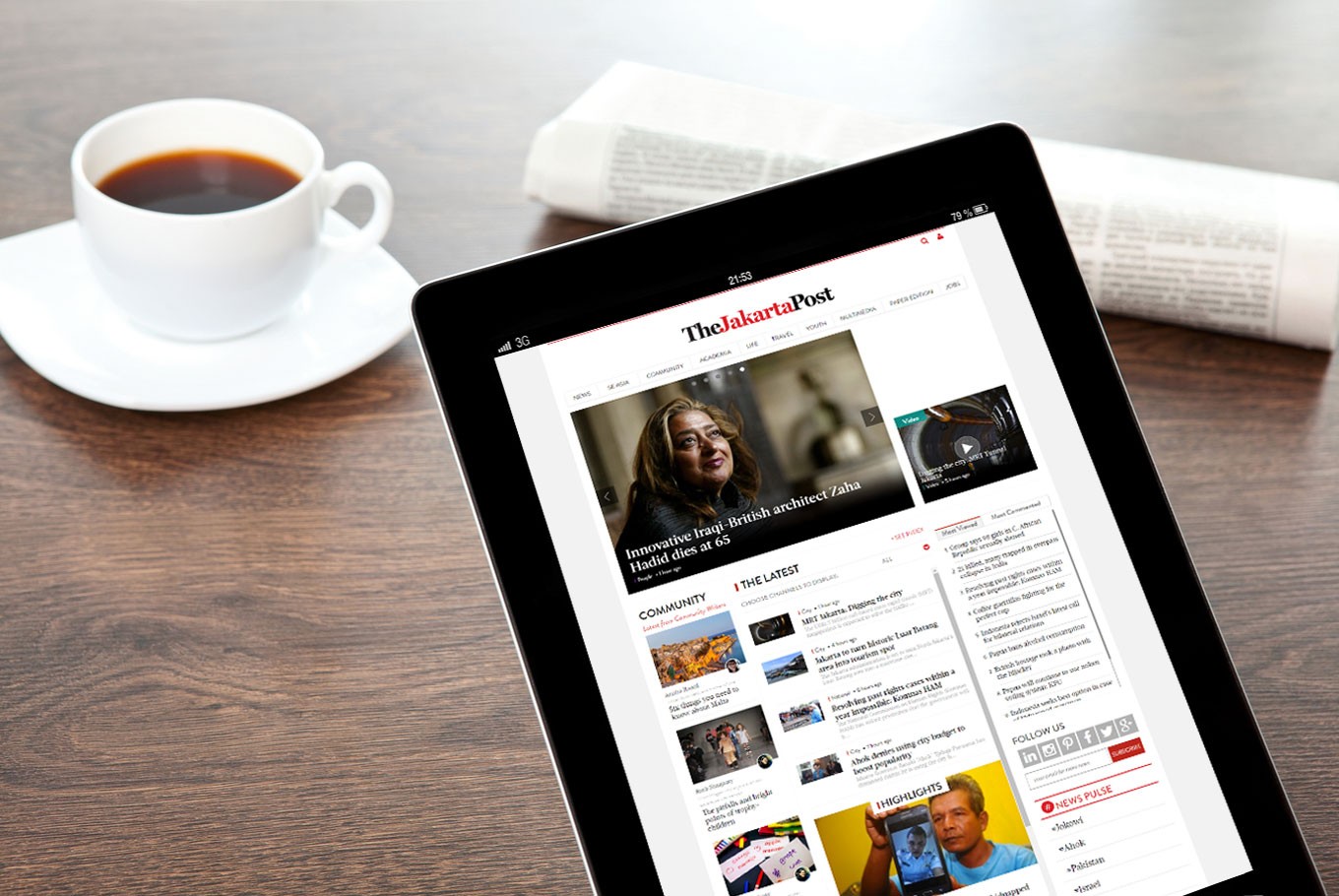 The Jakarta Post launched a new website on April 1, 2016. (Shutterstock/File)
A country is only as good as what is happening inside. The Jakarta Post reflects on 2016 and finds a year riddled with intolerance and oppression of minorities. This year also includes the government, reaffirming the country's sovereignty through military and drug policies, along with tax amnesty.
Here are some major things that happened this year:
The nation was shocked by a murder case, which began at an upscale restaurant in Central Jakarta. The murder investigation would spiral out of control in the following months through social media and live-broadcast trials. The following week, Jakarta was bombed by Islamic militants - the first assault after years of peace in the capital. Technology, Research and Higher Education Minister Muhammad Nasir stated that members of the lesbian, gay, bisexual and transgender (LGBT) community should be banned from university campuses.
In a move to nurture investment, the Indonesian government launched its 10th economic policy package containing the revised negative investment list (DNI). As many as 35 sectors are now open for foreign business and 20 have closed. The coffee murder case continues, as police scrutinize the WhatsApp conversation between Mirna, the victim, and alleged murderer Jessica. Sentiments against LGBT increase as Indonesian psychiatrists label LGBT as a mental disorder.
A powerful, shallow earthquake hit off the southwestern coast of Sumatra on March 2, triggering a tsunami warning that sent islanders rushing to high ground. Indonesian illegal fishing task force was involved in a maritime incident with China in the Natuna Sea, increasing diplomatic tension between the two countries. The country's education system was brought under question after a study found that Indonesia's literacy rate ranks second lowest among the 61 countries surveyed.
Indonesia's war on drugs continues as Singaporean citizen Mohammad Noh Bin Abdul Salam was arrested for bringing drugs to Bali for his 33rd birthday party. Suspicion arose that he was part of a drug ring that aimed to test the security at the Bali airport. In international politics, Indonesia rejected Israeli Prime Minister Benjamin Netanyahu's call for official bilateral relations, an affirmation of the country's support for an independent Palestine.
The Jakarta Post launched a new website on April 1, with several new features including longform articles. Read our first story, MRT Jakarta: Digging the city.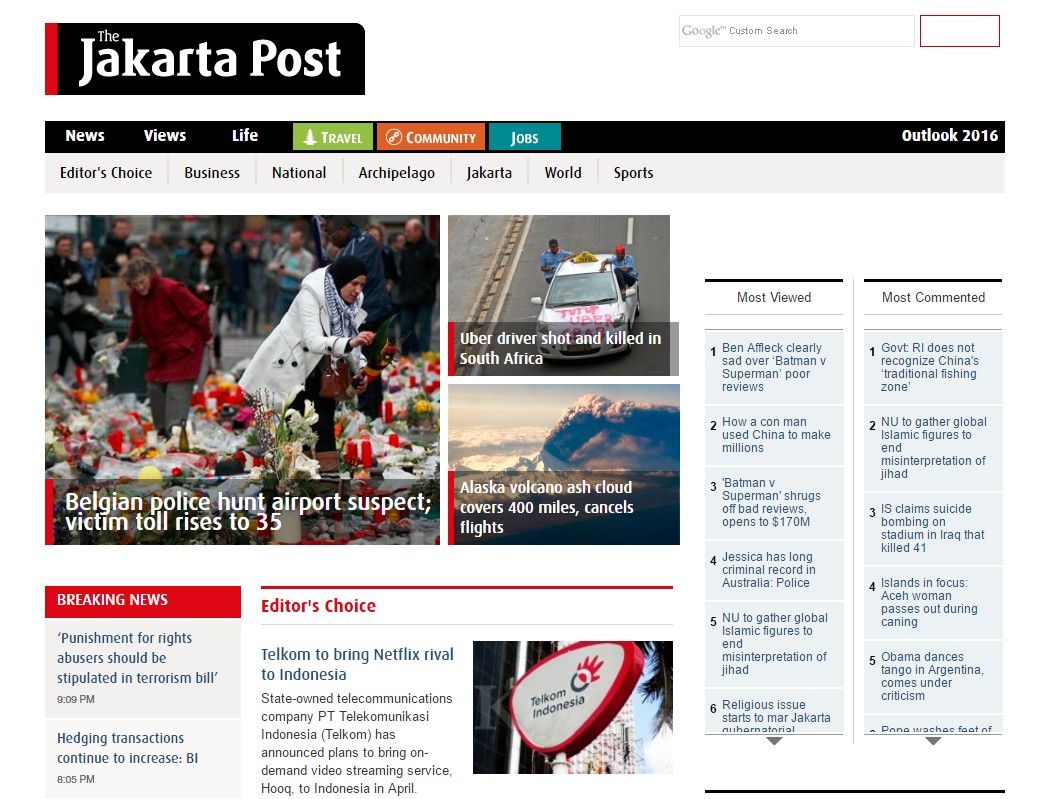 A look at The Jakarta Post's old website.(JP/File)
Ten Indonesian sailors previously held hostage by the Abu Sayyaf group in the southern Philippines were released on May 1, amid secrecy on the condition of the release. Find the exclusive details behind the release at: Who released the sailors? The untold story behind the hostage rescue.
Trouble once again hits the paradise island; Bali police shoot dead French 'trouble-maker' for resisting arrest and attacking police officers with a knife. Another problem between Bali police and foreign tourists occurred in August, in which a British-Australian couple was suspected of involvement in the murder of a policeman.
Conversations about sexual violence in the country explode as the case of gang rape and murder of a junior high school girl in a remote village in Bengkulu sparked rage on social media. Near the capital, a sadistic homicide and gang rape also raised concerns regarding women's safety. Sexual violence happens even in the country's education institutions, as revealed in the Post's special report sexually harassed and abused on campus.
Following a maritime incident in March and again in June, President Joko "Jokowi" Widodo visited Natuna and held a limited Cabinet meeting on a warship, sending a strong message about Indonesia's undisputed sovereignty over the sea. National attention turned to the country's healthcare system as the existence of a fake vaccine ring was revealed in Jakarta, Banten and West Java.
Good news from Turtle Bay: Three Indonesian diplomats have been elected to head committees at the United Nations General Assembly, giving the country the highest number of representatives in the world body.
After two years, President Jokowi finally shook up his rather shaky Cabinet in a reshuffle. Controversy arose regarding newly appointed Energy Minister Archandra Tahar's dual citizenship, leading to his discharge just two weeks into office.
Buddhist temples in Tanjung Balai, North Sumatra, were burned down and looted in a riot after a woman of Chinese descent complained about a mosque's call to prayer volume. Haunted by the trauma of anti-Chinese rioting in 1998, a number of residents fled their homes for Malaysia and Singapore.
National University of Singapore (NUS) was heavily criticized as news reports revealed a series of indecent sexual activities forced upon the freshmen during an orientation camp.
A public debate on early marriage arose when the son of prominent ustad (Islamic teacher) Arifin Ilham, 17-year-old Muhammad Alvin Faiz, married Larissa Chou, 20, on Aug. 6. The marriage quickly became viral on social media, raising question on the prevalence of child marriages in Indonesia.
Racial attack at a Transjakarta bus stop increased questions about the country's hidden anti-Chinese sentiment.
Some Constitutional Court (MK) justices signaled their support for criminalizing casual sex in the country.
During the first bilateral visit after taking office in late June, Philippines' President Rodrigo Duterte said he would not interfere if Indonesia decided to execute its citizen Mary-Jane Veloso. Both Indonesia and Philippines' war on drugs have been under international spotlight for human rights abuse.
Indonesia's tax amnesty could be compromised as Singaporean banks refuse to cooperate. On local news, 20 people were taken to the hospital for injuries sustained in a boat explosion in Bali.
Jakarta's governor Basuki "Ahok" Tjahaja Purnama was under attack for alleged blasphemy, in a debacle that left some Indonesian Muslims' offended by Ahok's remarks. Again, a Singaporean was caught carrying drugs into Bali.
The Constitutional Court revoked a policy that prevented Indonesians marrying foreigners without a prenuptial agreement to purchase property. Also, a heartwarming story of friendship between Indonesian and Japanese people made international news.
Hundreds of thousands of Islamic hardliners marched to the capital to demand Ahok's immediate arrest for the defamation case. The demonstration took a chaotic turn in the evening after Jokowi's no show. Not more than two weeks later, Ahok was named a suspect in a blasphemy case.
Read our commentary: Questioning our pride as a democratic, tolerant and peaceful nation and Ahok's case: Jokowi steps back, but moves three steps forward.
Indonesia began the month with more anti-Ahok action, this time in the form of mass prayers in the National Monument (Monas) area. Just before the rally, several retired generals and activists were arrested in a treason allegation. A popular bread brand Sari Roti was under fire after denying involvement in the rally.
Minorities under attack: a Christian university was coerced into taking down advertising billboards depicting a student wearing a hijab and a Christmas service in Bandung was canceled due to protest.
The National Police found a high-explosive plan to attack the State Palace, believed to be masterminded by Islamic State-related convict involved in the Sarinah attack in January.
Topics :
You might also like :
Comments