Q&A: Is Indonesia at stake in Nov. 4 anti-Ahok rally?
Devina Heriyanto

The Jakarta Post
Jakarta |

Thu, November 3, 2016

| 07:34 am Thousands of protesters join a rally on Jl. Medan Merdeka Timur in Central Jakarta on Oct. 14. They demanded legal proceedings against inactive Jakarta Governor Basuki Tjahaja Purnama on alleged blasphemy. (JP/Seto Wardhana)
Jakarta has been on high alert since information began circulating online and offline suggesting that hard-liners from all over the country would flock to the city to demand that authorities prosecute incumbent Jakarta Governor Basuki "Ahok" Tjahaja Purnama for religious defamation.
Organizers have announced that 35,000 to 50,000 people would join the demonstration. Political figures as high as President Joko "Jokowi" Widodo, Gerindra Party chairman Prabowo Subianto, and former president Susilo Bambang Yudhoyono (SBY) have all commented on the demonstration - signifying the gravity of the issue.
With his double-minority status as a Christian of Chinese descent, Ahok is no stranger to SARA [ethnicity, religion and race] issues. When taking office as governor, Ahok also faced similar demonstrations. Widespread SARA sentiment leaves Indonesia's young and fragile democracy vulnerable to identity politics, which were exploited in the 2012 Jakarta election and the 2014 presidential election.
Still, whatever the issues might be, the demonstration is allowed under a democratic system. Jokowi said the government would guarantee Indonesians' rights to express their opinions as long as the protesters respected public order, adding that security personnel would be deployed to secure the rally. Jokowi has called for protestors to refrain from anarchic behavior during the rally and also met with his 2014 political opponent Prabowo and several Islamic organizations to ease tension.
The National Police's Mobile Brigade (Brimob) has issued its highest security level, known as "Siaga 1", and asked for military backup, saying that the rally could escalate into violence. Some 20,000 police officers will be deployed to ensure security and the TNI has said that it would deploy about 5,000 personnel as backup.
What has triggered the rally?
The issue began when a short clip surfaced of Ahok making a speech during a visit to the Thousand Islands regency in September. It went viral on social media after a netizen edited the video and added comment more than a week after the full video was uploaded by Ahok's administration. The video footage portrayed Ahok as joking to the laughter of the locals, telling them not to be lied to by political leaders using Surah al-Maidah, Verse 51 of the Quran, ahead of the February 2017 gubernatorial election. The verse includes statement that Muslims should not choose non-Muslims as leaders.
Following strong objection from Muslim leaders, Ahok quickly apologized and clarified that the video and his statement had been distorted. Some news items regarding the case have also been accused of being framed to fan the flames of social-media anger.
However, the Indonesian Ulema Council (MUI) considers the statement to be blasphemy and has urged law enforcement officials to handle the case in accordance with the law. Meanwhile, hard-line group Islam Defenders Front (FPI) secretary general Novel Chaidir Hasan was the one who filed a report against Ahok with the National Police's Criminal Investigation Department (Bareskrim).
Ahok previously claimed that the defamation case has ended, but since then has clarified his statement with Bareskrim and publicly apologized. The legal process still continues, with Jokowi ordering the National Police to probe the case further. The FPI has demanded Ahok's immediate imprisonment for blasphemy.
Who initiated the rally?
The rally was initiated by FPI leader Habieb Rizieq Shihab, whose personal website published the call for the rally on October 23. On the rally poster, it was written that the rally was to support the MUI fatwa on Ahok and the Al-Maidah 51 case. The MUI has officially announced that Ahok's statement constituted blasphemy.
The rally aims to put Ahok behind bars for his so-called blasphemy. Rizieq has called for schools, businesses and government offices to close on Friday, urging people to join the rally.
This is actually the second anti-Ahok rally initiated by the FPI after the first one on October 14. The first rally cost around Rp 60 million(US$4,620) to restore a pocket park in front of City Hall accidentally destroyed by demonstrators.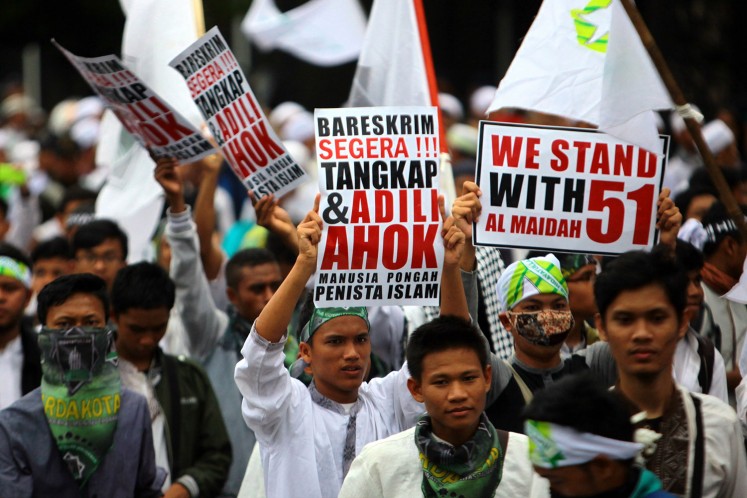 The first anti-Ahok rally on October 14. (JP/Seto Wardhana)
Why has this Jakarta issue become a national issue?
The protesters will march from Istiqlal Mosque to the State Palace after Friday prayers, with the possibility of staying overnight in the palace. Jokowi is being targeted for his silence on the Al-Maidah 51 case, and he is accused of protecting Ahok from the law. This is an escalation compared to the first rally on Oct. 14, which took place in front of City Hall.
Not only in Jakarta, there have also been demonstrations against Ahok in other cities, such as Bekasi, Bandung, Surabaya and Padang.
The Nov. 4 rally has caused concern as participants have been advised to write a will for their family beforehand, inspiring fears that the demonstration will descend into chaos and violence similar to that of May 1998. However, Jakarta Police chief. Insp. Gen. M. Iriawan has prohibited police officers from bringing firearms when they guard the rally. To clear up another rumor that has also been circulating, Jakarta Police spokesman Sr. Comr. Awi Setiyono also clarified that no "shoot on sight" order had been issued.
MUI's logo is being used in the poster. Does this mean the MUI is one of the organizers of the rally?
MUI vice secretary general Amirsyah has stated that the MUI had no part in organizing the rally, as reported by detik.com. However, he did not discourage MUI members from participating, saying that it was people's "prerogative and in accordance with the law".
Chairman of MUI's West Java chapter Rachmat Syafe'i has called on all MUI members not to join or support the rally. The West Java chapter does not allow its members to use MUI attributes during the rally.
What about other Muslim organizations?
The country's two largest Muslim organizations Nahdlatul Ulama (NU) and Muhammadiyah have said separately that they would not encourage their members to take part in the rally, let alone any provocative actions at the event. Muhammadiyah, with around 40 million followers nationwide, said it would not prohibit its members from participating in the rally.
NU suspects the rally has a hidden aim. "I am afraid that [the rally] is propelled by a third party whose issues are bigger than just the [Jakarta] election," said NU central board chairman Said Aqil Siradj on Saturday.
Jokowi met 30 religious leaders on Tuesday to hear suggestion on preventing violence during the rally. Some of those invited were MUI chairman Ma'ruf Amin, NU chairman Said Aqil Siraj, and Muhammadiyah chairman Haedar Nasir.
Should people be worried?
Jakarta's acting governor Sumarsono has called on residents to not be worried. He claimed that business would go on as usual, dismissing rumors that schools would be closed on Friday.
The Jakarta Police are preparing several alternative traffic routes in anticipation of heightened gridlock around venues likely to be used by protesters. The routes will depend on how the situation unfolds on Friday.
Does this have anything to do with the upcoming Jakarta election?
If the FPI gets what they want and Ahok is imprisoned, then he will have to withdraw from the race. Ahok's withdrawal would surely benefit his opponents as Ahok and his running mate Djarot have been consistently ahead in pre-election polls and surveys.
Anies and Sandiaga have said they will not take part in the Nov. 4 demonstration. "We are concentrating on winning the gubernatorial race. We won't be taking part in activities that are not related to the election," said Anies, who is a moderate Islamic figure. He refused to comment on the demonstration when asked on Wednesday.
SBY, whose son is running against Ahok for the governor's seat, held a press conference on Tuesday on the issue. He claimed that the government had received false intelligence with regard to the allegations that a political party is behind the rally. SBY also denied reports that he was behind the massive demonstration. (dmr)
Topics :
You might also like :
Comments