Pertamina to build 108 mini gas stations
Viriya P.Singgih

The Jakarta Post
Jakarta |

Wed, January 18, 2017

| 07:34 am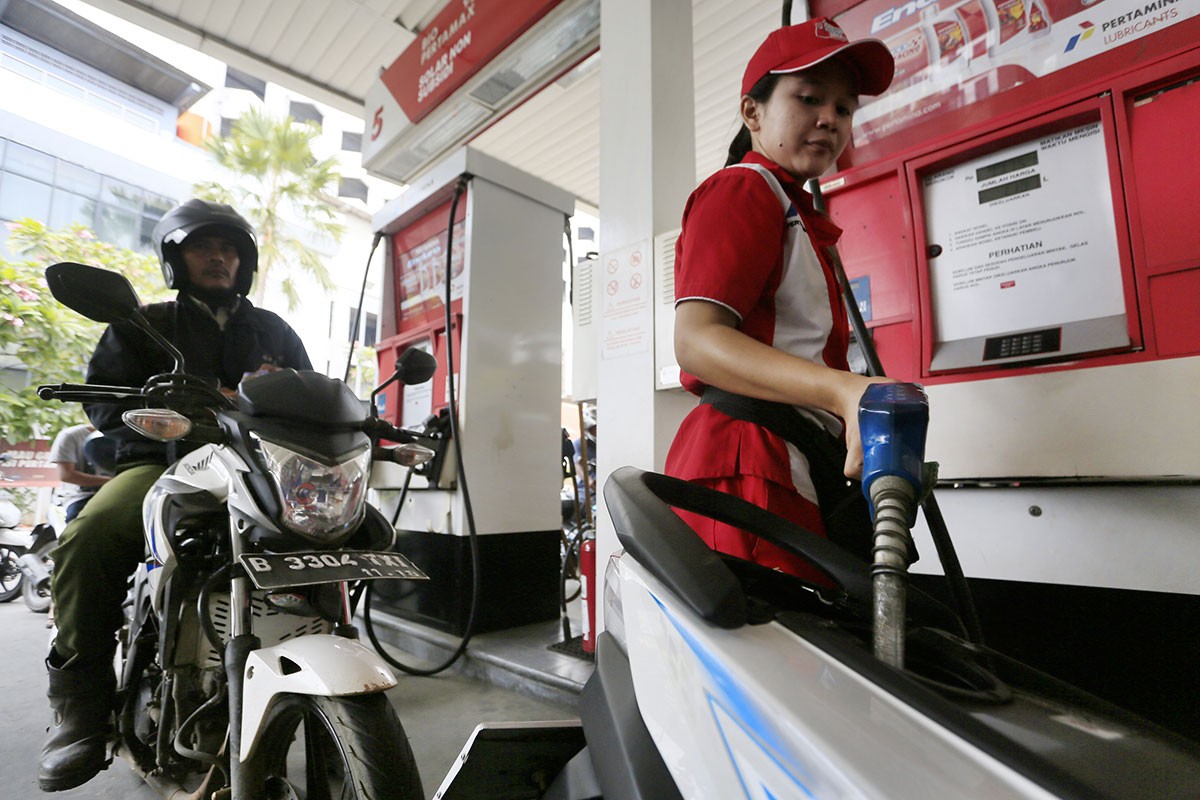 An employee serves a customer in a Pertamina gas station on Jl.Cikini Raya, Central Jakarta, on Jan.5. (JP/Dhoni Setiawan)
State-owned oil and gas giant Pertamina plans to build 108 mini gas stations nationwide from this year until 2020 in a bid to lower distribution costs under the newly launched one-price fuel policy.
With the new policy announced in late October, the government hopes to see fuel sold at the same price across the sprawling archipelago, closing the disparity previously seen between accessible regions and less accessible regions like Kalimantan and Papua.
Out of the total figure, 22 mini gas stations with a total capacity of 5,000 liters of fuel will be built this year, according to Pertamina spokesperson Wianda Pusponegoro.
The construction of these stations, along with premium, oil and diesel fuel agents (APMS), in the challenging terrains of Maluku and Papua, will require an investment of Rp 54 billion (US$4.04 million), the firm said earlier.
According to the plan, the firm will continue to build 45 stations in 2018, 29 stations in 2019 and another 12 stations in 2020, which will be located in the more remote areas without basic land and sea infrastructure.
Pertamina had prepared a road map to develop hundreds of those mini gas stations, which would function as fuel distributor agents in remote areas and make distribution much more efficient, Wianda said Tuesday.
"The road map is basically aimed at regions with no fuel distributor agents," she said. "In the beginning, we will only build those mini gas stations in regions that already have docks, bridges, or at least a plot of land that can be used to land an Air Tractor aircraft."
Pertamina started to operate a dedicated Air Tractor aircraft that can carry 4,000 liters of fuel to Papua as it sought cost efficiency in late September.
In addition to building mini gas stations, Pertamina would also develop sub-agents in regions where investment was economically unfeasible through collaborations with the Downstream Oil and Gas Regulatory Agency (BPH Migas) and regional administrations.
"The fuel consumption in such regions may be low, but people there still need our presence," Wianda said.
At present, Pertamina runs about 5,700 gas stations and APMS in almost all regencies across the country, except in Nias regency, North Sumatra and Thousand Islands regency, Jakarta.
Four newly built fuel distributor agents in Nias and Thousand Islands may only start operation in the second quarter of 2017.
The one-price fuel policy, slated to come into force nationwide this year, will force Pertamina to allocate Rp 800 billion in subsidies each year.
According to the company's calculations, the construction of one APMS in a remote region with a capacity of 30 drums of fuel alone may require an investment of about Rp 1 billion.
Nevertheless, Pertamina marketing and trading director Ahmad Bambang previously said that the company needed to bear the costs to establish more APMS by treating them similar to official gas stations.
"The problem is that we need the government's support to increase the profit margin of such stations so that investors may get attracted to invest in APMS," Ahmad said.
The profit margin gain from sales of Premium gasoline in gas stations is now only Rp 270 per liter.
Pertamina is in talks with the Energy and Mineral Resources Ministry's Directorate General of Oil and Gas to raise the margin.
You might also like :
Comments