Eyewitness refuses to conclude Ahok committed blasphemy
Callistasia Anggun Wijaya

The Jakarta Post
Jakarta |

Tue, January 24, 2017

| 02:07 pm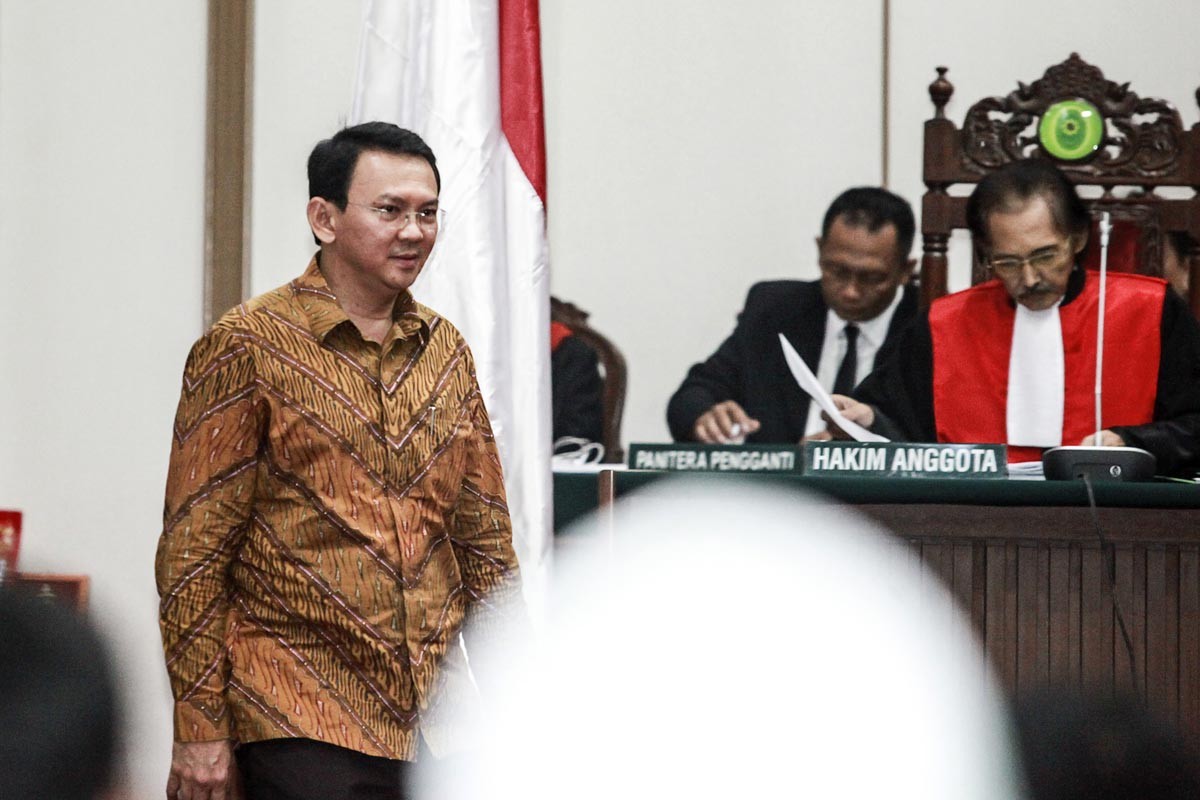 All set — Jakarta Governor Basuki "Ahok" Tjahaja Purnama prepares to attend a hearing during his blasphemy trial at the North Jakarta District Court on Jan. 24. (Antara/POOL/Muhammad Adimaja/via JP)
Yuli Hardi, a subdistrict head from Panggang Island, Thousand Islands, refused to conclude that Jakarta Governor Basuki "Ahok" Tjahaja Purnama had committed blasphemy when he testified during the seventh hearing of the governor's ongoing case on Tuesday.
Yuli, who was summonsed as a prosecution witness for the Tuesday hearing, said he did not have the capacity to make a judgment about Ahok's speech, in which the latter cited Surah Al Maidah 51, during a working visit to Thousand Islands on Sept. 27.
The North Jakarta District Court's panel of judges grilled Yuli on the statement, which was also made in his interrogation report, asking him to give his opinion about Ahok's speech.
"As a mere subordinate, it's impossible for me to say whether [the speech of] my superior [Ahok] was right or wrong," Yuli told judges during the hearing held at the Agriculture Ministry's auditorium in South Jakarta.
(Read also: Judges continue with Ahok hearing even though witnesses fail to show up)
Yuli asserted that he had not reported Ahok to the police for blasphemy. He said he was summonsed by prosecutors to testify as a witness at Ahok's hearing because he had once been questioned by the police.
Yuli added that he had not really paid attention to Ahok's speech, including the part where he commented about the Quranic verse.
He became aware of the blasphemy allegations only after watching TV news reports. He later searched for a video of Ahok's speech on the internet and found that the governor had mentioned Surah Al Maidah 51.
Yuli said no Thousand Islands residents had protested when Ahok delivered the speech. (ebf)
You might also like :
Comments