Alleged IS sympathizer flown to Jakarta to be probed further
News Desk

The Jakarta Post
Jakarta |

Fri, February 17, 2017

| 08:05 pm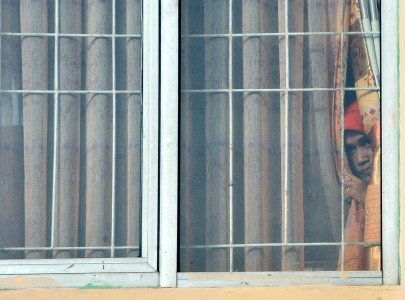 A woman peeks through a window at Bambu Apus social shelter in East Jakarta on Feb. 6. The shelter currently houses 75 Indonesians deported from Turkey for allegedly attempting to enter Syria and join Islamic State group. The government put them in custody at the shelter as part of their deradicalization program before being allowed to return to their hometowns. (Antara/Yulius Staria Wijaya)
The police will further their investigation into Azni Muzakkir, aka Abdul Zakir, a 44-year-old Indonesian citizen deported from Japan on Tuesday for his alleged connections to the Islamic State (IS) radical movement.

Azni was detained by immigration officers at Ngurah Rai Internal Airport, Bali, on Wednesday and was taken into Bali Police's custody.

National Police spokesperson Martinus Sitompul said at the National Police headquarters that Azni was currently in Bali but would be sent to Jakarta for further investigation. A team from the police's Densus 88 counterterrorism squad would be waiting for him at Soekarno-Hatta airport.

Martinus said that according to the information gathered by police, his connection to IS was still unverified, as he only might have had problems with documentation or overstayed his visit.

"The police takes terrorism seriously, and if there's an indication that he's related [to IS] we'll arrest him. If it's not proven he's [connected with IS], we'll release him through the Ministry of Social Affairs," he said.
(Read also: Indonesians deported from Malaysia over Islamic State link)
Currently, the Bambu Apus shelter in East Jakarta houses 75 people deported from Turkey, Singapore and Japan for allegedly trying to join IS in Syria.
Martinus said the police had been profiling individuals connected to terrorist groups, including IS, and had mapped and monitored arrivals and departures from the country. (dis/yan)
You might also like :
Comments