Thousands await e-IDs in Banyumas
Agus Maryono

The Jakarta Post
Banyumas, Central Java |

Thu, April 20, 2017

| 10:03 pm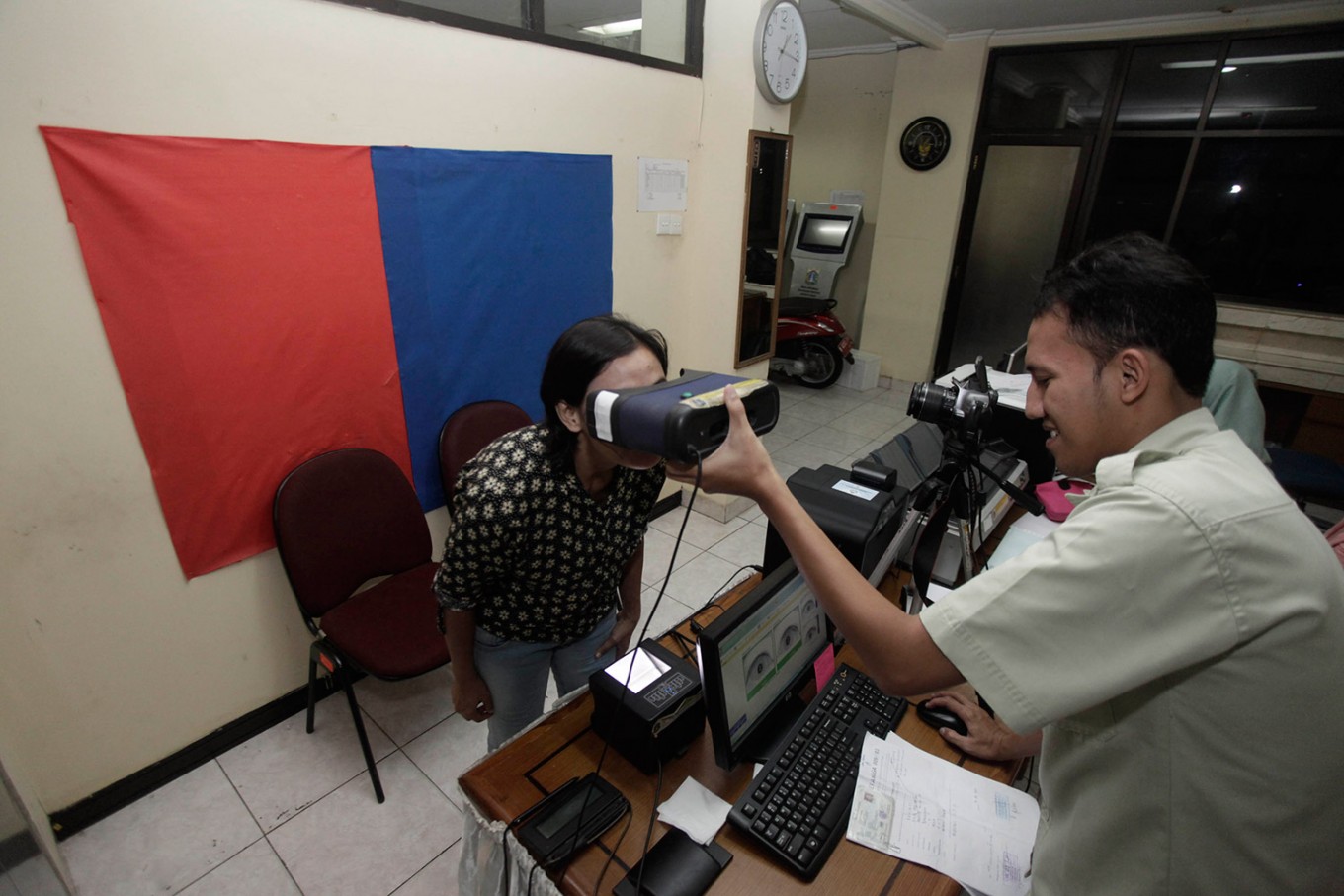 An official scans an applicant's retina to collect data for an e-ID card in Menteng, Central Jakarta, Sept. 14, 2016. (JP/Dhoni Setiawan)
More than 200,000 residents of Banyumas, Central Java, have not received their e-ID cards for the past year following a shortage of blank cards from a delay in procurement by the central government.
"This has been the worst experience I have had in making identity cards. Why is it that blank cards have not yet been provided after a year. Everyone needs an e-ID card, including to apply for jobs," local resident Ahmad Mukmin, 40, said on Thursday.
He said he had come to the Civil Registry Office to collect an e-ID card for the past one year, but to no avail.
Another resident, unemployed Wawan, 34, said he could not apply for a job because most companies only wanted to take e-ID cards instead of statement letters on identity.
Banyumas Population and Civil Registration Office head Kartiman said his office could not do much as there was only a limited number of blank cards sent to the regency from the Central Java administration.
(Read also: City requests 500,000 blank e-ID cards)
There are around 200,000 people waiting in line for an e-ID card, some have waited for a year and there are also those who have waited for two years.
"I just heard from the provincial administration that Banyumas regency will receive 10,000 blank cards. But I don't know the exact time yet," Kartiman said, adding that based on information he had gathered, the 10,000 blank cards were part of 320,000 blank cards for the Central Java administration.
Home Minister Tjahjo Kumolo previously said his ministry had signed a procurement contract for seven million blank e-ID cards in March. He said these cards would be distributed throughout the year. (rin)
Topics :
Join the discussions