All political party chiefs to meet to solve presidential threshold deadlock
Margareth S. Aritonang

The Jakarta Post
Jakarta |

Mon, June 26, 2017

| 11:30 am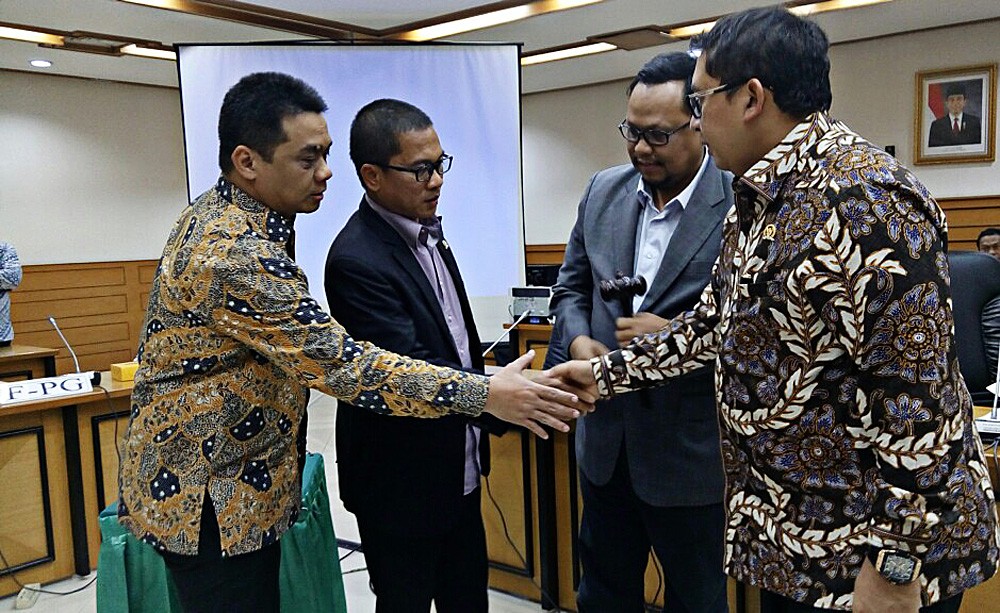 The power of a hammer: House of Representatives Deputy Speaker Fadli Zon (right) shakes hands with National Awakening Party (PKB) politician Muhammad Lukman Edhy (second right), who was elected chairman of a special committee tasked to deliberate the elections bill in a voting session on Monday evening, after giving him the hammer that symbolizes power in the legislative institution, Nizar Patria of the Gerindra Party (left) and Yandri Susanto (second left) of the National Mandate Party were elected to be the committee's deputy chairmen.(files) (JP/Margareth S.Aritonang)
A lawmaker said a high level meeting between all political party chiefs was underway to solve the deadlocked discussions over the prerequisites allowing parties to nominate presidential candidates for the 2019 election, what is popularly known as the "presidential threshold."
Gerindra Party lawmaker Ahmad Riza Patria, who is also a deputy chairman of the special committee tasked to deliberate over a bill to regulate the upcoming presidential election, said that the meeting is expected to give birth to a consensus ahead of a House plenary meeting to vote on a final decision on July 20.
"We held many meetings to talk [about the matter]," Riza said during a meeting held to observe the first day of Idul Fitri on Sunday.
Read also: We don't mean to disrespect House: KPK
However, he said, the previous meetings had only managed to unite those leaders who agreed on a "zero" threshold, meaning any party would be able to nominate a candidate. Besides Gerindra, the other zero-threshold supporters are the Democratic Party, the National Awakening Party (PKB), the United Development Party (PPP), the National Mandate Party (PAN) and the Hanura Party.
"We haven't managed to bring leaders of the other three parties that support a presidential threshold of between 20 and 25 percent in one room with our leaders," he added, referring to the ruling Indonesian Democratic Party of Struggle (PDI-P), the Golkar Party and the NasDem Party. (dic)
Join the discussions