Jokowi signs regulation banning Hizbut Tahrir
Safrin La Batu

The Jakarta Post
Jakarta |

Tue, July 11, 2017

| 08:28 pm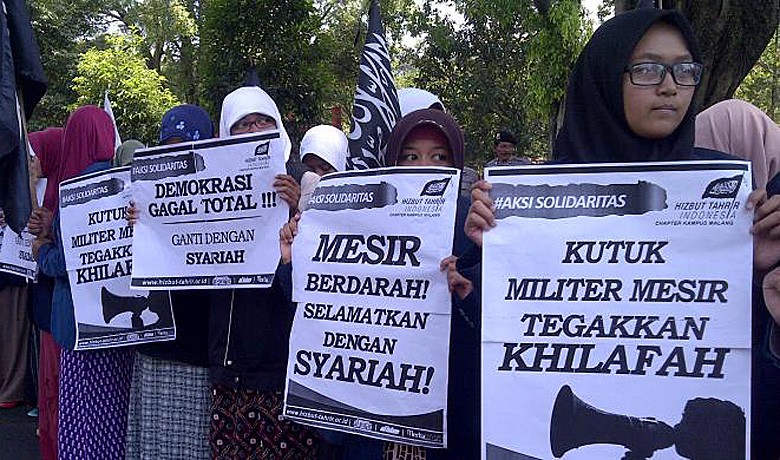 Against Pancasila: Female members of hardline Islamic organization Hizbut Tahrir Indonesia (HTI) stage a rally to promote the establishment of an Islamic caliphate in Malang, East Java. (Kompas.com/File)
President Joko "Jokowi" Widodo has signed a regulation in lieu of law (Perppu) to ban Hizbut Tahrir Indonesia (HTI), an Islamic organization seeking to establish a global Islamic caliphate.
Presidential spokesperson Johan Budi confirmed on Tuesday that Jokowi had made the move, but could not give details about the Perppu. Johan only said that Coordinating Minister for Political, Legal and Security Affairs Minister Wiranto would announce the decision on Wednesday.
"Tomorrow, Coordinating Political, Legal and Security Affairs Minister will make the announcement at the State Palace," Johan said.
Chairman of the country's largest Muslim organization Nahdlatul Ulama Said Aqil Siraj, who met Jokowi on Tuesday, also confirmed that Jokowi had decided to disband HTI, adding that the announcement would be made on Thursday, not Wednesday.
"The Perpu has been signed by the president," Said Aqil said.
Earlier in March, the office of Coordinating Political, Legal and Security Affairs announced that the government would ban HTI from operating in the country on the grounds that it's vision of establishing an Islamic caliphate contradicted the value of Pancasila, which values diversity and pluralism.
Read also: Jokowi administration moves to ban Islamic group
The decision to ban HTI came amidst worsening sectarianism in the country during the course of the Jakarta gubernatorial election which saw Christian of Chinese descent Basuki Tjahaja "Ahok' Purnama facing off against former culture and education minister Anies Baswedan.
Political analyst Sidney Jones deemed Wiranto's announcement to ban HTI as politically inept and "left Indonesia more religiously polarized than ever. She warned that the decision could come back and haunt the Jokowi government.
If the HTI is eventually dissolved, it would be the first Islamic organization to be banned in the period following the downfall of the New Order authoritarian regime in 1998. During the three decades of the regime, president Soeharto banned numerous Islamic organizations whose activities and ideas deemed to be threats to the country's founding ideology Pancasila.
Join the discussions