Constitution does not allow autocratic power: Jokowi
Marguerite Afra Sapiie

The Jakarta Post
Jakarta |

Wed, August 9, 2017

| 06:15 pm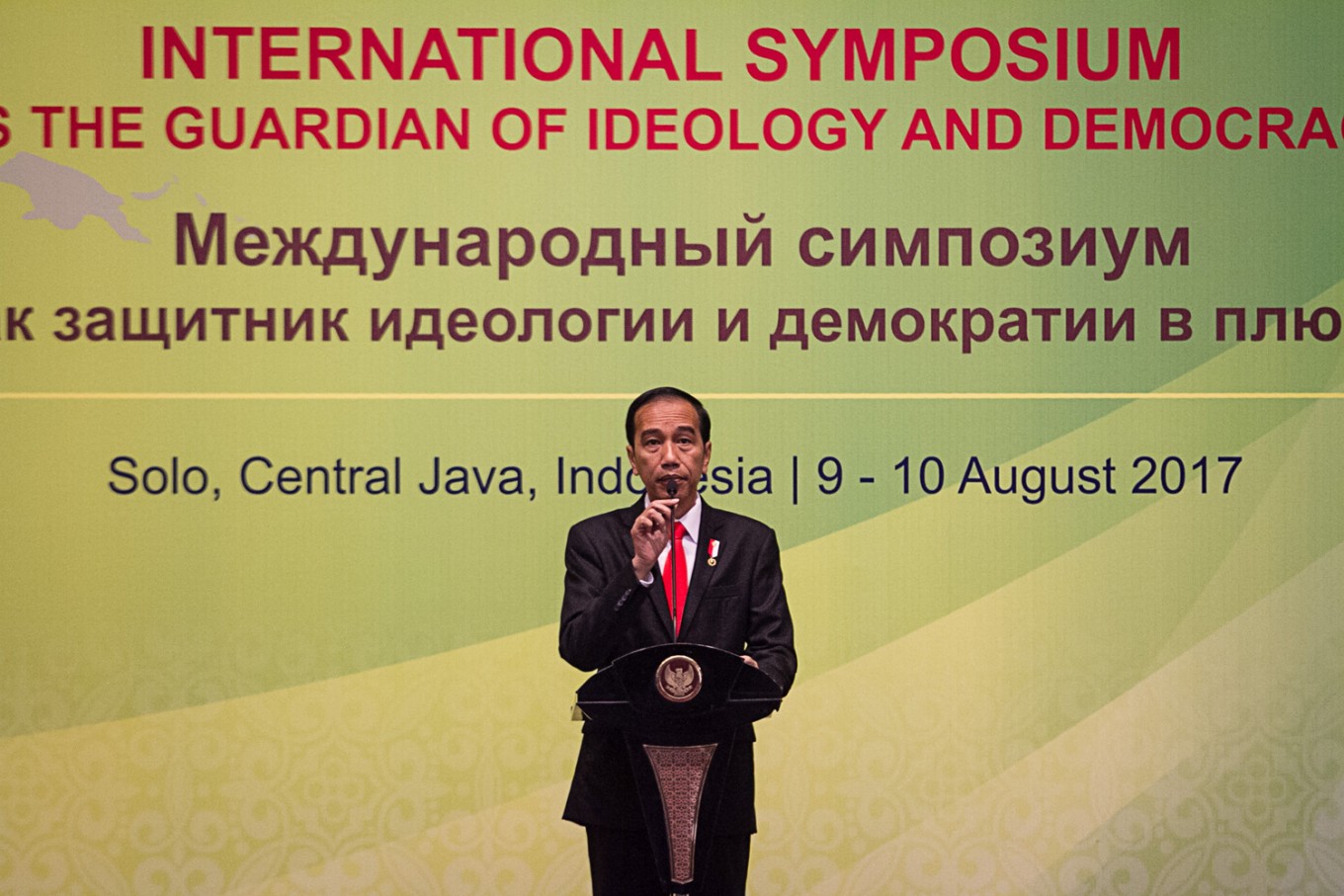 Upholding democracy: President Joko "Jokowi" Widodo gives his opening speech for the International Symposium of the Association of Asian Constitutional Court and Equivalent Institutions (AACC) in Surakarta, Central Java, on Aug.9 (Antara/Mohammad Ayudha)
A day after rebuffing accusations that compared him to a dictator, President Joko "Jokowi" Widodo asserted that the 1945 Constitution would not allow an autocratic power to lead the country.
"Referring to our Constitution, there is no institution that can hold autocratic power, let alone a dictatorship. The Constitution ensures the balance of power among state institutions, in which they can control and monitor each other," Jokowi said on Wednesday.
During his opening speech for the International Symposium of the Association of Asian Constitutional Court and Equivalent Institutions (AACC) in Surakarta, Central Java, Jokowi said Indonesia's Constitution also prevented the creation of mobocracy, a system of ruling that is dominated by the mass.
(Read also: Constitution prevents dictatorship: Jokowi)
The Constitution also becomes the protector of the country's religious, ethnic and cultural diversity, and ensures that people with different opinions are protected, the President said.
"Our Constitutions stands to ensure that no group can unilaterally impose their will without respecting the rights of other citizens," he added.
On Tuesday, Jokowi responded to criticism that accused his recent policies of having an authoritarian bent, including the presidential regulation in lieu of law (Perppu) on the disbandment of mass organizations that failed to adhere to state ideology Pancasila.
The Perppu, which has led to the disbandment of hard-line Islamist organization Hizbut Tahrir Indonesia (HTI), has been met with criticism from rights activists who slammed the regulation for threatening the freedom of assembly. (ebf)
Topics :
Join the discussions