Jokowi should uphold justice for 1965 victims: HRW
News Desk

The Jakarta Post
Jakarta |

Tue, September 19, 2017

| 05:55 pm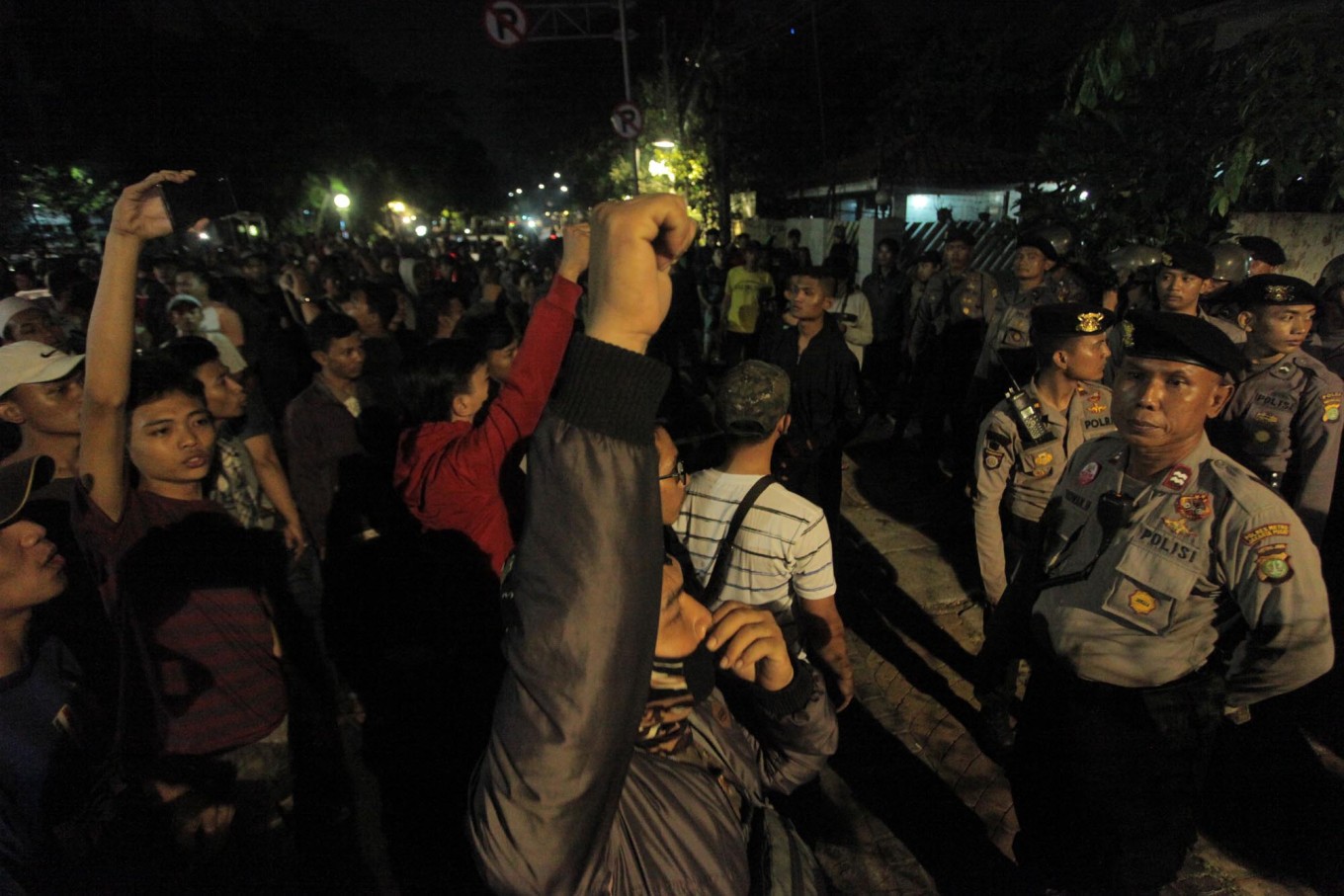 Violent clash: Police personnel stand guard as hundreds of protesters gather at the headquarters of the Indonesian Legal Aid Institute Foundation (YLBHI) in Jakarta on Sept.17. They accused the office hosting an event related to the long-disbanded Indonesian Communist Party (PKI). (Antara/Muhammad Adimaja)
New York-based rights group Human Rights Watch (HRW) has called on the Indonesian government to uphold justice for the victims of the 1965 massacres.
"The government's acquiescence to violent thugs and abusive security forces who seek to stifle discussion of the 1965 massacres suggests that protecting the official version of events, as well as those responsible for atrocities, still has priority over justice for the victims," HRW Asia deputy director Phelim Kine said in a statement on Tuesday.
"Jokowi [President Joko Widodo] should change this. He can start by delivering on his commitment toward accountability and appropriately punish those determined to derail it," he added.
(Read also: Anti-communists besiege, attack office of YLBHI)
Kine made the statement in response to clashes between protesters and police officers at the headquarters of the Indonesian Legal Aid Institute Foundation (YLBHI) on Monday. The protesters gathered at YLBHI after false reports were made, accusing it of hosting an event related to the long-disbanded Indonesian Communist Party (PKI).
"The fear of communists is alive and well in Indonesia," said Kine.
For more than five decades, he said, Indonesian officials had justified the mass killings as a necessary defense against Communist Party inroads.
HRW praised the government's move to sponsor a two-day symposium in April 2016, during which all Indonesian people could hear accounts from survivors and the family members of victims.
"That month, President Jokowi ordered an official effort to document the location of victims' mass graves, and shortly thereafter the government committed to investigating a list of 122 alleged mass grave sites compiled by victims' advocacy groups," said Kine.
"That remains an empty promise." (ebf)

Topics :
Join the discussions