Wika lists Komodo bonds on London bourse
Jakarta |

Mon, January 29, 2018

| 10:51 pm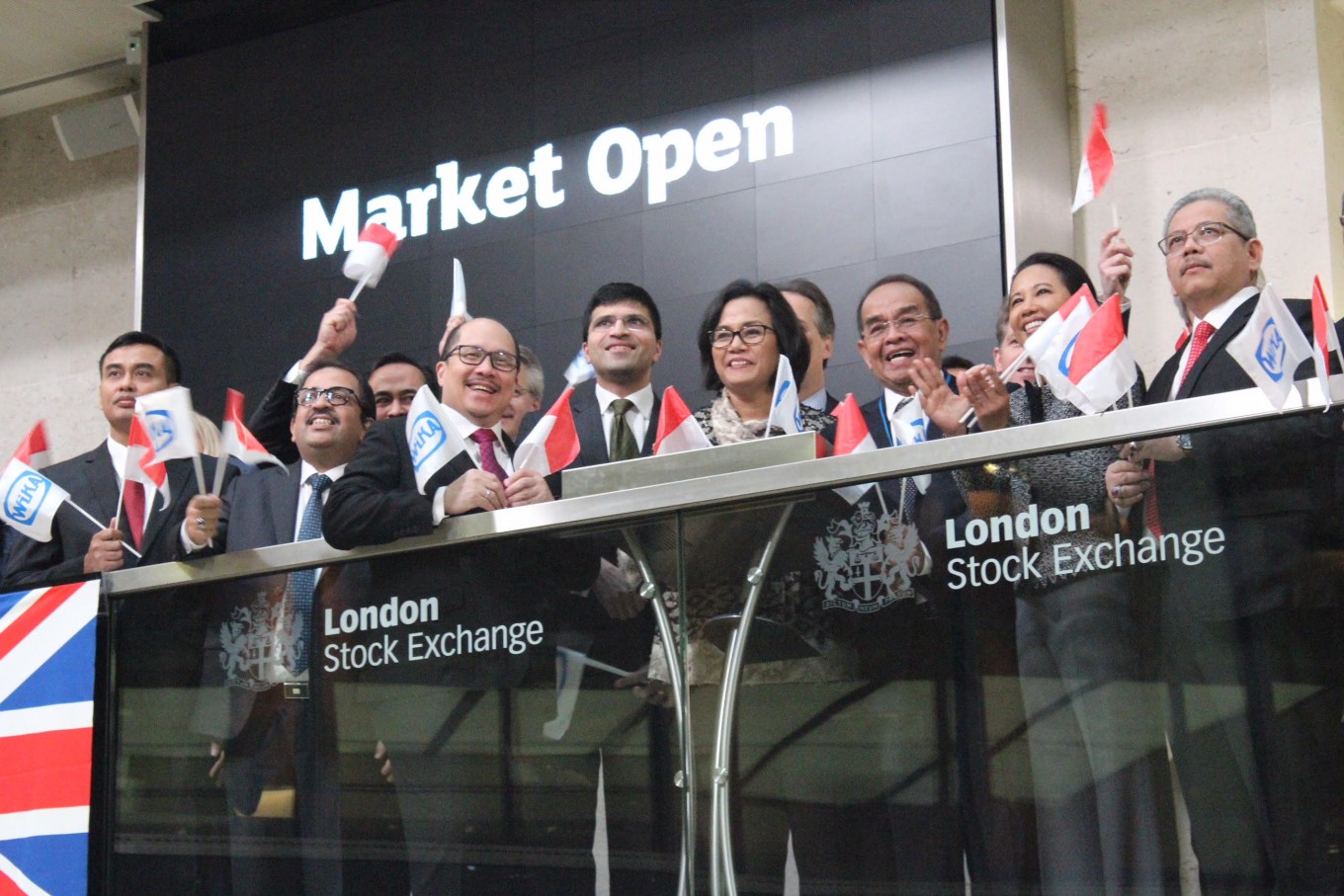 Finance Minister Sri Mulyani Indrawati (fourth right) pushes a button to symbolize the opening of trading activity at the London Stock Exchange on Jan. 29, while State-Owned Enterprises (SOE) Minister Rini Soemarno (second right) and Wijaya Karya (Wika) president director Bintang Perbowo (third left) wave flags. State-owned construction firm Wika has issued global rupiah-denominated bonds, known as Komodo bonds, worth Rp 5.4 trillion (US$378 million) to finance its infrastructure projects development. (Tribunnews/Tribunnews)
State construction firm PT Wijaya Karya (Wika) listed its global rupiah-denominated "Komodo" bonds on the London Stock Exchange on Monday.
It aims to collect Rp 5.4 trillion (US$405 million) from the debt papers, which will be used for investments and funding infrastructure projects.
The bonds were three-year term debt papers with a coupon rate of 7.7 percent per year.
The market responded positively to the issuance, as the bonds have oversubscribed at 250 percent.
"We expect to become a key player in the Komodo bonds market by proving to investors that we have perfect investments," said Wika president director Bintang Perbowo in a statement.
State-Owned Enterprises Minister Rini Soemarno, who also attended the listing ceremony, said the bonds issuance was necessary as the country needed big budgets to realize infrastructure projects.
"The ministry will keep backing state-owned enterprises [SOEs] that want to utilize the Komodo [bonds]," she said.
Moreover, Finance Minister Sri Mulyani Indrawati said the corporate action was proof that Indonesia had a growing economy. "The issuance not only prevailed as proof of the company's hard work, but it also showed strong confidence toward Indonesia's growth," she said during the event.
The move follows state-owned toll road operator PT Jasa Marga's decision to list its Komodo bonds in December 2017 as it aims to earn Rp 4 trillion.
Earlier this month, Rini said three SOEs were set to issue Komodo bonds this year. (gda/srs)
Join the discussions