Trump praises White House aide accused of domestic abuse
Andrew BEATTY

Agence France-Presse
Washington, United States |

Sat, February 10, 2018

| 07:38 am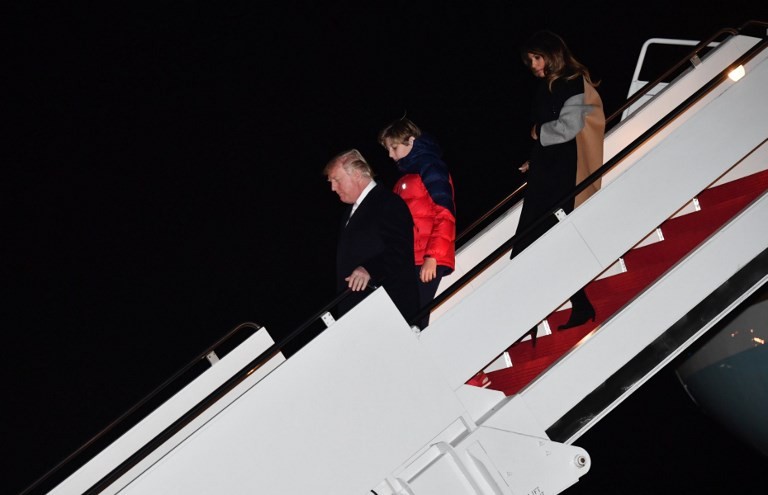 US President Donald Trump and First Lady Melania Trump, with their son, Barron, arrive at Joint Base Andrews in Maryland on Jan. 15, 2018. (AFP/Nicholas Kamm)
Donald Trump praised Friday a former aide accused of battery, amid a scandal that called into question the president's judgment and tainted his chief of staff John Kelly and long-time aide Hope Hicks.
Allegations against ousted staff secretary Rob Porter prompted a litany of questions about the president's recruitment and the ethics of those running the world's only superpower.
Porter -- who denies abuse alleged by two ex-wives, one of whom released a photo of herself with a black eye -- worked at the heart of the White House throughout the first year of Trump's administration, despite being denied a full security clearance.
He only stepped down from his post Wednesday after the accusations became public.
Trump fueled the scandal Friday by praising Porter and suggesting he had a bright future.
"We certainly wish him well, and it's a tough time for him," Trump said in the Oval Office.
"He did a very good job when he was in the White House. And we hope he has a wonderful career and he will have a great career ahead of him.
"As you probably know, he says he's innocent, and I think you have to remember that."
That prompted a sharp rebuke from Democrats like Congresswoman Nydia Velazquez, who slammed the White House's "culture of misogyny."
Chief of Staff John Kelly was aware of the allegations and also praised Porter's conduct in the White House, maintaining that "every individual deserves the right to defend their reputation."
Hicks, perhaps Trump's most trusted aide, had helped craft the response to the scandal as White House communications director, despite being romantically involved with Porter.
"It's alarming Rob Porter remained in an influential role" said Democratic Representative Ann McLane Kuster, "even as revelations about his domestic abuse were apparently known among senior Trump staffers."
"Photos of his battered ex-wife are deeply disturbing. We must know who knew what when," Kuster added.
Trump confidant and former campaign manager Corey Lewandowski -- who was formerly romantically involved with Hicks -- pointed a finger of blame at former Marine corps general Kelly.
"The general is there to put in policies and processes and procedures. And in this case, those didn't work and we need to find out why," he told Fox News.
The White House was forced to quell rumors that Kelly was ready to resign.
Vice President Mike Pence, who is attending the Olympics in South Korea, tried to distance himself from the issue.
"The time that he resigned was when I first became aware of the allegations of domestic abuse," Pence said.
"I think the White House has acknowledged they could have handled it better and when I return to Washington, DC, I'm going to look into the matter and I'll share my counsel with the president directly."
- 'Could have done better' -
Trump was elected promising to bring "the best people" with him to "drain the swamp" in Washington.
In reality, he has struggled to hire high-caliber staff, with many experienced Washington operatives keeping their distance.
"A lot of us could have done better," deputy press secretary Raj Shah told reporters when asked about the situation -- a rare statement of contrition from the Trump White House.
Shah refused to confirm in detail when and how Chief of Staff Kelly in particular became aware of the claims.
"He became fully aware about these allegations yesterday," said Shah. "I'm not going to get into the specifics, regarding who may have known what pieces of information."
Shah also would not detail the involvement of Hicks in shaping the White House response.
Until hours before the Harvard graduate left his post, the White House was praising him as an upstanding and integral member of staff.
"Rob Porter has been effective in his role as staff secretary. The president and chief of staff have full confidence in his abilities and his performance," said press secretary Sarah Sanders.
In an interview with CNN, Porter's ex-wife Jennifer Willoughby detailed allegations of abuse, saying that during her marriage she lived under a "low-grade constant terror of not knowing what I might do to set something off."
Asked if she thought allegations against her ex-husband should have stopped him from working in the White House, Willoughby called it a "greater question... for society today."
"Can we separate a man's work from his private life?" she asked, calling it "concerning" that the central discussion had been around Porter's professional contributions to the White House.
"This is a troubled man with issues that needs help."
Trump's administration has been beset by scandal and staff departures.
Porter had been a rare staffer inside the White House who knew Washington, was widely respected and was seen as good at his job.
Join the discussions