Malaysian confirms two badminton players being investigated for match-fixing
Petaling Jaya |

Wed, February 14, 2018

| 01:43 pm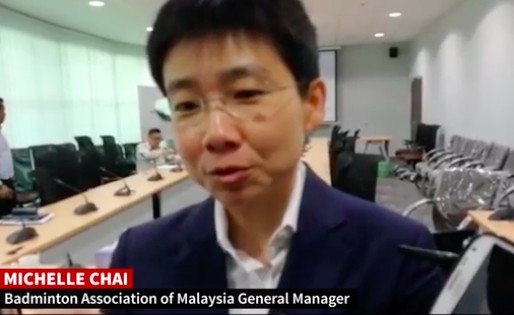 BAM general manager Michelle Chai speaks to the media in a video grab provided by The Star online. (The Star/ANN/File)
The Badminton Association of Malaysia (BAM) has revealed that two independent Malaysian players are under investigation for match-fixing.
They were informed of this by the Badminton World Federation (BWF) last December.
BAM general manager Michelle Chai said the BWF has gone through the proper process of initiating an investigation.
"They handed out the letter to the players through us. It was last December when they gave two different letters for two different players," said Michelle.
"Of course we would like to maintain an aspect of confidentiality because we want the players to have a fair hearing and not a trial by public.
"As for punishment, we haven't reached that stage yet. We're not in discussion with the BWF yet as it is their investigation and all the details are with them.
"It will all depend on the case and the final verdict and I believe it is probably best for BWF to further explain the details.
"As to when they will announce, it is likely until they have a final decision on it," added Michelle.
BAM president Datuk Seri Norza Zakaria did confirm that both players are not theirs.
"While the end result lies in the hands of the BWF, I want to stress again that we have zero tolerance for match-fixing," said Norza.
"I told all my coaches to warn the players. I don't want to hear of any BAM players involved in this heinous act."
Both players are expected to face a BWF hearing in Singapore later this month.
The pair, who are the first ever Malaysians directly linked to match-fixing, could be banned for life if found guilty.
Topics :
Join the discussions