Jokowi's potential running mates: Pros and cons
Devina Heriyanto

The Jakarta Post
Jakarta |

Mon, February 26, 2018

| 05:46 pm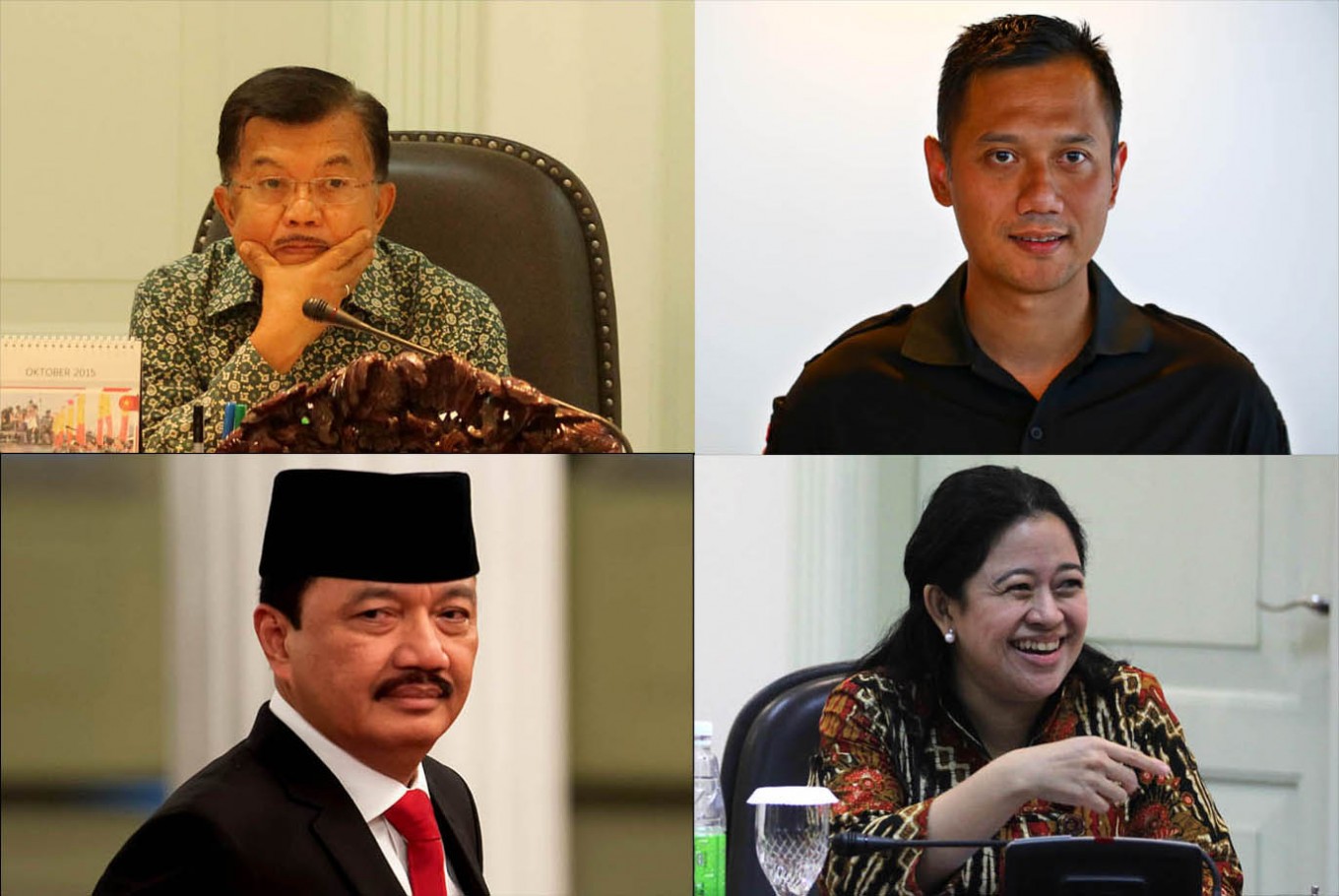 Four potential vice president candidates for President Joko 'Jokowi' Widodo (left to right): Jusuf Kalla, Agus Harimurti Yudhoyono, Budi Gunawan and Puan Maharani. (JP/Wienda Parwitasari/Antara/Widodo S Jusuf)
President Joko "Jokowi" Widodo is once again running for, well, president. The Indonesian Democratic Party of Struggle (PDI-P) officially endorsed the former Surakarta mayor and long-time PDI-P member during its national meeting in Denpasar, Bali, on Friday.
The endorsement is huge for Jokowi, who has already secured the support of four major parties: the Golkar Party, the United Development Party (PPP), the Hanura Party and the NasDem Party. With the support of five political parties that control more than 50 percent of seats at the House of Representatives, analysts have said it could be smooth sailing for Jokowi in 2019.
The only remaining question is: Who will be Jokowi's running mate?
Jokowi told reporters shortly after the PDI-P endorsement that he would discuss the issue with other political parties that had declared their support even before the PDI-P. The incumbent candidate will have to name his running mate before Aug. 13, when he is required to register with the General Elections Commission (KPU).
It remains unclear who will fill the position of vice-presidential running mate, but several names have been mentioned by analysts and members of pro-Jokowi parties as possible candidates. Here are six of them: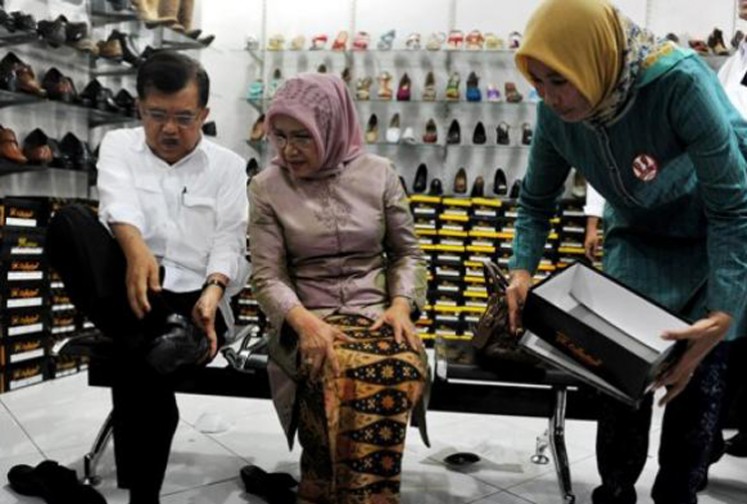 Vice President Jusuf Kalla, accompanied by his wife, Mufidah Jusuf Kalla, tries on shoes at a shoe store in Cibaduyut Market in Bandung, West Java. (tribunnews.com/File)
Jusuf Kalla
Jusuf Kalla, a longtime player in Indonesian politics, is a former chairman of Golkar. Kalla has held the VP position twice, during former president Susilo Bambang Yudhoyono's first term and now with Jokowi. He also served as a House of Representatives and People's Consultative Assembly member and as minister twice, as the trade and industry minister (1999-2000) and the coordinating minister for people's welfare (2001-2004). Currently, he is the chairman of the Indonesian Red Cross and the Mosque Council.
Kalla oversees a significant business empire, making him one of the most successful businessmen from eastern Indonesia. In 2014, Kalla's wealth was valued at over Rp 465 billion.
Why Jokowi would choose him: Kalla is the best choice if Jokowi wants to play it safe. Golkar is the second-largest political party after the PDI-P, and Kalla's record and experience justify the choice. Centre for Strategic and International Studies (CSIS) political analyst Arya Fernandes said that securing Kalla as VP would mean preventing his mentee, current Jakarta Governor Anies Baswedan, from running either as a presidential candidate or Prabowo Subianto's VP.
Possible downside: The Constitution bans a president or vice president from serving more than two terms. But some Golkar and PDI-P politicians have said the provision could be interpreted differently, as Kalla did not serve the two terms consecutively. Many would consider him too old for the job, as he will be turning 76 years old this May — the same age as Soeharto when he was ousted from the office in May 1998.
Furthermore, a statement from Kalla indicates that he might not run again. He said on Monday that the philosophy of limiting the terms of a president and vice president should be respected.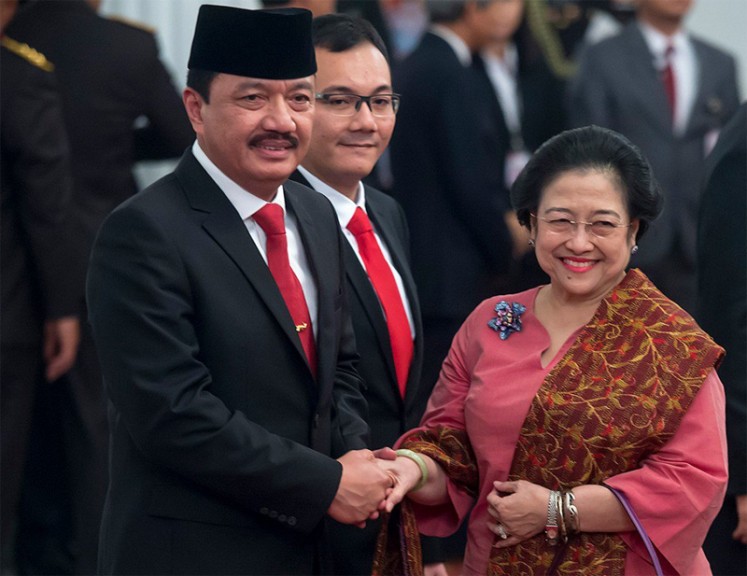 Former president Megawati Soekarnoputri (right) congratulates newly appointed National Intelligence Agency (BIN) chief Gen. Budi Gunawan (left) after an inauguration ceremony at the State Palace on Sept. 9, 2016. (Antara Photo/Widodo S. Jusuf)
Budi Gunawan
Budi Gunawan is a retired four-star police general who has chaired the State Intelligence Agency (BIN) since September 2016. He is considered to be close to PDI-P patron Megawati, for whom he served as a presidential adjutant.
Why Jokowi would choose him: He is a close ally of Megawati. The PDI-P, the nation's largest party, has said it has given its leader, Megawati, the discretion to decide Jokowi's running mate. Jokowi needs Megawati's approval of his choice of running mate to keep the party's support, though he has had enough support to contest the election without the party.
Possible downside: Budi Gunawan's track record is not necessarily flawless. In January, 2015, Jokowi had nominated Budi Gunawan as the National Police chief with approval from the House of Representatives. But the President was not able to inaugurate him because the Corruption Eradication Commission (KPK) named him a graft suspect. Budi filed a pretrial motion to challenge the KPK's decision and won the case. The court annulled his suspect status, practically exonerating him from all charges before the trial began.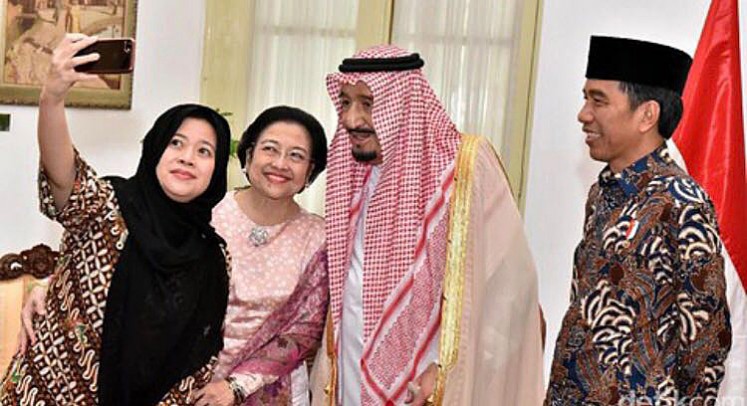 Welfie: President Joko "Jokowi" Widodo smiles as he watches former president Megawati Soekarnoputri and her daughter, Puan Maharani, who is also coordinating human development and culture minister, take a welfie with King Salman bin Abdulaziz Al Saud at the State Palace in this March 2, 2017, file photo. (Courtesy of the Presidential Palace/Agus Soeparto)
Puan Maharani
Coordinating Human Development and Culture Minister Puan Maharani is above all known as the daughter of Megawati and the late Taufiq Kiemas, who served as the speaker of the People's Consultative Assembly until his death in 2013. She was a lawmaker and head of the PDIP's faction before she was appointed minister.
Why Jokowi would choose her: She is Megawati's daughter and, therefore, a political heir to former president Sukarno, one of the nation's founding fathers. Puan had eyed the VP position in 2014. If she is chosen as VP, she would be the second female VP in the country's history after Megawati in 1999-2001.
Possible downside: Some people may consider Puan as incompetent, and that she only enjoyed her political positions based on her blood and not merit. The PDI-P will certainly dismiss such a notion. Even though Megawati has two other children, Puan is the one being groomed as the heir to the political party.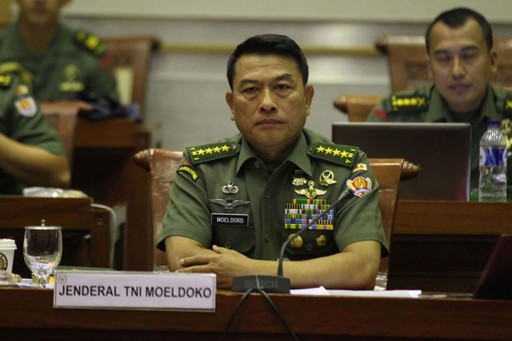 Former Indonesian Military (TNI) commander Gen. (ret.) Moeldoko. (JP/Wendra Ajistyatama)
Moeldoko
Following his recent appointment as presidential chief of staff, the possibility of Moeldoko being a VP candidate has risen. A retired four-star military general, Moeldoko served as an army chief for a brief period before being appointed military chief from 2013 to 2015. Moeldoko's military career includes his involvement in the Seroja Operation (Indonesian invasion of East Timor).
Why Jokowi would choose him: He is a military man. According to a survey released by Pollster Indo Barometer last December, Jokowi is better off with a military partner to counterbalance the strongman image of his rival, former military general Prabowo. His name was also raised as a possible running mate for Jokowi in 2014, but he told The Post he would rather continue his job as then military chief.
Possible downside: As a military chief, Moeldoko made several pushes to increase the role of the military — a concerning move for a country with a history of military rule.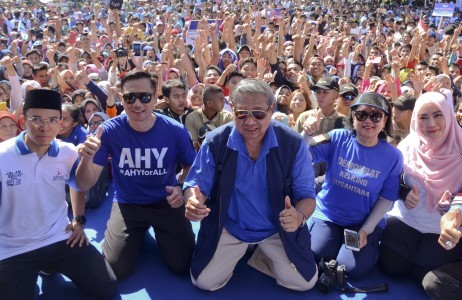 West Nusa Tenggara Governor M. Zainul Majdi (left), Agus Harimurti Yudhoyono (second left), Democratic Party chairman and former president Susilo Bambang Yudhoyono (center) and former first lady Ani Yudhoyono (second right) pose together in Bumi Gora Park in Mataram, West Nusa Tenggara, in this May 7, 2017, file photo. (Antara/Ahmad Subaidi)
Tuan Guru Bajang or Muhammad Zainul Majdi
Tuan Guru Bajang (TGB) is a Muslim scholar and the two-time governor of West Nusa Tenggara. As a scholar, he often preaches in other Indonesian provinces, building more national rapport. Under his leadership, West Nusa Tenggara has gained several awards in tourism. He is currently the chairman of the Indonesian branch of the Al-Azhar Alumni International Organization.
Why Jokowi would choose him: In the current political climate, TGB's image as a respected Muslim scholar could help boost Jokowi's electability among more conservative Muslim voters. While Jokowi himself is a Muslim, he is often seen as anti-Islam and at one point was rumored to be a Christian. Analyst Muhammad Qodari from Indo Barometer said, Jokowi must choose a running mate that "can reach out to majority groups". TGB is also popular in West Nusa Tenggara, which helps Jokowi's development program in eastern Indonesia.
Possible downside: Although TGB is not a controversial figure, he is relatively unknown to the national public compared to other candidates.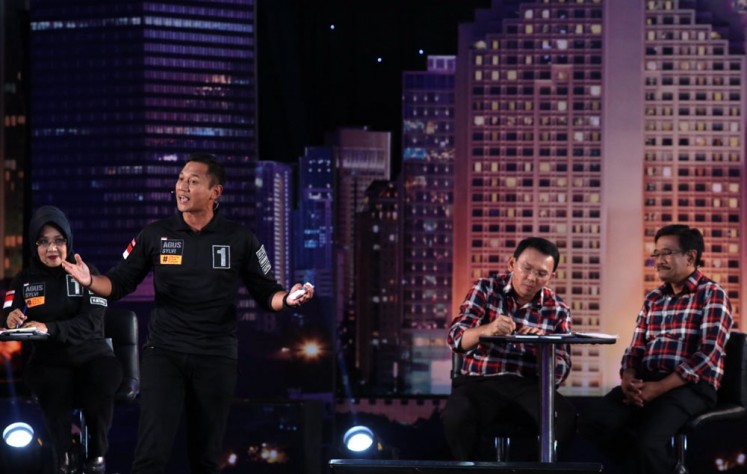 Then gubernatorial candidate Agus Yudhoyono (second left) answers a question during an election debate in Jakarta on Jan.13, 2017. (JP/Seto Wardhana.)
Agus Harimurti Yudhoyono
Agus is the eldest son of former president Susilo Bambang Yudhoyono. Before retiring to pursue the Jakarta governor ticket, Agus' military career was dominated by several foreign postings and academic leaves. After falling short in the first round of the 2017 Jakarta gubernatorial election, Agus stayed busy, attending Democratic Party events across Indonesia and establishing the Yudhoyono Institute.
Why Jokowi would choose him: A Jokowi-Agus pairing would thaw the often conflicting interests between the PDI-P and the Democrats, which came fourth in the 2014 legislative election with 10.19 percent of the vote.
Agus is young and social-media savvy, making him an easy sell for Indonesia's burgeoning young lower and middle class.
Possible downside: His strength is also his weakness. Agus is seen as too young and inexperienced for such a strategic post. Choosing a VP candidate from the Democrats, a party outside the ruling coalition, could also affect Jokowi's relations with other political parties that have supported him. (ahw)
Join the discussions