Witness reveals odd requests made by Setya, doctor during treatment
News Desk

The Jakarta Post
Jakarta |

Mon, April 2, 2018

| 06:25 pm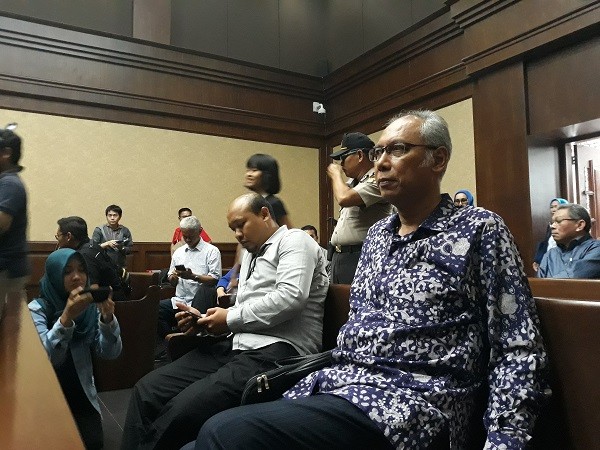 Spin doctor: Bimanesh Sutarjo, a doctor at private hospital Medika Permata Hijau in Jakarta, sits on the witness bench at the Jakarta Corruption Court on March 8. Corruption Eradication Commission (KPK) prosecutors indicted the doctor for allegedly obstructing the antigraft body's investigation into former House of Representatives speaker and defendant Setya Novanto in the e-ID graft case. (JP/Kharishar Kahfi)
Indri Astuti, a nurse assigned to treat graft defendant Setya Novanto during his stay at private hospital Medika Permata Hijau, testified on Monday that she received unusual requests from Setya and his doctor Bimanesh Sutarjo.
"He [Bimanesh] asked me to stick an intravenous (IV) drip on the patient's [Setya's] arm," she said as a witness at the Jakarta Corruption Court on Monday as reported by kompas.com.
When pressed by the judges on what she meant, Indri explained that she stuck a needle onto Setya's arm to make him look as if he was connected to an IV drip.
"I latched the needle, instead of injecting it. I was surprised at first but then I thought to myself 'never mind' and I continued to record his heartbeat," she added.
Bimanesh, along with Setya's attorney Fredrich Yunadi, is standing trial for obstruction of justice for allegedly helping Setya, who sits as a defendant in the high profile e-ID graft case, to evade Corruption Eradication Commission (KPK) questioning.
During her testimony, Indri also recalled that Setya requested iodine and a bandage for the wounds on his forehead.
"I declined his request, seeing that he did not have any open wounds that required treatment. Also, such medicine is not available at the hospital anymore," she said, adding that the wounds on his forehead and hand were only minor scratches.
The obstruction of justice case centers on the former House of Representatives speaker's single-vehicle collision on Nov. 16, a day after KPK investigators raided his house and sought to arrest him after he failed to answer its summons. Setya was immediately brought to Medika Permata Hijau after the crash where he was treated by Bimanesh. (dpk/rin)
Join the discussions