AP I, authorities violate human rights in Yogya airport project: Komnas HAM
Bambang Muryanto

The Jakarta Post
Yogyakarta |

Tue, May 8, 2018

| 09:04 pm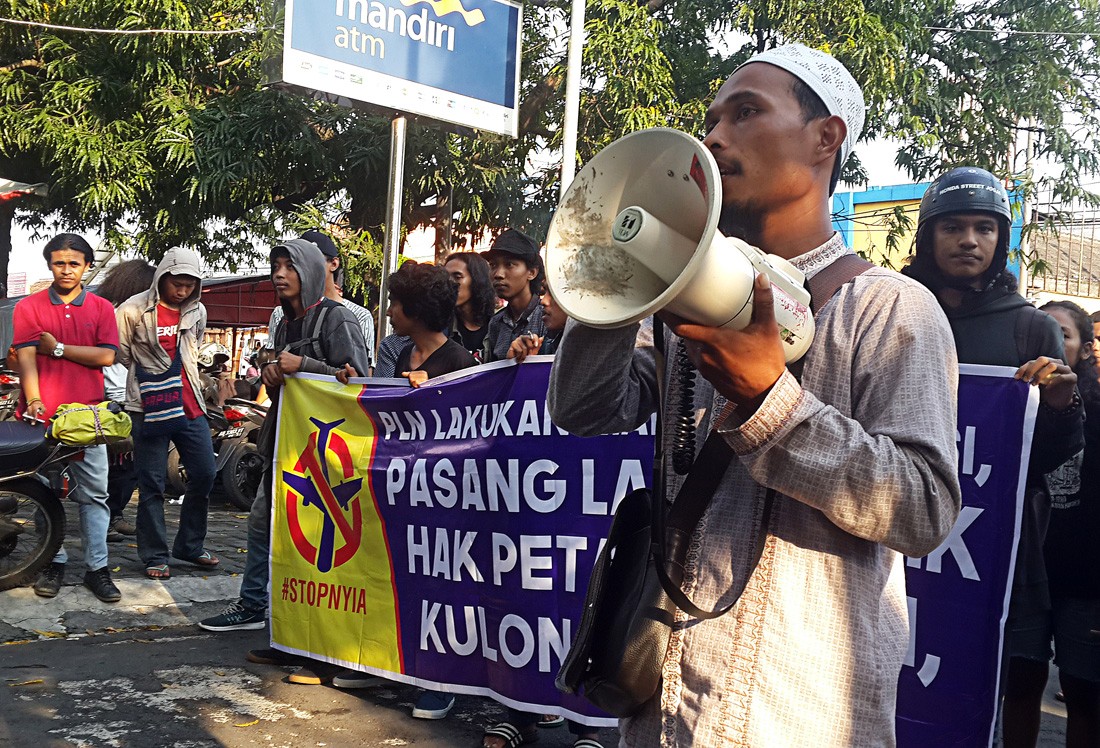 Vocal: Local Islamic figure Ustadz Sofyan, one of the leaders of an association of local residents rejecting eviction in Kulon Progo, PWPP-KP, calls on state-owned utility firm PLN Yogyakarta to restore the electricity supply to their houses. (JP/Bambang Muryanto)
The National Commission on Human Rights (Komnas HAM) has accused the government, along with state-owned airport operator Angkasa Pura (AP) I and the Yogyakarta Police, of violating human rights in the clearing of land for the New Yogyakarta International Airport in Kulon Progo.
In a letter expressing its rejection of the project, the commission says it suspects the land clearing, which was marred with the destruction of trees and art objects as well as electricity supply disruption, violated people's right to prosperity, especially the right to ownership, as stipulated in Article 37 (2) of Law No. 39/1999 on human rights.
Signed on May 2 by Amiruddin, a member of Komnas HAM's human rights enforcement subcommission, the letter is addressed to Yogyakarta Governor Sri Sultan Hamengkubuwono X, the Yogyakarta Police and Kulon Progo Regent Hasto Wardoyo.
"Yes, we have sent them the letter," Amiruddin told The Jakarta Post on Tuesday.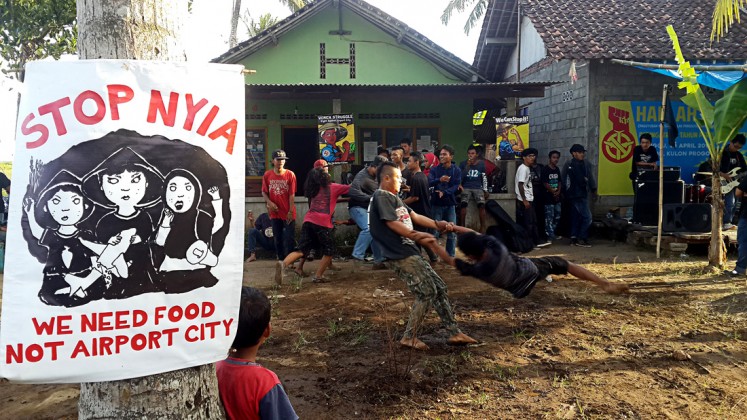 Art of resistance: Residents of Kulon Progro, Yogyakarta, who have formed an association rejecting eviction in Kulon Progo, stage an art performance on Tuesday to express their opposition to the planned New Yogyakarta International Airport. (JP/Bambang Muryanto)
Komnas HAM called on AP I and the Kulon Progo Police to avoid repressive action and intimidation.
"The Yogyakarta government, in this regard the Kulon Progo administration, and AP I must open a dialogue with all residents organized in the PWPP-KP [pressure group] and accommodate their complaints and expectations by pushing forward social and cultural aspects," said Amiruddin.
On Dec. 5, 2017, security authorities had arrested 12 activists supporting residents opposed to the construction of the new airport.
PWPP-KP lawyer Teguh Purnomo said Komnas HAM had proven that AP I, the government and the police had violated human rights. "Those proven guilty of violating human rights must be punished," he said. (ebf)
Join the discussions