Jokowi has decided on his running mate. Who is it going to be?
Nurul Fitri Ramadhani

The Jakarta Post
Jakarta |

Tue, July 10, 2018

| 09:00 am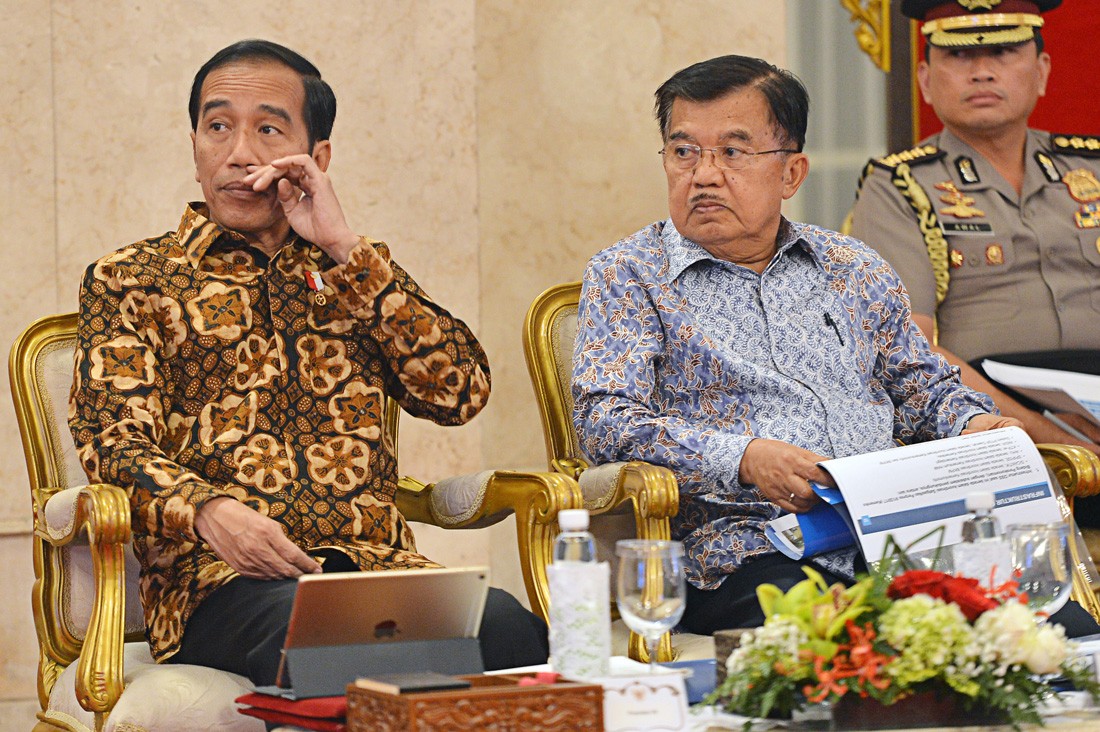 President Joko "Jokowi" Widodo (left) and Vice President Jusuf Kalla. Who is going to sit next to Jokowi in 2019? (Antara/Wahyu Putro A.)
President Joko "Jokowi" Widodo has picked his running mate in the 2019 presidential election and will announce it "at the right moment".
"I will announce it at the right moment. It is only a matter of days; be patient," Jokowi told reporters on Saturday.
The secretary-general of the Indonesian Democratic Party of Struggle (PDI-P), Hasto Kristianto, said on Monday in a statement that the President had held a closed-door meeting with party chairwoman Megawati Soekarnoputri on Sunday evening at Batu Tulis Palace, a privately owned residence of former president Sukarno's family, in Bogor, West Java.
The deadline for the registration of presidential candidate pairs for next year's election is Aug. 10.
Reports say Jokowi picked one name from a list of about 10. Who were on the list?
Muhammad Romahurmuziy
Born in Sleman, Yogyakarta, in 1974, Romahurmuziy is the chairman of the United Development Party (PPP), which formed as a result of a merger of several Islamic parties, including the Nahdlatul Ulama (NU) Party. Calling themselves Rumah Besar Islam (Islam Great House), the PPP is expected to bring Jokowi a considerable amount of Muslim voters.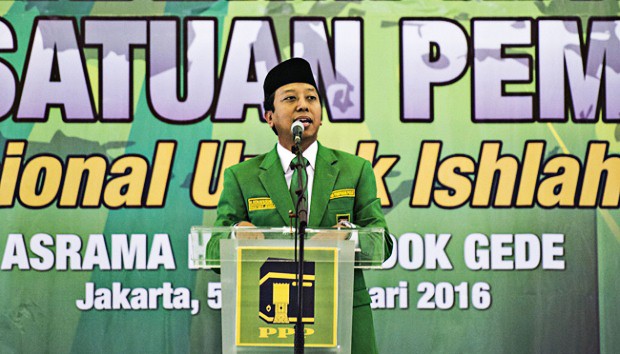 United Development Party (PPP) chairman Muhammad Romahurmuziy. (Antara/-)
Read also: PPP names Romahurmuziy new chairman
In a recent TV interview, Jokowi said Romahurmuziy was a suitable candidate for vice president.
Analysts, however, doubt that Romahurmuziy, who comes from a prominent NU family in Yogyakarta, can help Jokowi boost his electability as indicated by numerous public opinion polls that placed him outside the top 10 candidates for the vice presidential slot.
The PPP controls 39 seats in the House of Representatives.
Muhaimin Iskandar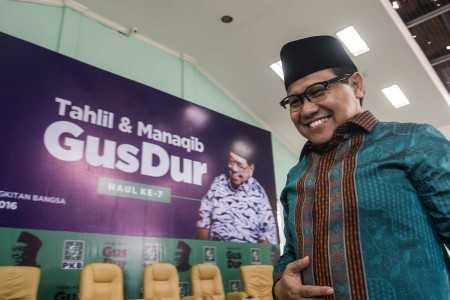 National Awakening Party (PKB) chairman Muhaimin Iskandar. (Antara/M Agung Rajasa)
Muhaimin is the leader of the National Awakening Party (PKB), a party closely affiliated with Indonesia's largest Muslim organization, the NU. Similar to Romahurmuziy, Muhaimin, born in Jombang, East Java, in September 1966, is considered a potential running mate because of his affiliation with Muslim voters. Analysts also say both Romahurmuziy and Muhaimin would interest young voters as well.
Read also: Former minister testifies as witness in extortion case
The PKB, a party founded by former president Abdurrahman Wahid, or Gus Dur, controls 47 seats in the House. Muhaimin is Gus Dur's nephew, but in a battle for power within the PKB in 2008, Muhaimin was in conflict with Gus Dur himself and his family.
Moeldoko
Former Indonesian Military (TNI) chief and current Presidential Chief of Staff Moeldoko was also on the list.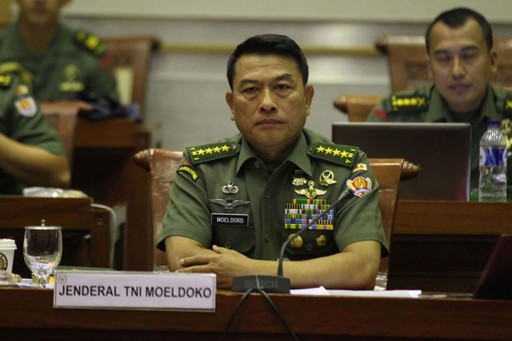 Presidential Chief of Staff Moeldoko. (JP/Wendra Ajistyatama)
"Moeldoko can help Jokowi deal with [possible] sectarian tensions, because he has expertise in dealing with security issues, although he can't represent Muslim groups," said Ari Nurcahyo of Jakarta-based think tank Para Syndicate.
Read also: Moeldoko boasts feats during tenure
Aged 61, Moeldoko served as the TNI commander from 2013 to 2015. One of his notable assignments during his military career was in Timor Leste in 1984 and as a peacekeeper in the Democratic Republic of the Congo in 1995.
Last week, Moeldoko resigned from his position in the Hanura Party. The party's chairman, Oesman Sapta Odang, said Moeldoko had resigned as the deputy head of the advisory council in the party because of a tight schedule.
Airlangga Hartarto
Golkar Party chairman Airlangga Hartarto, 55, has also served as the industry minister since 2016. A technocrat-turned-politician, Airlangga graduated from Gadjah Mada University's engineering department and holds two master's degrees from Monash University and the University of Melbourne in Australia.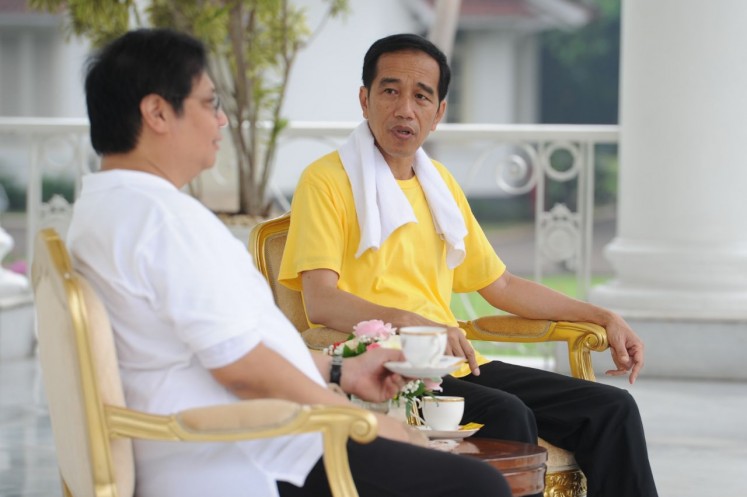 President Joko "Jokowi" Widodo (right) and Golkar Party leader Airlangga Hartarto enjoy tea time after a jog at Bogor Palace in West Java on Saturday. (Courtesy of/Presidential Palace)
Read also: Jokowi, Airlangga hold election talks at Bogor Palace
Airlangga is a son of the late Hartarto Sastrosoenarto, who held three ministerial jobs from 1983 to 1998, during the Soeharto era.
Analysts, however, consider him incapable of helping Jokowi quell possible sectarian tensions during the election.
Puan Maharani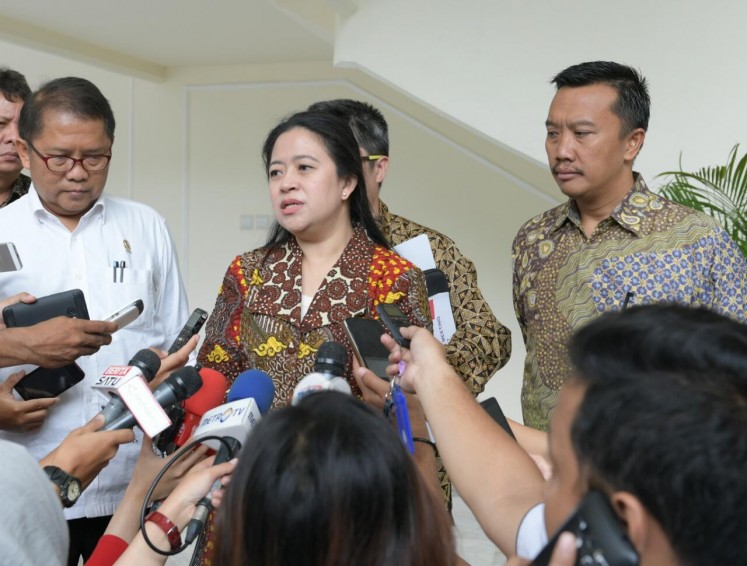 Coordinating Human Development and Culture Minister Puan Maharani. (Youth and Sports Ministry/Youth and Sports Ministry)
Some PDI-P politicians have proposed Coordinating Human Development and Culture Minister Puan Maharani. She is also a politician in the PDI-P, the ruling party and the main party that endorsed Jokowi in the 2014 presidential election. Jokowi himself is a PDI-P politician.
Read also: Puan denies Setya's claim she received e-ID money
Those promoting Puan, 45, as the vice presidential candidate argued that she could entice young voters.
Puan is the daughter of Megawati and the late Taufiq Kiemas, a senior politician in the PDI-P. Puan ran in legislative elections in 2009 and 2014, securing 242,504 and 326,927 votes, respectively. Both results made her the legislator with the second-most votes in both elections.
Nonparty names
Political expert Syamsuddin Haris of the Indonesian Institute of Sciences (LIPI) said Jokowi would face a conundrum if he picked a running mate from political parties, given their competing interests. "If Jokowi picks one party chairman, then the other political parties could be disappointed and they could just leave him."
Read also: Another ex-Prabowo ally defects to Jokowi
Nonpartisan figures thought to potentially be Jokowi's running mate include: Indonesian Ulema Council (MUI) chairman Ma'ruf Amin, 75; former Constitutional Court chief justice Mahfud MD, 61; and West Nusa Tenggara (NTB) Governor Muhammad Zainul Majdi, 46, widely known as Tuan Guru Bajang (TGB).
Analysts said support from TGB could significantly boost Jokowi's electability, particularly among Muslim voters in NTB, a Prabowo Subianto stronghold. (kuk/evi)
Topics :
Join the discussions