'Jihadi' kindergarten parade raises questions about radicalism within TNI
Karina M. Tehusijarana

The Jakarta Post
Jakarta |

Tue, August 21, 2018

| 02:35 pm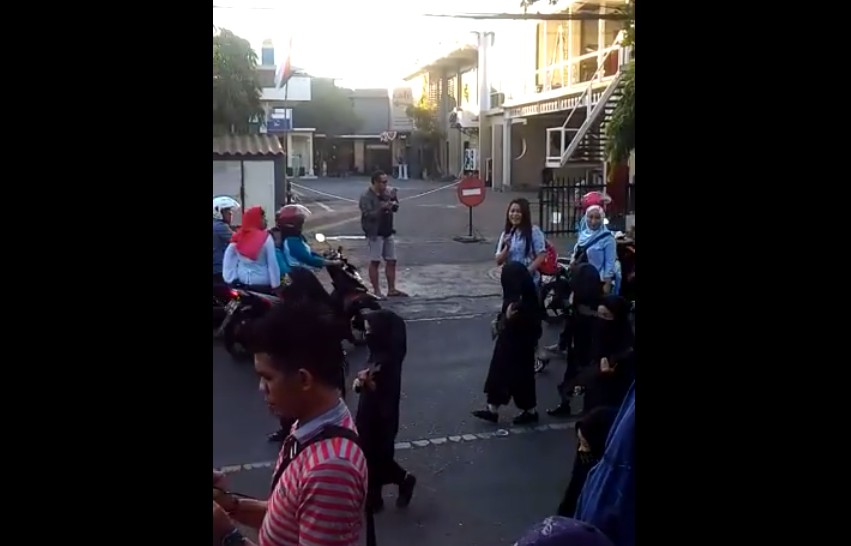 Students of Kartika V-69 kindergarten, which is under the supervision of the 0820 Probolinggo Military Command (Kodim), marched in an Independence Day parade in black robes and niqabs (face veils) and wielding assault rifle replicas as part of the school's "Fight with the Messenger of Allah to Increase Faith and Piety" theme. (Facebook/City of Probolinggo)
An Independence Day parade involving a kindergarten overseen by the Indonesian Military (TNI) in Probolinggo, East Java, has raised concerns about radicalism within the TNI's ranks.
Students of Kartika V-69 kindergarten, which is under the supervision of the 0820 Probolinggo Military Command (Kodim), marched in the parade clad in black robes and niqab (face veils) and wielding assault rifle replicas as part of the school's "Fight with the Messenger of Allah to Increase Faith and Piety" theme.
Photos and videos of the parade went viral on social media, leading to accusations that the parade showed that the school was instilling radicalism in its students.
Hartatik, the kindergarten's principal, has since apologized, saying that the school was just utilizing items in its warehouse.
"We apologize for the inconvenience," she said on Saturday as quoted by kompas.com.
Kodim 0820 Commander Lt. Col. Depri Rio Saransi said the school would be given an administrative punishment.
"We did not know about the costumes that would be worn," he said. "The kindergarten did not consult us."
On Monday, Education and Culture Minister Muhadjir Effendy called for a halt to the controversy.
"This was just a spontaneous display," he said as quoted by tempo.co. "There was no intention to display radical symbols."
Observers and analysts were not satisfied by the explanations, however, calling for an inquiry into the incident.
Indonesian Muslim Crisis Center director Robi Sugara said that theme itself was not necessarily problematic, but the way that the school administrators chose to express it was worrying.
"There were no assault rifles in the time of the Prophet Muhammad," he told The Jakarta Post on Tuesday. "That type of attire together with the weapons is exactly what IS [Islamic State] extremists use."
He said the parade signaled the school's implicit recognition that IS was representative of Islam.
"This is very troubling and I think that it shows that there is something wrong with the religious understanding within the TNI/Polri [National Police]," he said.
Military expert Mufti Makarim agreed, saying that the existence of such a parade at a TNI-run school meant one of two things.
"I think the parade shows that either there is a permissive attitude within the TNI toward such expressions of radicalism, or that this is an isolated case that the TNI failed to anticipate," he told the Post, adding that both possibilities had worrying implications.
"If it's the first, then it means that the TNI has a lax attitude toward ideologies that are contradictory to Pancasila and that support the establishment of a religious state," he said. "If it's the second, then it reflects poorly on the TNI's understanding of the symptoms of extremism, especially since it wants to play a larger role in combating terrorism." (ahw)
Topics :
Join the discussions