Djarot hints Ahok may return to politics
Nurul Fitri Ramadhani

The Jakarta Post
Jakarta |

Wed, November 28, 2018

| 09:21 am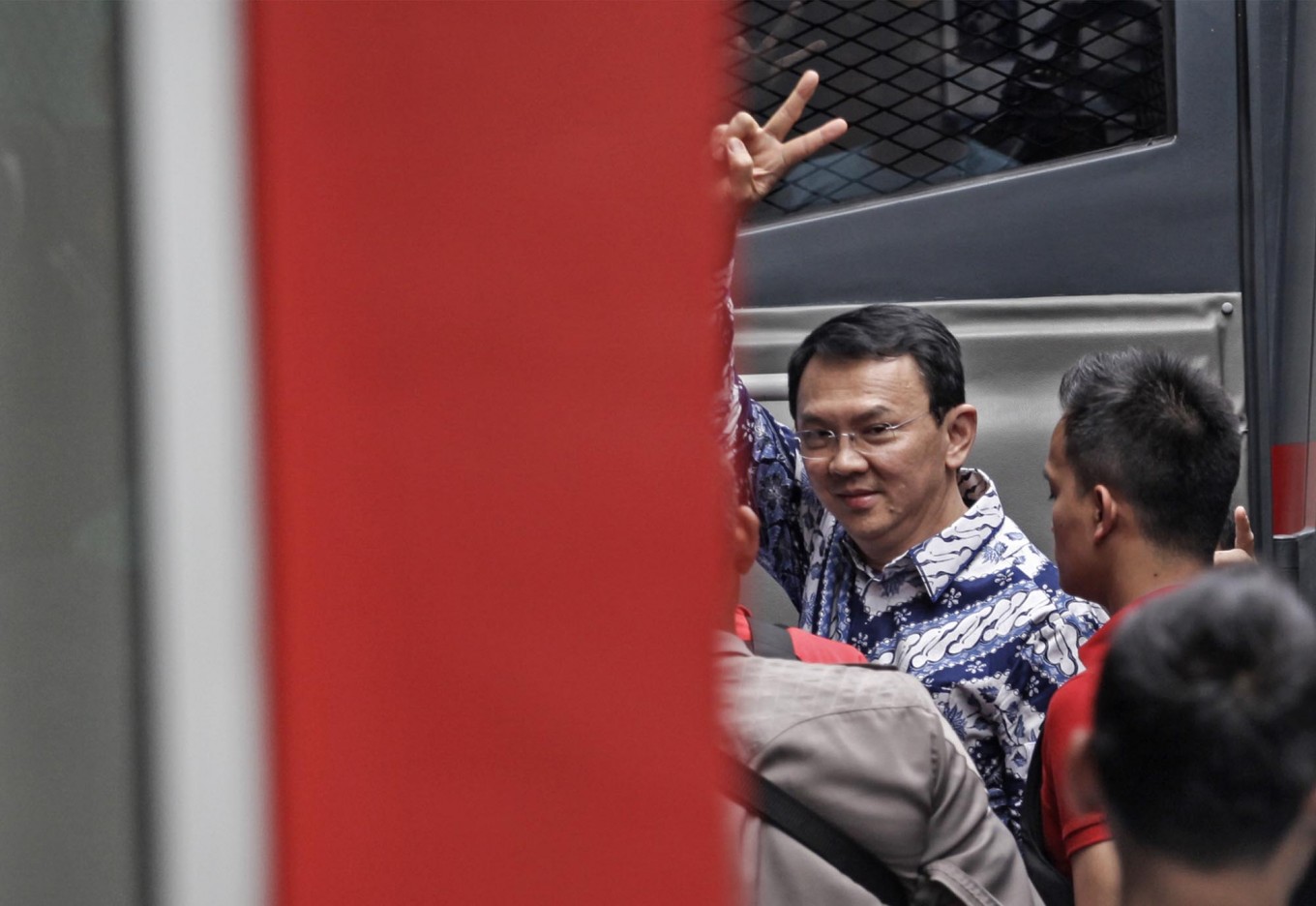 Former Jakarta governor Basuki "Ahok" Tjahaja Purnama flashes the victory sign before being transferred to the National Police Mobile Brigade (Brimob) detention center in Depok, West Java, on May 9, 2017. (Antara/Ubaidillah)
Former Jakarta governor Basuki "Ahok" Tjahaja Purnama has not ruled out making a political comeback after serving his prison sentence for blasphemy in January, about three months before the April legislative and presidential elections, according to his former deputy governor and close ally Djarot Saiful Hidayat.

The Indonesian Democratic Party of Struggle (PDI-P) politician claimed that Ahok had told him he might return to politics and join Djarot's party.

"[Ahok] said, 'If I return to politics, I will certainly join the PDI-P," said Djarot, who decided to run for a seat at the House of Representatives after losing the North Sumatra gubernatorial election, as quoted by Antara on Monday.

Djarot had recently spoken to Ahok at the latter's cell at the Mobile Brigade Command (Mako Brimob) detention center in, Depok, West Java.

During his visit, Djarot claimed that Ahok had also called on his supporters to vote for the PDI-P in the legislative election and for President Joko "Jokowi" Widodo and his running mate, Ma'ruf Amin, in the presidential race.

Neither Ahok nor his sister, Fifi Lety Indra, has confirmed Djarot's claims. Fifi told The Jakarta Post that Ahok had yet to decide whether he would return to politics after his release.

"He may return to Indonesian politics or he may not. We will hear [his decision] after he is released. Whatever it is, we will support him," Fifi said.

A number of politicians from other parties that backed Ahok's reelection bid in 2017 said they believed Ahok would not quit politics, but they doubted Djarot's claims that the outspoken politician had called on his supporters to vote for PDI-P.

"We will believe it if Ahok says it himself publicly. Djarot's claims are meant to boost [the PDI-P's] popularity in the election," said Hanura Party executive Benny Rhamdani. "Ahok belongs to all parties, not only one or two."

Indonesian Solidarity Party (PSI) leader Grace Natalie said Ahok had yet to decide whether to join the PDI-P or other parties, suggesting that it was possible he would end up joining her political party instead.

The PSI is a major supporter of Ahok and led by former members of the Ahok-Djarot campaign team during the 2017 Jakarta gubernatorial election, such as secretary-general Raja Juli Antoni and party executive Sunny Tanuwidjaja.

"If Ahok wants to join us, of course we'll accept him," Grace said, adding that Ahok was an inspiration to her party.

Ahok was a Golkar Party politician before defecting to the Gerindra Party, which backed his bid in the 2012 Jakarta gubernatorial election with then-PDI-P politician and Surakarta mayor Joko "Jokowi" Widodo. He left Gerindra not long after Jokowi was elected Jakarta governor and decided to challenge Gerindra Party leader Prabowo Subianto in the 2014 presidential election and won, leaving his gubernatorial post to Ahok.

Ahok's blasphemy trial played a major role in his defeat in the 2017 Jakarta election. His conviction has been widely condemned as politically motivated and has hardened his staunch supporters, who believed he was a victim of a sectarian politics.
This article was originally published in The Jakarta Post's print edition on Nov. 28, 2018, with the title "Djarot hints Ahok may return to politics".
Topics :
Join the discussions