1MDB scandal back in the spotlight
Bangkok |

Fri, November 3, 2017

| 04:15 pm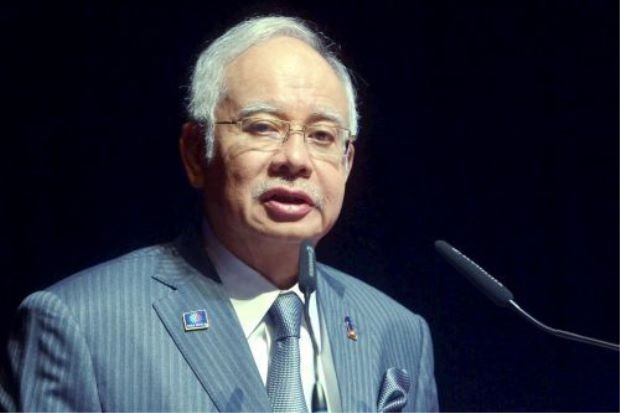 Malaysian Prime Minister Najib Razak (The Star/File)
Goldman Sachs is facing more scrutiny over its role in the 2015 1MDB scandal, amid ongoing accusations that Malaysian Prime Minister Najib Razak looted more than 2.67 billion ringgit (nearly US$700 million) from the state investment fund. Both 1MDB and Najib, who formerly chaired its advisory board, have consistently denied any wrongdoing.
With probes into 1MDB progressing in Switzerland, the UK, the US and elsewhere, Singapore investigators are interviewing current and former Goldman Sachs executives who worked on bond offerings from 1MDB. Bloomberg reports that the criminal probe into 1MDB fund flows is also scrutinising Goldman Sachs' links with Malaysian financier Low Taek Jho, who the US says controlled a plot to siphon billions of dollars from the bond proceeds. Neither the bank nor its employees have been publicly accused of criminal offences in relation to the fund.
New York-based Goldman Sachs is under the spotlight for raising almost US$6 billion for 1MDB in 2012 and 2013. Meant to fund development projects, most of the money was instead diverted by high-level 1MDB officials and their associates, US prosecutors allege.
On Thursday, Singapore sought to further cleanse its financial system of the scandal by banning two more individuals connected with 1MDB dealings.
The city-state's Monetary Authority slapped six-month bans on Kelvin Ang, a former trader, and former research analyst Lee Chee Waiy, taking to six the number of people the regulator has barred over 1MDB-related matters, Bloomberg reports.
The city-state has also shut the local units of two Swiss banks, seized hundreds of millions in assets and convicted five people over 1MDB-related offences.
In March, MAS banned former Goldman Sachs Group Inc banker Tim Leissner from its securities industry for 10 years after saying he issued an unauthorized letter and made false statements on behalf of the US bank.
Malaysian police on Thursday reopened their investigation into 1MDB on instructions from the attorney-general. The police declined to give details of the probe.
In 2015, then-attorney-general Abdul Gani Patail was removed from his post while heading an investigation into claims of misappropriations of 1MDB funds allegedly involving Najib.
The embattled prime minister has so far weathered the storm over 1MDB and is now gearing up for an election next year. In a bid to woo voters hit by rising living costs, he announced an expansionary 2018 budget last Friday, with a 7.5 percent rise in public spending.
Join the discussions