1 in 5 Malaysian undergrads feel terrorism an effective tool for achieving objectives, says survey
Petaling Jaya |

Fri, July 27, 2018

| 12:02 pm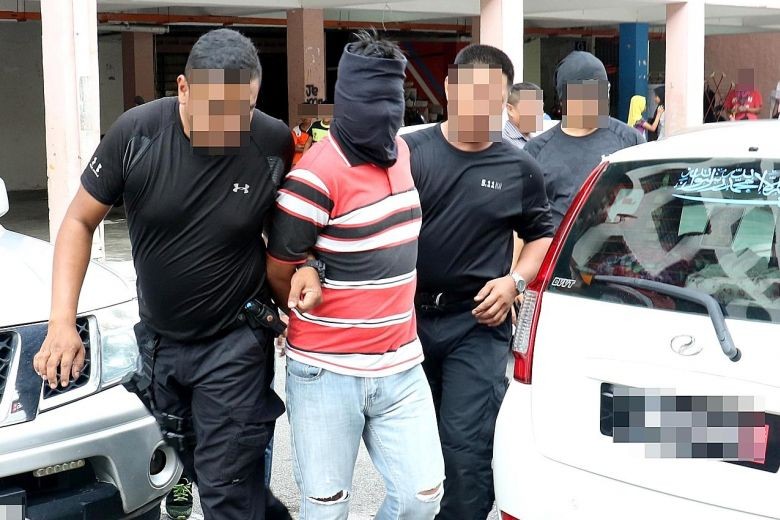 The plot was uncovered after Malaysian counter-terrorism police, aided by their Singaporean counterparts, detained the terror suspects in a series of swoops between Feb 27 and March 15. (Courtesy Malaysian Counter Terrorism Division/File photo)
One-fifth of Malaysian university students or 21 percent of them feel that terrorism is an effective strategy to achieve an objective, a survey has found.
There were similar figures found among Indonesian, Filipino, Singaporean and Thai students surveyed – with 24.24 percent, 23.78 percent, 30.95 percent and 31.81 percent respectively agreeing that terrorism was effective to achieve their objectives.
The survey findings were published in a 274-page paper titled "Undergraduate Radicalisation in Selected Countries in Southeast Asia" by the South-East Asia Regional Centre for Counter-Terrorism that comes under the Foreign Ministry.
"This could possibly be attributed to the rhetoric and propaganda pushed by groups like Daesh (Islamic State).
The survey was conducted among almost 2,000 undergraduates from Universiti Malaysia Kelantan (UMK), Universiti Teknologi MARA (UiTM), Universiti Tenaga Malaysia (Uniten), Universiti Malaysia Sabah (UMS) and Universiti Malaysia Sarawak (Unimas).
The survey was conducted over a span of one-and-a half years from 2016 until this year.
About 7 percent of Malaysian students surveyed felt that terrorism, even when defined as taking the lives of civilians as not illegal or unethical.
"While the figure remains small, it is important to note that the number of undergraduates in the country are continuing to grow and that 7 percent of that growing number could pose a challenge," said Samuel.
On whether terrorism was illegal – 8.22 percent, 9.64 percent, 10.52 percent and 7.68 percent of Indonesian, Filipino, Singaporean and Thai students agreed with the statement.
The majority of Malaysian undergraduates (65.34 percent) believed that they were targets for extremist teachings while 52.41 percent of them felt that it was possible for them to develop violent radical ideas.
More than half (51.87 percent) of the undergraduates felt that it was possible for them to move from having such violent radical ideas to actually conducting violent acts such as terrorism.
Join the discussions