Banten's Sawarna: A hidden paradise facing the Indian Ocean
Sawarna |

Tue, August 15, 2017

| 09:25 am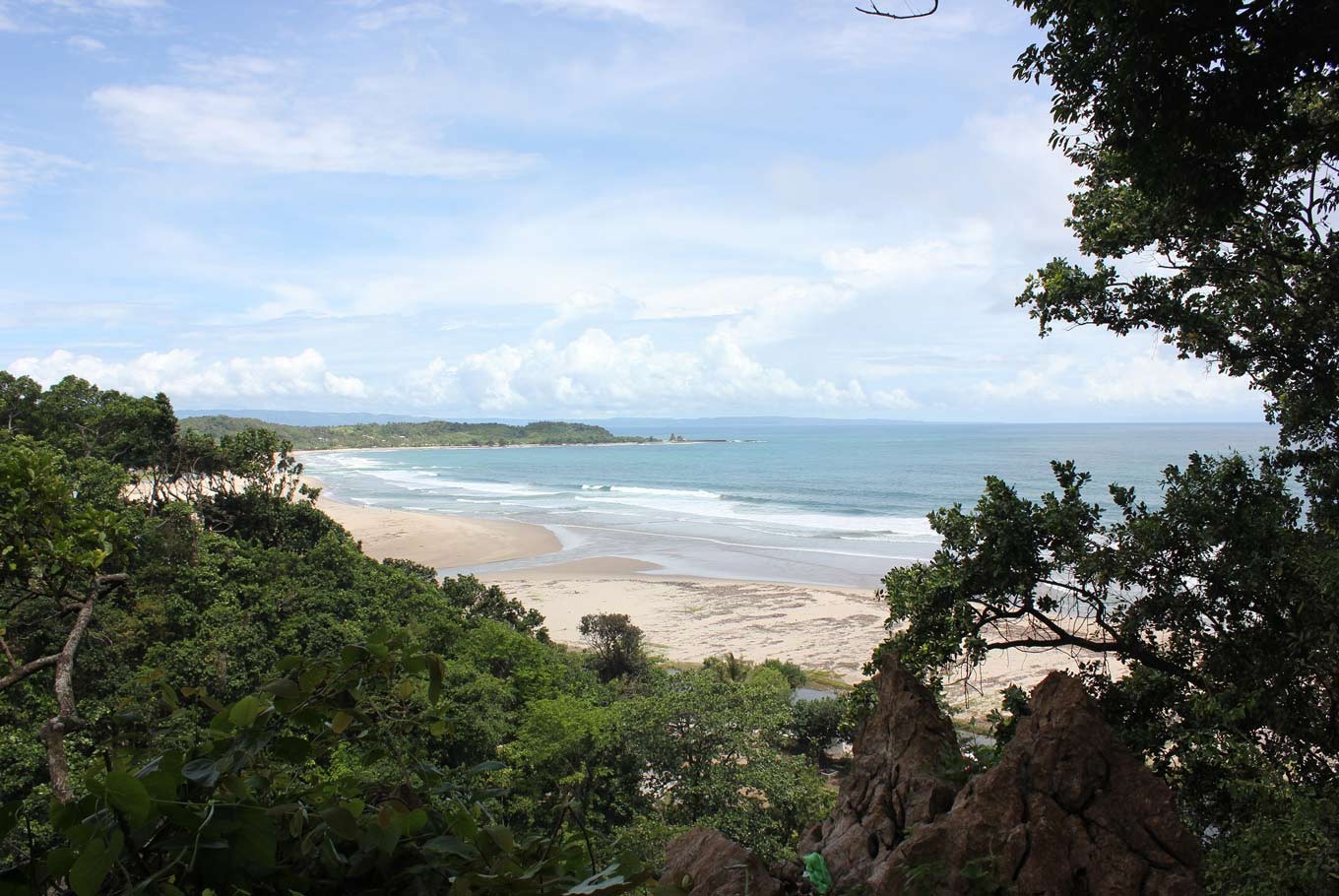 The first sight of Pasir Putih Beach as you near Sawarna while driving from Jakarta. (JP/Pramod Kanakath)
Sawarna is an under-the-radar holiday destination in Indonesia. Even among Jakartans it remains relatively unknown as these city dwellers rarely make the five to six-hour drive to this hidden beauty on the southern shores of Banten province.
Most of the local tourists I met there were from nearby Bandung, West Java's third largest city.
Sawarna's neighbors — Pelabuhan Ratu in the east and Anyer and Carita in the west — have made a name for themselves and are popular weekend destinations. They have developed to support a range of hotels, resorts and tour packages.
However, there are exquisite features only Sawarna can offer.
There are two ways to reach Sawarna from Jakarta, both of which take between five and six hours, or even more if you make occasional stops for food and rest.
The first route travels via Sukabumi-Pelabuhan Ratu, West Java, and the other goes through Serang-Pandeglang in Banten. I took the latter after learning that its road conditions are much better. Yes, I did have a good time driving and made at least three stops on the way, including at a beach in Malingping (an hour from Sawarna) for a seafood lunch.
Read also: Five places for seafood lovers to go in Pantai Indah Kapuk
Once you drive up to Sawarna, you are greeted by the sight of the vast expanse of the ocean (Pasir Putih) from above a hilly road. This was the moment I realized that the hours-long drive, which started early in the morning, had been worth it.
Most beaches in Sawarna are rocky and the rock formations are very imposing. In some parts, like Karang Teraje, they resemble ancient temples, such as the Borobudur Temple.
The waves on these beaches are so high and powerful that they dash against the steep rocks and create momentary waterfalls on the other side.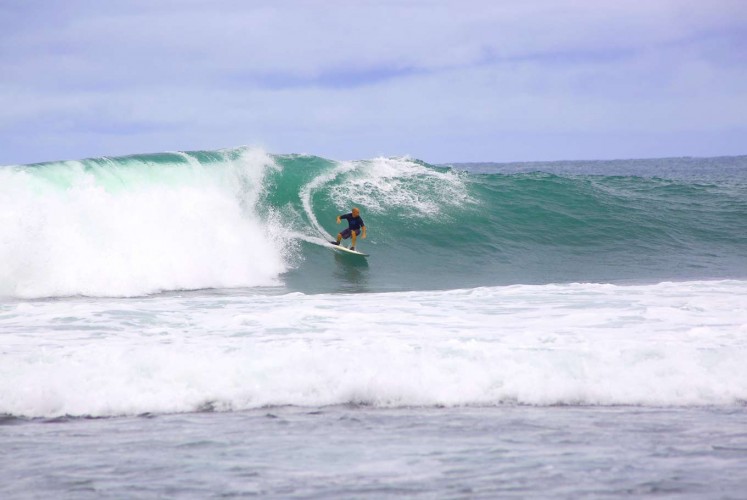 The reef break at Tanjung Layar makes Sawarna a surfer's paradise. (JP/Pramod Kanakath)
I walked to Tanjung Layar Beach, the most famous of Sawarna four beaches, all of which can only be accessed on foot or on motorcycle.
I parked my car in front of the hotel. Some hotels can only be accessed by crossing a bridge or on motorcycle, which means you'll need to park your car a few meters away from the main building.
At Tanjung Layar Beach, I met two kinds of tourists. On the rocky parts, families make the most of their time there, walking in the shallow waters and posing for pictures with a background of the twin peaks and the amazing Indian Ocean.
Many seafood restaurants are scattered along the beach and the food here is much cheaper than in Jakarta. I occasionally spot fishermen coming ashore with their fresh catch and distributing them at different restaurants – fresh seafood assured.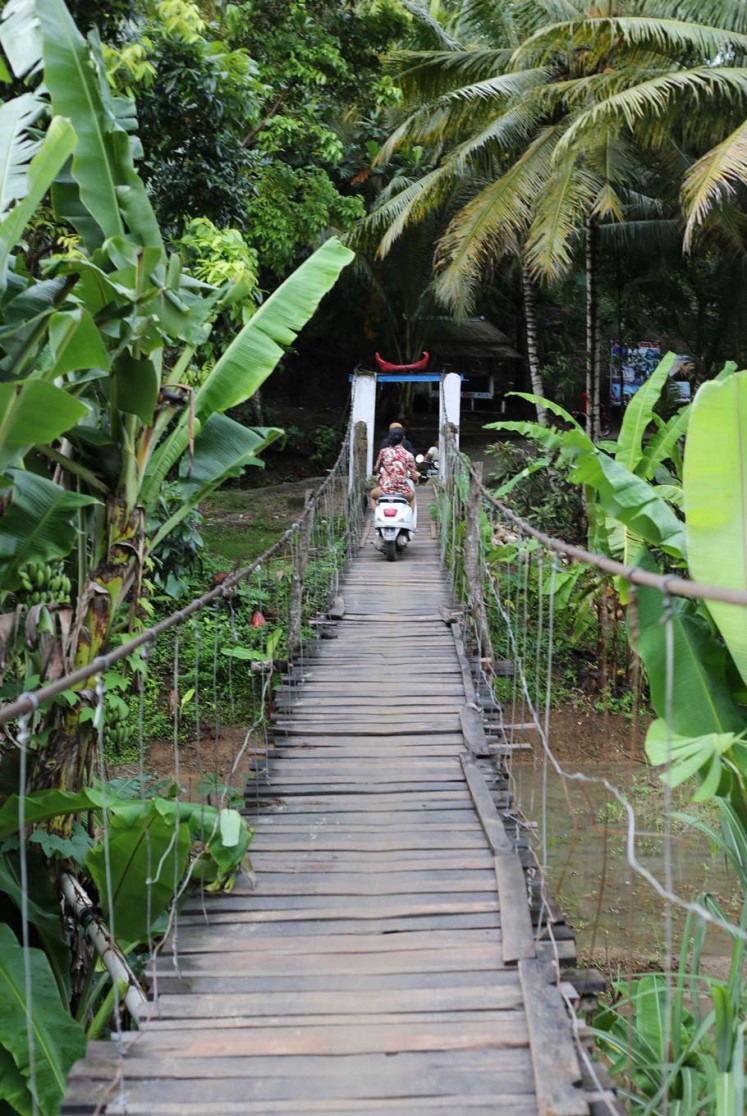 Most beaches are only accessible by motorcycles by crossing wooden bridges over the river. (JP/Pramod Kanakath)
A few meters away at the same beach, I saw a slightly different scenario: Australian and Japanese surfers taking advantage of the high tide in the afternoon. The weather was cloudy but the surfers didn't seem to care, and two or three of them enjoyed the waves without having to compete with a host of other surfers on more popular beaches.
Read also: Recommended Airbnb rentals in Indonesia's surfing spots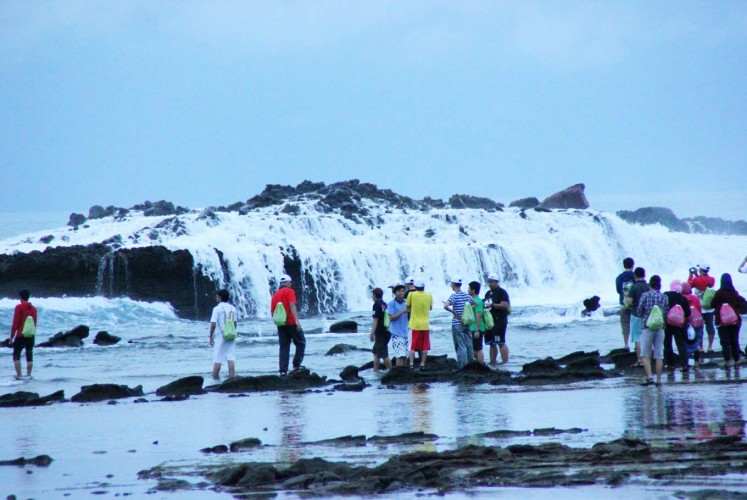 A 'waterfall in the sea' at Karang Bereum. (JP/Pramod Kanakath)
I continued my motorcycle ride down the beach as this is the best way to move around in Sawarna. My guide Wawan is an expert who can maneuver the narrow alleys along the fields and on rickety wooden bridges, which scared me a bit.
The beaches located away from Tanjung Layar are Karang Bereum (where you can see a beautiful sunrise), Legon Pari and Karang Teraje. Only Legon Pari has a sandy area where you may play with the waves and get sun-soaked. These three beaches are connected and within walking distance from one another.
At Karang Bereum, people usually gather in front of a wall of rocks to witness "a waterfall in the sea." The dance of the waves over this wall is really exciting to watch and a group photo with this background can be an excellent souvenir to take home.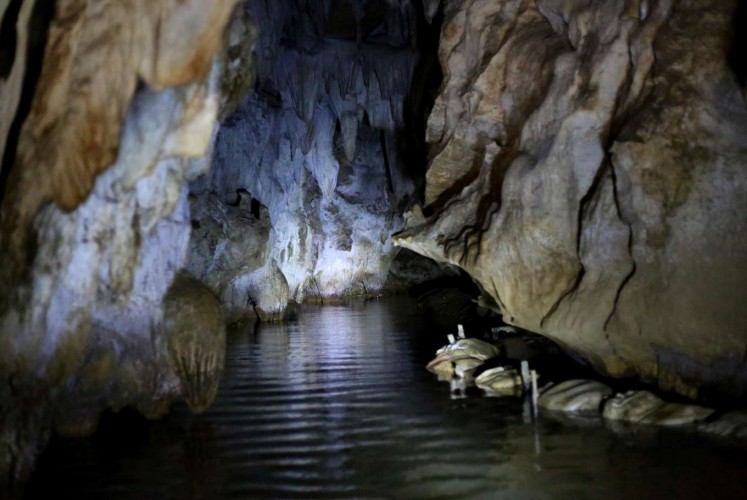 Inside Lalay Cave. (JP/Pramod Kanakath)
Sawarna is not just about beaches; the nature all around the area is majestic. So, I set out to explore some caves on my second day.
I started with small ones like the Seribu Candi Cave, which is about 20 meters deep and is noted for its stalactite ceiling. The stalactites look like chandeliers in an exhibition. They seem to give off an ochre-range glow in the semi-darkness. The Kanekes Cave, which is quite narrow and about 30-40 m deep, is not far from Seribu Candi. Both are located near Pasir Putih Beach.
But it was Lalay Cave that provided me with a sense of excitement. Entering this 200-m deep cave is a challenge as you need to trek against gushing water from the Cipanas River flowing through it. Once you enter the cave, you start wading through knee-deep water, led forward by a tour guide with a flashlight. The stalactite formation is amazing and there are several spots for some great photography.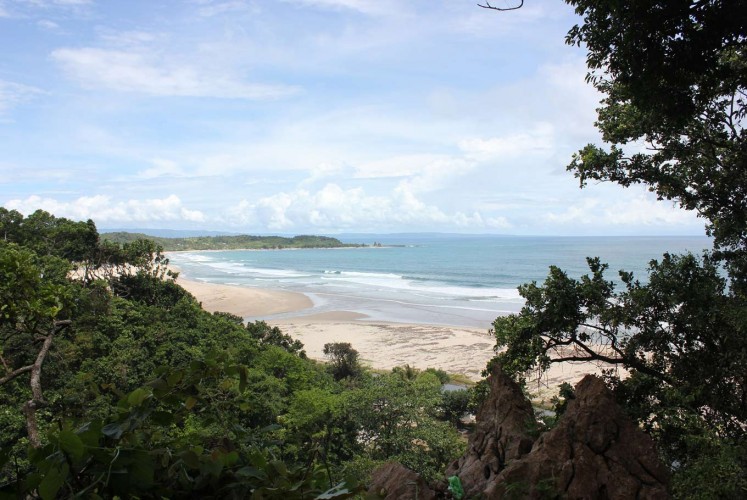 The first sight of Pasir Putih Beach as you near Sawarna while driving from Jakarta. (JP/Pramod Kanakath)
Accommodation
Though Sawarna does not boast a wide variety of hotels and resorts, finding comfortable accommodations is not at all difficult. Here is a list of homestays and villas close to the beach:
Sawarna Paradiso – Rp 600.000 (US$45) per night, on the main road
Villa Hula Hula – on the main road
Malibo Resort – Rp 400.000 per night, close to the beach
Srikandi – Rp 200.000 per night, close to the beach
Homestays on the beach-side — which are one-bedroom huts with a common bathroom and outside toilet — are available at Pasir Putih Beach for as low as Rp 100.000 per night. (kes)
***
Pramod Kanakath is a full-time teacher, a part-time travel writer and photographer whose articles have appeared in The Guardian, BBC, CNN, SilverKris (Singapore Airline's inflight mag) and other well-known publications. Check out his works at www.premtravels.me and follow him on Instagram at @premkan.
---------------
Interested in writing for thejakartapost.com? We are looking for interesting information and opinions from experts in a variety of fields with great writing skills. The content must be original on the following topics: lifestyle (beauty, fashion, food), entertainment, science & technology, health, parenting, social media, travel and sports. Send your piece to [email protected] For more information click here.
Disclaimer: The opinions expressed in this article are those of the author and do not reflect the official stance of The Jakarta Post.
Join the discussions