Checking In: A quick guide to Zurich International Airport
Christian Razukas

The Jakarta Post
Jakarta |

Sun, January 28, 2018

| 08:01 am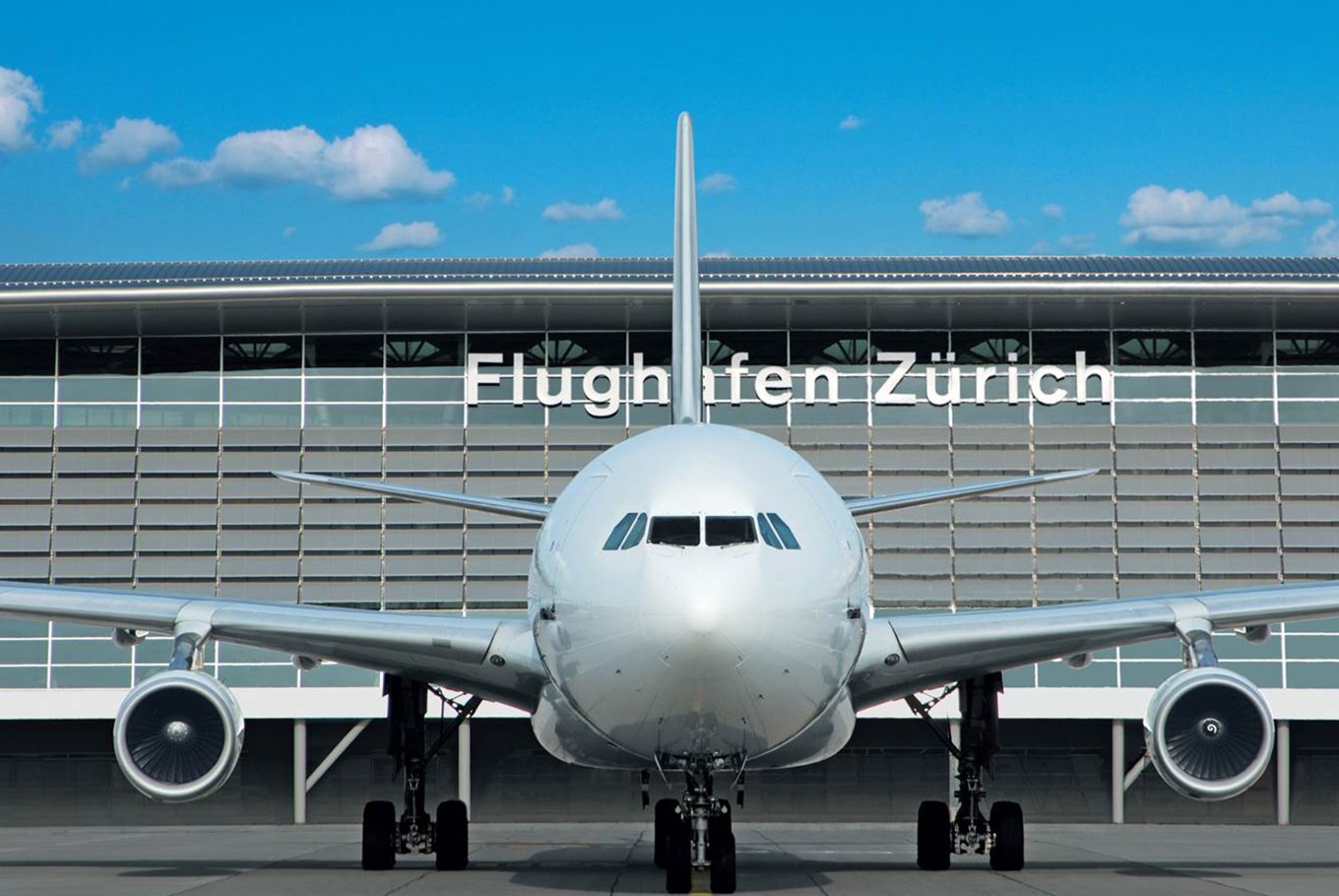 A plane awaits its next takeoff at Zurich (Flughafen Zurich Ltd./File)
The Swiss understand hospitality, even in the realm of air travel, when frustrations mount. So it comes as no surprise that Zurich airport, a.k.a. Kloten, has devised an experience that's made the airport a destination for locals and travelers alike. Here's a quick guide to speed your journey through the terminal.
Layout
Three runways (separated by a nature reserve you can visit) are matched with three terminals (A, B and E) linked to an Airside Center for passenger amenities and a publically accessible Airport Center.
What's New
The Circle, by Japanese architect Riken Yamamoto, will offer a game-changing urban hub on the grounds of Zurich Airport when open in 2019–including 180,000 square meters dedicated to businesses; lifestyle, culture and entertainment; hotels; conference facilities; education and healthcare.
Wired
Free wi-fi is available for two hours, with SMS registration or via boarding pass scanners. There are also free internet stations.
Tired
The (simply named) Transit Hotel offers private rooms starting at 45 CHF near Gates B and D, and also features a rest area with comfy recliners, separated by stylish dividers and starting at 20 CHF. Showers included.
Read also: World's 13 most beautiful airports
For Kids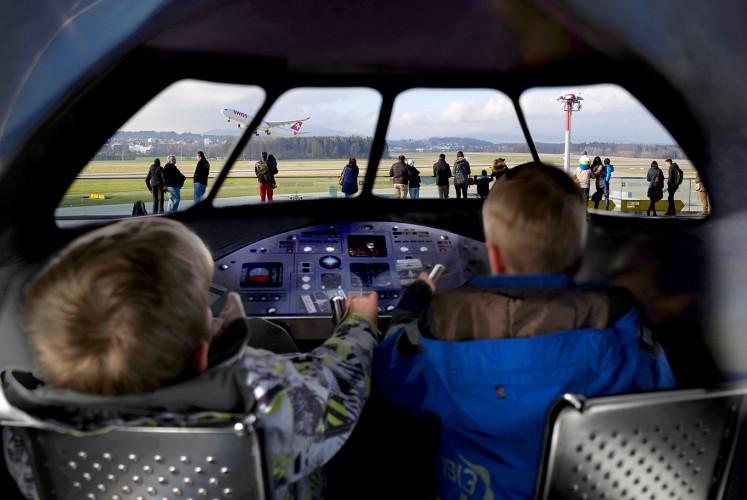 Children play at being pilots at Zurich International Airport (Flughafen Zurich Ltd./File)
Two kids' lounges offer spacious playrooms and multi-lingual child carers. The airport even offers birthday parties, including a tour, a chance to watch planes take off and land up close, a cake and a neat cap.
Planewatching
The brand new Observation Deck E, situated between all three runways, offers telescopes, as well as awesome views of Airbus 380s landing and taking off, while several play areas are on hand to keep wee ones entertained.
Airside
The Airside Center's Observation Deck also hosts barbecues and pop-up yoga sessions in season, while the airport also offers behind-the-scenes bus tours of the hangars, maintenance area, fire brigade, aprons and the runway intersection.
Outside
To be Swiss is to enjoy the great outdoors–so Zurich Airport rents bicycles, walking poles and inline skates to enjoy a hike through the stunning lands around the airport. The less ambitious can enjoy the Swiss Museum of Transport in Lucerne, an hour train ride from the airport.
Check or Not to Check
Frequent travelers say that airlines at Zurich are unforgiving with oversized or overweight cabin baggage, not to mention the number of carry-ons. If in doubt, check it in.
Quick Bite
SSP, the food travel experts, recently launched the aptly named Sports Bar in the Airside Center. It's a high-ceilinged air place with an immense outdoor terrace and serving well executed bar staples. Meanwhile, Walter's Mediterranean-inspired menu–and 2,000-bottle floating glass wine cabinet–offer design and destination dining for the chic.
Taste of Switzerland
Inspired by Fribourg, the region that bridges the French and German parts of Switzerland, Chalet Suisse serves up local specialities such as Gruyere AOP and Vacherin Fribourgeois AOP cheese, Seissler soup with Hörnli and Gruyère, and fine Fribourg sausages with fresh root vegetables.
Read also: Six countries without airports to travel to
Local Snack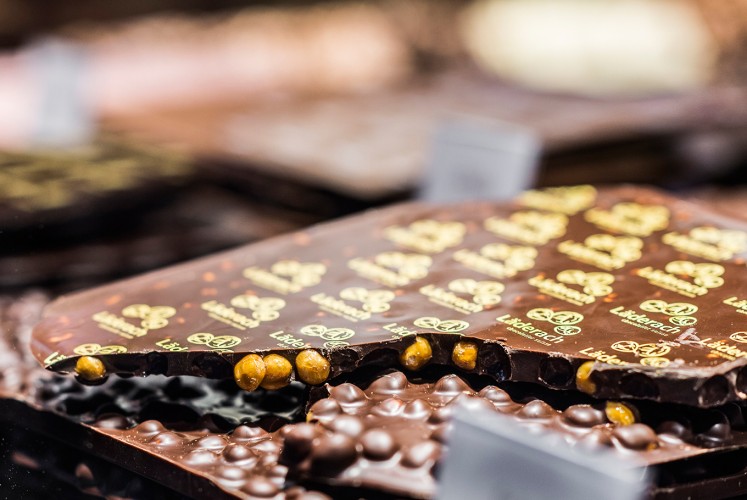 This chocolate at the airport makes a perfect souvenir (Flughafen Zurich Ltd./File)
Sources on the ground recommend a pre- flight treat of "Luxemburgerli" macaroons from Sprüngli or delicious freshly made chocolate from Läderach.
Getting Around
A rail station is located under the Airport Center, which is also fronted by a light-rail connection to Zurich's tram system. Dig deep though to find the coolest form of transport: Linking the Airside Center with Dock E, the Skymetro is a subterranean air-cushioned cableway. In its tunnels are light boxes projecting scenes from films such as Heidi or Matterhorn, giving passing passengers the appearance of watching a flip book.
Lounge Situation
As a Star Alliance member, Swissair has a hub at Zurich, where it operates eight lounges. Aspire operates two lounges at ZUR, while D'Nata runs its Skyview Lounge Airside and Emirates also boasts a lounge for its guests.
Awards
Zurich Airport was dubbed the No. 2 airport in Europe and No. 8 in the world in 2017 by Skytrax.
The App
Official app from Flughafen Zurich AG lets you plan travel door to door, book parking spaces online and watch live television for free, while delivering push notifications for your flight. For Android and iPhone.
***
Fast Facts
Airport Code: ZUR
Location: 13 kilometers north of Zurich
Indonesian Visa Situation: Schengen
Annual Passengers: 27.6 million
Destinations Served: 196 in 62 countries
Busiest European Routes: London, Berlin, Vienna
Popular International Routes: Dubai, New York/JFK and Tel Aviv, followed by Singapore, Bangkok and Hong Kong
Join the discussions