Sex, lies and tapegate: Raising awareness for women's rights?
Jakarta |

Wed, October 19, 2016

| 03:05 pm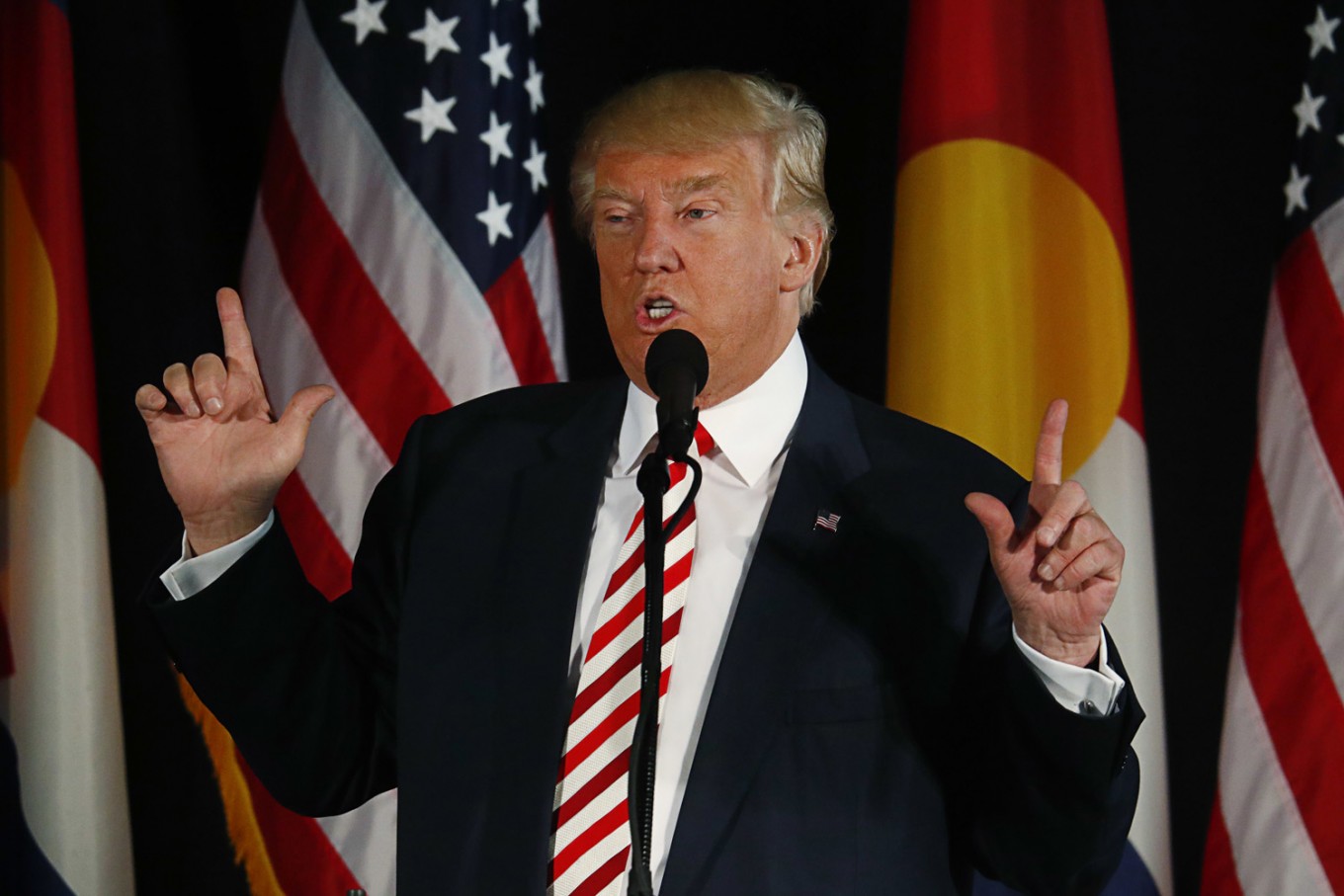 Gearing up -- Republican presidential candidate Donald Trump speaks at a campaign rally in Colorado Springs, Colorado. (AP/David Zalubowski)
Donald Trump is precious — can't get enough of him!
I confess, I have a morbid fascination for the buffoonish, hyper-narcissistic, xenophobic, misogynistic, mentally and emotionally retarded Republican presidential candidate who could have his name included in a sex offender registry.
If the unthinkable happened, and he did become the US commander in chief, you'd have to add the title Groper in Chief, the epithet Nickolas Kristof, a New York Times columnist had for Trump.
Ironically, one of the largest democracies and the self-proclaimed leader of the freeworld is giving a great example of what not to do through its current US presidential election on so many different aspects of political and social life (see excellent piece by Warren Fernandez, "Toxic Trump and trumped up foes", The Jakarta Post, Oct 15).
The latest scandal Trump scandal emerged on Oct. 7 in the form of a leaked video where Trump made lewd comments about women, bragging that he had assaulted women and that he was entitled to do so.
"When you're a star, you can do anything […] grab them by the [...]".
The video was from 2005, the year he married his third wife, the former Slovenian model Melania Knavs. Newly married and already itching to get into other women's pants? Poor Melania.
But then, she must have known of his reputation with women when she married him.
In an interview with CNN's Anderson Cooper, she dismissed the lewd language in the video as "boy talk". OK, she's the kind of wife who "stands her man", as did Hillary when the Monika Lewinsky-Bill Clinton sex scandal broke out.
But what about a Trump supporter who wore a T-shirt with the words "Trump can grab my", followed by an arrow pointing to her crotch? As Hillary would say, deplorable — not to mention degenerate, disgusting and imbecilic too!
As could be expected, the controversial video drew a barrage of responses, and more than a dozen women who came out saying that Trump had made unwelcome advances by kissing them and touching them inappropriately.
There was condemnation, not just from women activists and leaders but even Trump's erstwhile supporters and 54 fellow GOP members who withdrew their support for Trump.
The most meaningful statement against Trump came from Michelle Obama. On Oct. 14, she gave an impassioned, powerful speech in New Hampshire, as part of her campaign to support Hillary Clinton to be the first female president of the US.
She pointed out that it was a week of contrasts, as on Oct. 11, they had just celebrated the International Year of the Child at the White House. She claimed the lewd video had shaken her to the core.
Imagine, exposing children to language that was painful for adults, let alone kids. Dismissing Trump's language as "locker room talk" is an insult to decent men who use locker rooms.
Further, "this was a powerful individual speaking freely and openly about sexually predatory behavior […] bragging about kissing and groping women".
Obama rightly pointed out that strong men — notably those who are supposed to be role models — don't need to put down women to make themselves feel powerful. But while Trump's case is particularly obnoxious, there are in fact many men like him, secretly insecure men who need to belittle women to make themselves feel superior.
Even so-called educated, intellectual men display this kind of behavior in subtle or overt ways.
The theme for this year's International Year of the Girl Child is "Girls' Progress = Goals Progress: A Global Girl Data Movement". It makes sense: figures from the UN Women tell the true picture.
Some fast facts: 700 million women alive today were married before 18 — more than one third were married before 15.
It's worse for poor girls: They are 2.5 times more likely to marry during childhood.
The figure in developing countries is even scarier: one in three girls is married before age 18. This means the futures of 47,700 girls are side-tracked every day. Every day!
The detrimental effects of early marriages are widely known: they are more prone to face sexual and physical violence; they are less educated because they are pulled out of school to engage in domestic duties. Due to being poorly educated, they can't advocate for themselves.
Pregnancy happens soon after marriage, even when they are not mentally or physically ready. This has an effect on the offspring, and so the cycle continues. According to UN Women, every day over 20,000 girls in developing countries give birth. That's over 7 million a year.
On the other hand, educated girls marry later. With secondary schooling alone, girls are six times less likely to marry than their uneducated sisters.
The highest rates of child marriage are in Sub-Saharan Africa, followed by Latin America, the
Caribbean, the Middle East and North Africa.
How does Indonesia fare? With Islamic conservatism on the rise, it's getting even harder to abolish this practice despite the fact that the law stipulates the marrying age for females is 18. This is the reason Indonesia still ranks among the ten countries with the highest number of young brides.
UNICEF estimates that in Indonesia each year 50,000 girls under 15 gets married and 340,000 under 18.
While women activists in Indonesia consistently place child marriage in their list of practices to eliminate, they face a uphill battle. Last year a court in Jakarta threw out a petition by campaigners to increase the marrying age to 18.
Invoking the Quran, conservatives say that if the girls don't get married off, it would make them have sex outside of marriage. Right, resort to empty moralism as usual rather than face the facts.
Trump's lewd video was pretty cringe-worthy, but it had the unintended effect of raising awareness about girls and women's rights. It's pretty amazing that the contest for the US presidency is between a misogynist against a defender of girls and women's rights.
It's a known fact that improving women's education, health and opportunities is good for society in general. So it's a no-brainer right? It's clear who Americans should vote for, and we Indonesians support it!
***
The writer is the author of Sex, Power and Nation.
---------------
We are looking for information, opinions, and in-depth analysis from experts or scholars in a variety of fields. We choose articles based on facts or opinions about general news, as well as quality analysis and commentary about Indonesia or international events. Send your piece to [email protected]. For more information click here.
Disclaimer: The opinions expressed in this article are those of the author and do not reflect the official stance of The Jakarta Post.
You might also like :
Comments