COMMENTARY: Waiting for Jokowi's 'mental revolution' in e-ID case
Bagus Saragih

The Jakarta Post
Jakarta |

Tue, March 21, 2017

| 08:29 am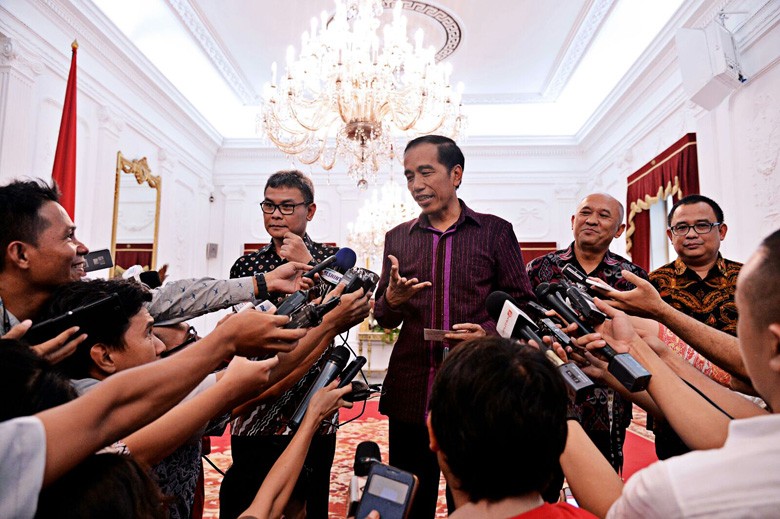 Pressing matters: President Joko "Jokowi" Widodo speaks to journalists after the appointment of former Corruption Eradication Commission (KPK) commissioner Johan Budi (left) as his spokesman on Jan.12, 2016. (Courtesy of the Presidential Office/-)
The e-ID scandal has dragged in members of President Joko "Jokowi" Widodo's circle, including members of the Indonesian Democratic Party of Struggle (PDI-P), an active minister and two governors. The indictment also mentions the involvement of House of Representatives Speaker Setya Novanto of the Golkar Party, who has strived to build close ties with the President, in the Rp 5.9 trillion (US$442.5 million) project.
Thus, Jokowi should not wash his hands of the scandal merely because the malfeasance occurred when his predecessor Susilo Bambang Yudhoyono was in power. The ramifications will affect Jokowi's administration, sooner or later.
People are outraged by the amount of taxpayers' money allegedly stolen, which comes to about half of the total project value.
Jokowi has publicly apologized for the impacts of the investigation by the Corruption Eradication Commission (KPK), which has been blamed for major delays in delivering the e-IDs to residents.
Such a sympathetic response is not enough. All eyes are now on the trial of the biggest case in the KPK's history, while people wait for the graft buster to name more suspects.
There have not been major rallies decrying the scandal, but this may indicate lost hope concerning corruption. Here, Jokowi's "mental revolution" campaign must step in.
Jokowi climbed his way up from being a furniture seller to becoming mayor, governor and now president, winning the hearts of millions who believed in his honesty and integrity. Effective anticorruption actions were expected to be the cornerstone of Jokowi's presidency.
But entering his third year in office, Jokowi's efforts to stamp out graft have yet to bear fruit.
Indonesia ranked 90th out of 176 countries in last year's Corruption Perceptions Index, slightly dropping from 88 in 2015. A survey by the Saiful Mujani Research Center in October 2016 revealed Jokowi's job approval rate hit a high 69 percent, but 52 percent of respondents said corrupt practices were more rampant than before.
Now with the e-ID case, Jokowi should take the golden, historic opportunity to regain public confidence — by ensuring his presidential instruction on the "mental revolution" is really effective.
Like previous graft cases involving officials and lawmakers, this latest case portrays collusion to abuse power using a "primitive" modus operandi: budget misuse and mark-ups. Last year a study by the Indonesia Corruption Watch (ICW) showed these were the most common practices in corruption cases across the country.
The indictment accuses officials and politicians of plotting over meals at restaurants or hotels from 2009 to 2015 to rob Rp 2.5 trillion from the state budget allocation throughout all of the project's stages: planning, budget deliberation with the House of Representatives, procurement and monitoring.
Beyond the legal approach underway in the e-ID case, Jokowi should take center stage and declare a national fight against such practices, just like when he pressed forward with the controversial death penalty to deter drug traffickers. He can order a comprehensive evaluation of the procurement system to address the loopholes and conduct a total crackdown through thorough internal investigations into all relevant ministries.
In law enforcement Jokowi must lead by example and demonstrate that no dirty hand deserves protection.
He can order Law and Human Rights Minister Yasonna Laoly, Central Java Governor Ganjar Pranowo and North Sulawesi Governor Olly Dondokambey to proactively cooperate with the KPK's investigation into their alleged roles in the case.
Jokowi could also replace Yasonna with a more credible figure with a clean record.
The same treatment must consistently be displayed in another graft case, one implicating Jokowi's brother in-law, Arif Budi Sulistyo, who allegedly acted as a middleman between business people and tax officials.
The potential political turmoil could be protracted. More than 100 witnesses are scheduled to testify, which could make the trial of defendants Irman and Sugiharto last to the end of the year – not to mention if the KPK names more suspects.
Thus the whole saga could last until the 2019 presidential election.
Implicated politicians in the e-ID case include those of Golkar, which has even declared its support for Jokowi's reelection bid in 2019. However, such political statements should be taken with a grain of salt.
Jokowi's chance to become a game changer will be squandered if he simply succumbs to political intimidation. As a reformist, he should not placate the threats of another political tantrum through political transactions. Mitigating the shockwaves must surely be done, but it should never be in the form of compromise that betrays justice and fairness.
If the politicians seem too tricky to get along with, then side with the people and the KPK. The antigraft body knows the investigation risks a backlash. They need clear and decisive political support from the President, especially given the imminent amendment of the KPK Law, widely criticized as being aimed at weakening the commission.
Jokowi should make it clear to the public which side he is standing on. Then he could surely get a popular boost for his 2019 reelection bid.
You might also like :
Join the discussions