EDITORIAL: New aircraft, new spirit
EDITORIAL

The Jakarta Post
Jakarta |

Wed, November 15, 2017

| 08:10 am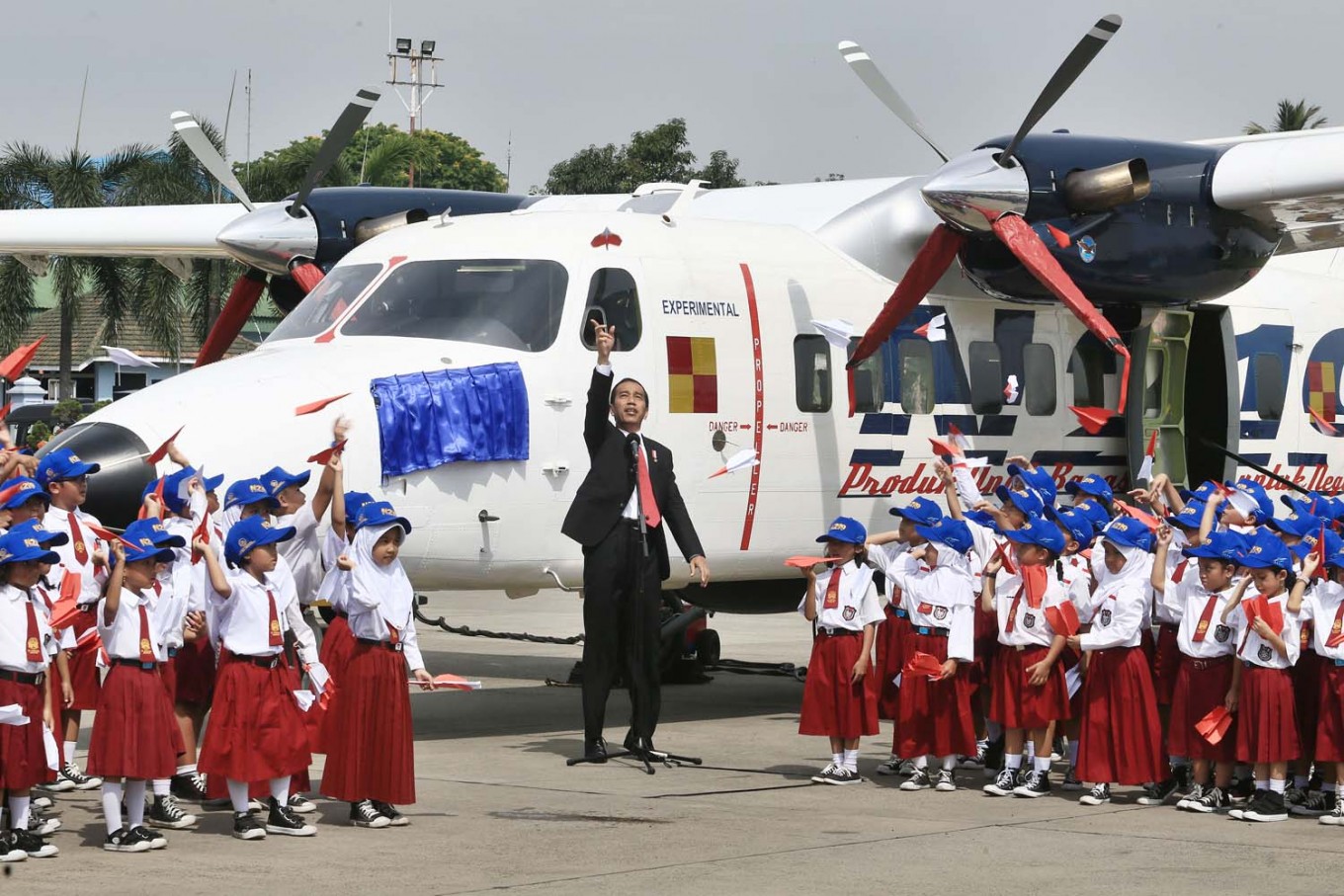 Flying high: President Joko "Jokowi" Widodo and dozens of elementary school students fly paper airplanes next to the N219 aircraft that has just been named Nurtanio at Halim Perdanakusuma Airport in Jakarta on Friday. (JP/Dhoni Setiawan)
It felt like the Indonesian aircraft industry had turned full circle when President Joko "Jokowi" Widodo named the N 219, the latest Indonesian-made aircraft, the Nurtanio, on Nov. 10, as the nation commemorated Heroes Day.
Nurtanio Pringgoadisuryo was among the pioneers of our aircraft industry. Once named after him, the country's aircraft maker is now called PT Dirgantara Indonesia (PT DI), or Indonesian Aerospace (IAe).
The N 219 is a further development of Spain's C-212 Aviocar. PT DI engineers made several changes to the original design, by, among others, removing the ramp door to reduce weight and redesigning the empennage for a better aerodynamic performance. The modifications were so extensive that they needed a new type certificate (TC) , signifying the N 219 as a new aircraft design.
PT DI engineers envision the 19-seater, twin-engine turboprop, light transportation plane will operate in remote areas and rough terrain. It will help Jokowi fulfill his signature program of Indonesia becoming the global maritime fulcrum, given that air transportation will transport goods and services across the sprawling archipelago in a fast and affordable manner.
The aircraft has been designed using as much local content as possible, not only to keep the price low, but more importantly to develop a local industrial base by establishing an aerospace supply chain.
The N 219 has so far cost Rp 827 billion (US$62 million) in development and research. But before entering serial production it has to undergo 300 hours of test flights and various other tests to get the TC from the Indonesian civil aviation authorities. Another Rp 200 billion may be needed for the flight tests.
PT DI still must obtain certification from the United States Federal Aviation Administration (FAA) or its European Union equivalent, the European Aviation Safety Agency (EASA) to successfully export the N 219. Obtaining such certification is key to its commercial success.
As one of Indonesia's strategic enterprises, PT DI endured difficult times following the 1997 financial crisis. The N 219 marks another step in the company's revival, but it will require further government commitment, including funding, for the aircraft to obtain its TCs, to enable PT DI to compete in the global market.
PT DI engineers and employees proved their worth with the successful first flight on Aug. 17 and successive flight tests of the aircraft. It's the government to appreciate them by ensuring the N 219 will not end up as another white-elephant program.
Another important lesson from the past is that the government must be ready to provide export credit to foreign buyers interested in buying the N 219. For decades Indonesia has enjoyed long-term export credit with low interest rates to acquire sophisticated foreign technology and products; it's about time for some reciprocity.
Technological capabilities when coupled with financial support will be a potent tool for Indonesia in pursuing its national interests all over the world.
Topics :
Join the discussions