Commentary: Do Asian Games give police license to kill?
Evi Mariani

The Jakarta Post
Jakarta |

Fri, July 6, 2018

| 01:23 pm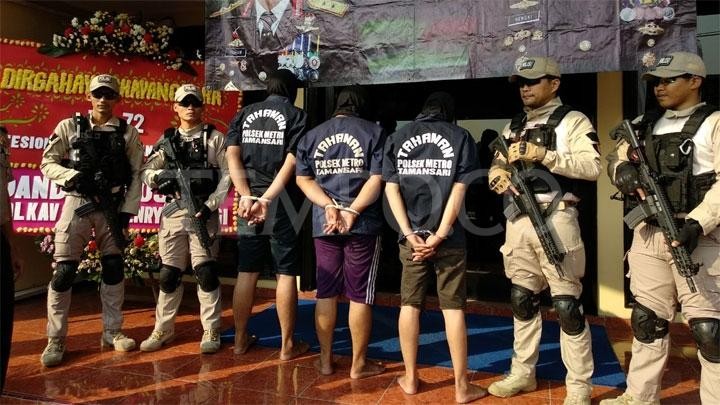 Police show three alleged street criminal members of a network of muggers called Tenda Oranye (Orange Tent) during a press conference at the West Jakarta Police headquarters on July 2, 2018. (Tempo/Lani Diana)
Hosting an international sports event has been losing some of its allure, especially in Western countries. The reasons behind this are the huge preparation costs and the long-term post-event consequences when the athletes go home and leave behind unused facilities that are hard to undo.

Some cities can repurpose and capitalize on the facilities for the welfare of residents after an event is over, but how about bringing back lives lost for a sports event?

Early last month, the Jakarta Police declared a crackdown on muggers, violent robbers and pickpockets as part of the combat against street crime as well as security arrangement prior to the Asian Games, which will start on Aug. 18. One particular target is a gang called "Tenda Oranye" or Orange Tent, residing in Teluk Gong, North Jakarta, according to the police.

According to a statement released on July 4, as quoted by tempo.co, West Jakarta Police alone have shot dead three people. The extrajudicial killings are dubbed "tindakan tegas terukur" or "tough and measured action" in police lingo.

The first to die has been identified as FY, who was killed on June 29 after allegedly mugging the director general for construction at the Public Works and Housing Ministry, Syarief Burhanuddin, in the Kota Tua area of West Jakarta on June 24. Syarief had to be hospitalized for injuries he suffered when the muggers, who were riding a motorcycle, dragged him following a scuffle.

On July 2, West Jakarta Police shot a man identified as Robi to death. Robi was accused of mugging a woman on Jl. Mangga Besar Raya, seizing her iPhone7, car key and other belongings. The third extrajudicial killing happened the next day, claiming the life of a man identified as Mad Supi, who allegedly mugged a woman riding a bajaj (three-wheeled motorized vehicle) on Jl. Latumenten.

The three suspects were all members of the Orange Tent gang, according to the police. "Many more are still at large, and we are hunting them down," West Jakarta Police chief Sr. Comr. Hengki Haryadi told tempo.co.

So far, the media have not reported the stories behind these three dead men. They were, after all, cruel criminals, at least according to the police. But did they deserve capital punishment, and the police publicity for killing them? And the most important question is whether the three men even perpetrated the crimes, because they never stood trial.

Combating street crime is a must, but why opt for extrajudicial killings?

Jakartans are quite notorious for taking the law into their own hands. The list of suspected criminals that have lost their lives at the hands of angry residents is growing day by day. Some cases have gone unnoticed, but others made the headlines, like that of a man who was burned alive by residents in Bekasi, in August last year on suspicion that he had stolen an amplifier from a mosque.

Police hunted down those in the mob and accused six of them of murder. The court convicted them of manslaughter and sentenced them to seven to eight years of imprisonment.

Experts say people take the law into their own hands because they doubt the justice system will mete out justice for victims of the crimes. But what is the police's excuse for playing judge? Shouldn't they believe in their own system? Will their strategy work toward a peaceful, trouble-free Asian Games? What has happened to our criminal justice system?

If the police can take the law into their own hands, why shouldn't the public?

The Criminal Code says violent robbery is punishable by death. I am against the death sentence, but even its proponents would let the court, rather than a bunch of holier-than-thou policemen, decide.

I hope for a smooth Asian Games and safety on Jakarta streets. I am also of the opinion that extravagance in hosting a sports event is a bad investment for the city.

Jakarta has not been extravagant so far, at least compared with Rio de Janeiro, which hosted the 2016 Olympic Games. Some sacrifices, like the expansion of the odd-even traffic regulation during the upcoming Asian Games, are perhaps painful for motorists, but it is about time Jakarta limited the use of private cars.

There is a possibility that the light rail transit stations from Kelapa Gading in North Jakarta to Velodrome in East Jakarta, tailored to the needs of athletes and spectators, will not be popular after the Asian Games. But more public transportation in Jakarta, as a rule of thumb, is good.

The renovation of sports facilities is a good investment, too. Meanwhile, the athlete village in Kemayoran will be turned into housing, something Jakartans need as well.

This is not to say that the preparation is perfect. Many things could be criticized and improved. But at least Jakarta has not made a blatantly bad investment so far, except for the extrajudicial killings so callously done.

Join the discussions