Indonesian seafarer's death highlights Taiwan interpreter shortage
Stephanie Chao

The China Post/ANN
Taipei |

Tue, January 24, 2017

| 09:43 pm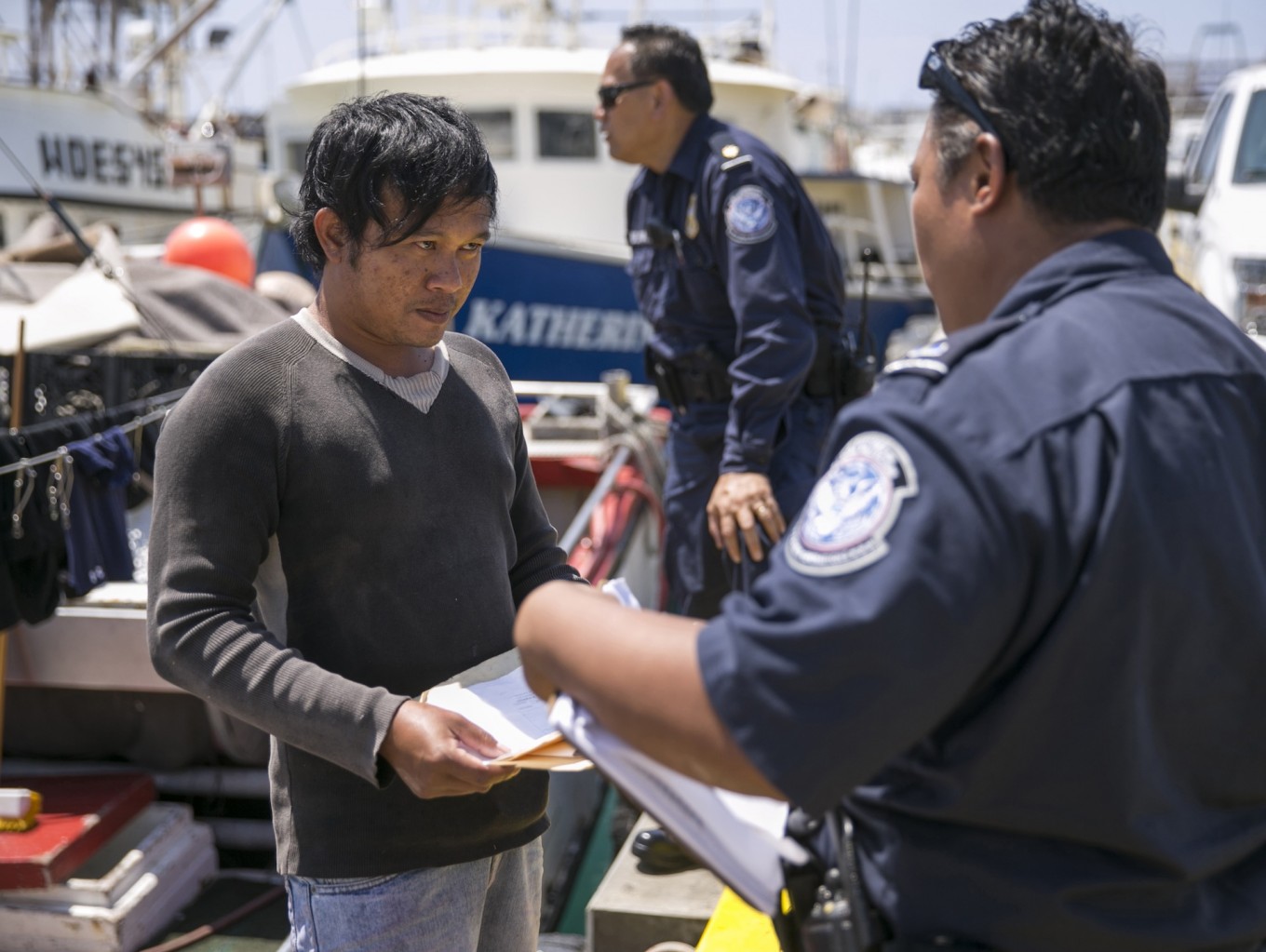 In this March 23, 2016 photo, U.S. Customs and Border Protection officer Ericson Padilla right, checks the documents of an Indonesian fisherman from an American fishing vessel docked in Honolulu. Hundreds of undocumented men labor in a unique U.S. fishing fleet in Hawaii, due to a federal loophole that allows them jobs but exempts them from most basic workplace protections. (AP/Marco Garcia)
"It is difficult to leave this place ... I'm often insulted by the captain, too. Here is a victim of violence on this ship," Indonesian seafarer Mualip said in his recorded video of fellow seafarer Supriyanto, who is shown sitting dazed on deck of a ship that left Pingtung's Dong Gang harbour in May.
In his narration, Mualip describes Supriyanto as having been beaten by crew members of the ship before recording the video. Supriyanto was sporting swelling and bruising on his face. "Thank you, Supriyanto. I hope you will recover soon," Mualip said.
It would be one of the last visages of Supriyanto. In another video, he was shown at the brink of death in late August.
With the 580,000 foreign blue-collar workers living in Taiwan (as of 2015, the Interior Ministry's figures showed there were approximately 630,000 foreigners in total) and a vast number of foreign spouses, with those coming from Southeast Asia making up almost 90 per cent (149,213 out of 165,902), one would assume that Taiwan would have already set up a comprehensive system in place to address the needs of a vast population.
A recent probe into the case of Supriyanto's death suggests otherwise.
In November 2015, the Pingtung District Prosecutors' Office deemed the death of Supriyanto, who died onboard a fishing vessel in August, an accident. Prosecutors found that he died from illness caused by an untreated knee wound after falling from an elevated point on the ship while hanging clothes.
However, the prosecutors office did not completely close the case. Prompted by petitions from non-government organisations upholding seafarers' rights, who found details of the case and Supriyanto's death suspicious, the Control Yuan ombudsman Wang Mei-yu relaunched investigations into the case last December.
Misinterpretation or lack of interpretation?
Wang found critical evidence in the case -- three videos of Supriyanto recorded by Mualip --- to be controversial. After bringing in an interpreter who was familiar with Supriyanto's language, an obscure Javanese dialect, the Control Yuan revealed that his statement in the video vastly differed from the translation recorded by the prosecutors' office.
A factor neglected by prosecutors was misinterpretation of the videos: the two interpreters brought in by the prosecutors' office in charge of the court translation did not understand Supriyanto and Mualip's language and could not translate vital parts of the former's statement, revealing that he had been beaten by crew members as well as the Taiwanese captain.
The Control Yuan's probe concluded that the captain's negligence in providing medical assistance to treat Supriyanto's wounds had resulted in his death; as well as government negligence from the Executive Yuan's Council of Agriculture and the Fisheries Agency to oversee foreign seafarers' working rights and working environment.
The Pingtung Prosecutors' Office, prompted by Wang's report, has relaunched a probe into Supriyanto's case.
The nuances of language

Supriyanto's death refocused attention upon the poor working conditions of foreign seafarers, who are not fully protected under Taiwan's labour laws. However, his case also turned attention to an overlooked factor, equally important to bringing about more equal treatment in court for blue-collar foreign workers or foreign spouses in Taiwan: language.
Prompted by Supriyanto's case, a January 10 public hearing was held to discuss Taiwan's community interpretation problems. It urged the government to consider directing more investment toward community interpretation talent training and certification in order to uphold constitutional rights for Taiwanese and foreign workers.
"I once saw a case that unfolded like this: a Filipino seafarer spoke in a long-winding sentence in his local dialect, however the interpreter, translating through a video conference, only said two sentences," Lennon Wong, Serve the People Association Service Center and Shelter for Migrant Workers, told The China Post.
"That's a definite misinterpretation of the truth."
He added that foreign workers or spouses seeking medical treatment often ran into similar problems when their English or Chinese proficiency was not sufficient to accurately describe their symptoms.
Awakening Foundation, a women's advocacy group, legal department director Chin Chi-fang said during the public hearing that addressing language barriers were often the pivotal point for foreign workers to receive their due at court.
"The impression among foreigners in Taiwan is that they don't get their due diligence in Taiwanese courts. Language is one issue, but there is also prejudice," interpreter Priya Lalwani Purswaney told the China Post, saying that foreigners try not to get into trouble here, but if they do, they try to get their cases heard elsewhere.
"Foreigners should be able to understand what's going on" regarding the Taiwanese court system and constitution, and translation should be provided, but that is not always the case, she said.
Compiling the resources

A unanimous consensus among NGO's and lawmakers was the urgent need to address the talent gap in Taiwan, despite government agencies' ongoing efforts to train interpreters and hosting talent banks.
The government set up an interpreter talent bank back in 2009 which provided legal interpretation services, Immigration Affairs Deputy Director Yin Yu-hua said.
The job bank currently boasts 1,431 interpreters and provides translation services for 18 different languages, ranging from Vietnamese, English, Indonesian and Thai, he said.
However, Yu conceded that while the number of interpreters was sufficient, specific and lesser-known languages or dialects were much harder to find, citing a smaller talent pool and demand.
He also addressed the quality discrepancy of interpretation since government training did not adhere to any sort of certification, and citied lack of legal regulations and insufficient budget. Yu promised to direct efforts and training to increase quality.
In spite of the government's confidence in providing adequate quantity interpreters, TransAsia Sisters Association, Taiwan (TASAT) executive secretary general Hsieh Shih-hsuan said otherwise, citing unequal resource distribution nationwide.
A case in Hualien County involved an interpreter who could not understand a local Indonesian dialect, Hsieh said. "You can't say that (the government) has a sufficient number of Indonesian speakers, but should, consider whether there are enough resources to provide services for dialects of the language, and whether local agencies could obtain such resources in time."
In the association's view, "the government hasn't achieved that," Hsieh offered. In the end, the prosecutors or lawyers managed to reach out to them, and they provided a suitable interpreter.
"There are so many new immigrants and legal interpreters in eastern Taiwan, yet (we) couldn't find suitable resources, and we still had to look back to the capital for assistance," Hsieh said, calling out on the gaps in talent distribution and training.
Democratic Progressive Party lawmakers Yu Mei-nu and Tsai Pei-hui agree that the government should lead efforts to take stock of existing resources, specifically interpreters and second-generation offspring of new immigrants from Southeast Asia, who cpuld become Taiwan's critical talent pool to draw from.
Speaking to The China Post in a joint interview with Yu, Tsai said on top of coming up some sort of certification programme to ensure interpretation quality, creating an usable platform to aggregate talent must be considered.
She suggested that the government could set up regional centers to provide professional interpretation around Taiwan: for example, centres overseeing services in eastern, central, northern or southern Taiwan, which would help relieve the burden from interpreters who might have to travel long-distances from their homes to work on cases in far-flung parts of the country.
Yu said that criteria and compilation of data should be considered, ranging taking stock of interpreters who could provide services for certain languages, the ratio of foreign spouses, country of origin, the number of second generation offspring who could leverage their bilingualism.
After the public hearing, both Yu and Tsai asked the Executive Yuan to consider assigning a minister without portfolio to oversee such undertakings, which they believe would require cooperation between multiple government agencies.
"There should be a schedule in place; like what we should do in two years, or a monthly agenda," Tsai said, in order to push the administration to carry out related work.
Improving interpreters' conditions
However, both Hsieh, Purswaney and lawmakers echo similar sentiments that working conditions for interpreters must be addressed as well, specifically low pay, in order to motivate talents in the industry.
Hsieh proposed at the public hearing that a "special law" should be drawn up to guarantee interpreters' working pay and environment.
Lawmaker Tsai pointed out that a price floor should be drawn up to ensure that interpreters of southeast asian languages can receive "adequate and reasonable" pay, who cited numbers mentioned at the public hearing of only a few hundred New Taiwan dollars per hour, compared to higher wages for English interpretation.
A joint effort
A silver lining in Supriyanto's case was government attention from not only Taiwan, but also in his home country, Indonesia.
Control Yuan's Wang, before the interview wrapped up, brought up that when accompanying with Control Yuan President Chang Po-ya's delegation to Indonesia, they received a positive feedback from Indonesian government's BNP2TKI, which oversees safety and protection for Indonesian workers abroad, when they expressed concern about cracking down on local illegal employment agencies that exploit migrant workers.
Efforts to prevent illegal employment agencies in Indonesia and Taiwan should be carried out to ensure protection and basic human rights for foreign workers, Wang said, pointing out that joint efforts should be made.
This article appeared on The China Post newspaper website, which is a member of Asia News Network and a media partner of The Jakarta Post
You might also like :
Comments