Aneka Gas to issue Rp 400b in bonds and Islamic bonds
Ahmad Bayuny

The Jakarta Post
jakarta |

Thu, April 27, 2017

| 05:14 pm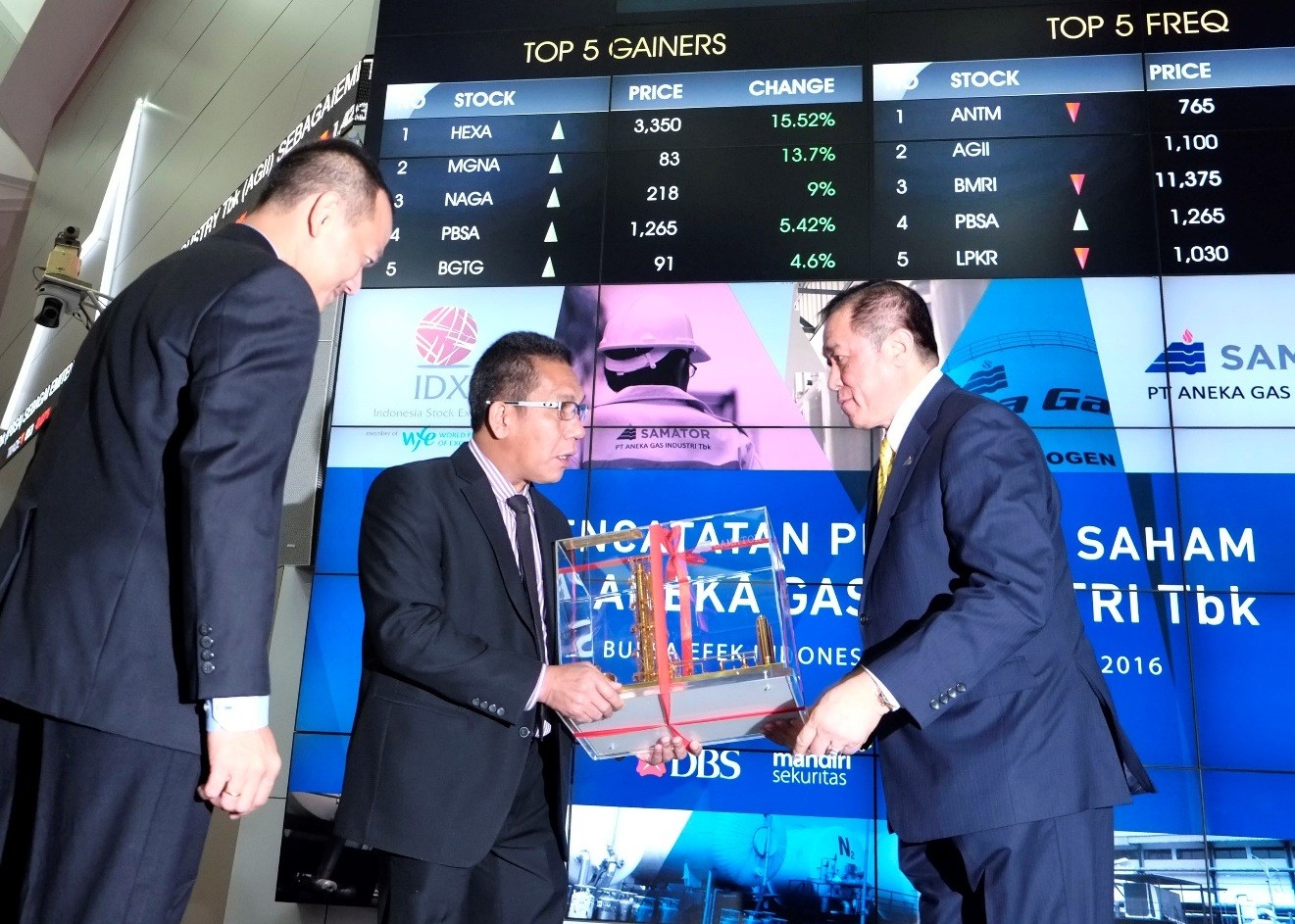 PT Indonesia Stock Exchange (IDX) development director Nicky Hogan (left to right), company assessment director Samsul Hidayat and PT Aneka Gas Industri president commissioner Arief Harsono exchange souvenirs during the company's initial shares listing ceremony on Sept. 28 in Jakarta. (JP/Jerry Adiguna)
East-Java based gas distributor PT Aneka Gas Industri plans to issue conventional bonds and Sukuk Ijarah (Islamic bonds) totaling Rp 400 billion under the shelf registration issuance (PUB), which aims a total issuance of Rp 1 trillion in the next two years.
The company will offer Rp 100 billion in bonds and Rp 300 billion in Islamic bonds as part of its PUB. Both debts have secured an A-(idn) rating from PT Fitch Ratings Indonesia.
"The proceeds will be used for refinancing, working capital and reserves for future acquisition," Rachmat Harsono, executive vice president of the publicly listed firm, said.
The company will use the proceeds from the bonds to refinance its bonds issued in 2012, while the proceeds from the new Islamic bonds are slated to refinance its Islamic bonds issued in the same year. The remainder will be used to settle its debts with several creditors.
The bonds are divided into two series: series A with a 9.5-10.5 percent annual coupon rate and a three-year maturity, and series B with a 9.75-10.75 percent annual coupon rate with a five year tenor.
Aneka Gas has used its land as the underlying asset of the bonds, and appointed PT DBS Vickers Sekuritas Indonesia, PT Indo Premier Sekuritas, PT Mandiri Sekuritas, and PT Sucor Sekuritas as the underwriters.
The book building period will be from Apr. 27 to May 10 while the offering period will last from May 26 to May 29. Listing on PT Indonesia Stock Exchange (IDX) will occur on June 5. (ags)
The writer is an intern journalist at The Jakarta Post
Join the discussions