It's time for Bible, Mandarin, writing
Indra Budiari

The Jakarta Post
Jakarta |

Tue, May 16, 2017

| 08:15 am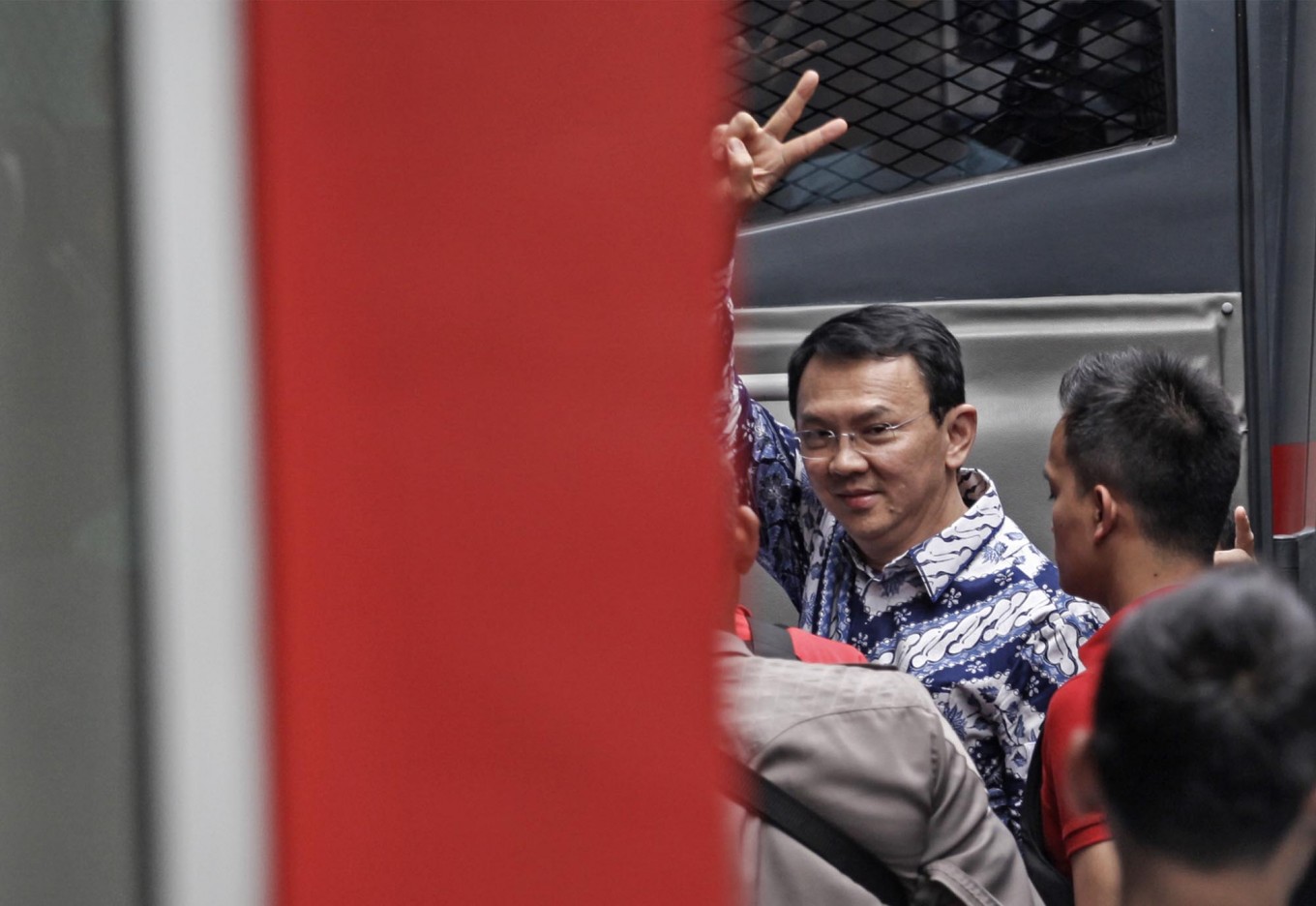 Jakarta Governor Basuki "Ahok" Tjahaja Purnama waves upon arriving at the Cipinang Detention Center in East Jakarta on May 9. . (Antara/Ubaidillah)
For a man who has spent the last five years carrying out gubernatorial tasks in the capital, a damp and quiet prison cell could be a blessing in disguise.
Non-active Jakarta governor Basuki "Ahok" Tjahaja Purnama has spent the last six days in a high security detention center. While his defense team fights his legal battle outside, Ahok has found consolation in his 6 square-meter cell through English and Mandarin versions of the Bible and a notebook.
Fifi Lety Indra said on Monday that her brother had been an avid reader of the Bible since he was in college, however his tight schedule as Jakarta governor had often stood in the way. Now, after being sentenced to two years in a blasphemy case, Ahok is getting back into the habit of reading the Bible while sharpening his Mandarin skills.
"My brother also asked for a notebook, I think he needs a medium to share his feelings because prison can be lonely," Fifi told The Jakarta Post.
Fifi emphasized that Ahok was not receiving any special treatment in the detention center.
"Who knows, maybe he can produce quality writing while in detention, just like Sukarno," she continued, referring to the country's first president and founding father.
Ahok wrote a book in 2008 titled Merubah Indonesia (Reforming Indonesia), in which he shared his life experiences, including in his political career and how many of his political rivals had quoted Quranic verses in their campaigns.
A panel of five judges handed down a two-year prison sentence to Ahok on May 9 for blasphemy, while prosecutors had only demanded two years' probation.
The sentence has triggered a wave of support from Ahok's supporters around the world. Ahok was moved from the Cipinang Detention Center in East Jakarta to the National Police's Mobile Brigade (Brimob) Detention Center in Depok, West Java, for various reasons.
Law and Human Rights Minister Yasonna Laoly confirmed that security was among the reasons for transferring Ahok, saying there had been threats made to Ahok's life and that Cipinang might be unsafe from him. Yasonna added that a mass show of support for Ahok in front of Cipinang might disrupt traffic.
"For those two reasons, it is better for him to be transferred," Yasonna said.
Fifi confirmed that Ahok's family was concerned for his safety and agreed that the Brimob Detention Center, which houses terrorism and treason suspects, was the safest place for him in the meantime.
She said many threats had been made to Ahok's life since the blasphemy trial kicked off at the North Jakarta District Court. Ahok's legal team has declared that it will appeal the verdict. In an unusual move, state prosecutors have also moved to appeal the verdict, citing that Ahok's sentence was harsher than that demanded. (**)
Topics :
Join the discussions