Jokowi: presidential threshold must be maintained
Haeril Halim

The Jakarta Post
Semarang |

Sun, June 18, 2017

| 01:35 pm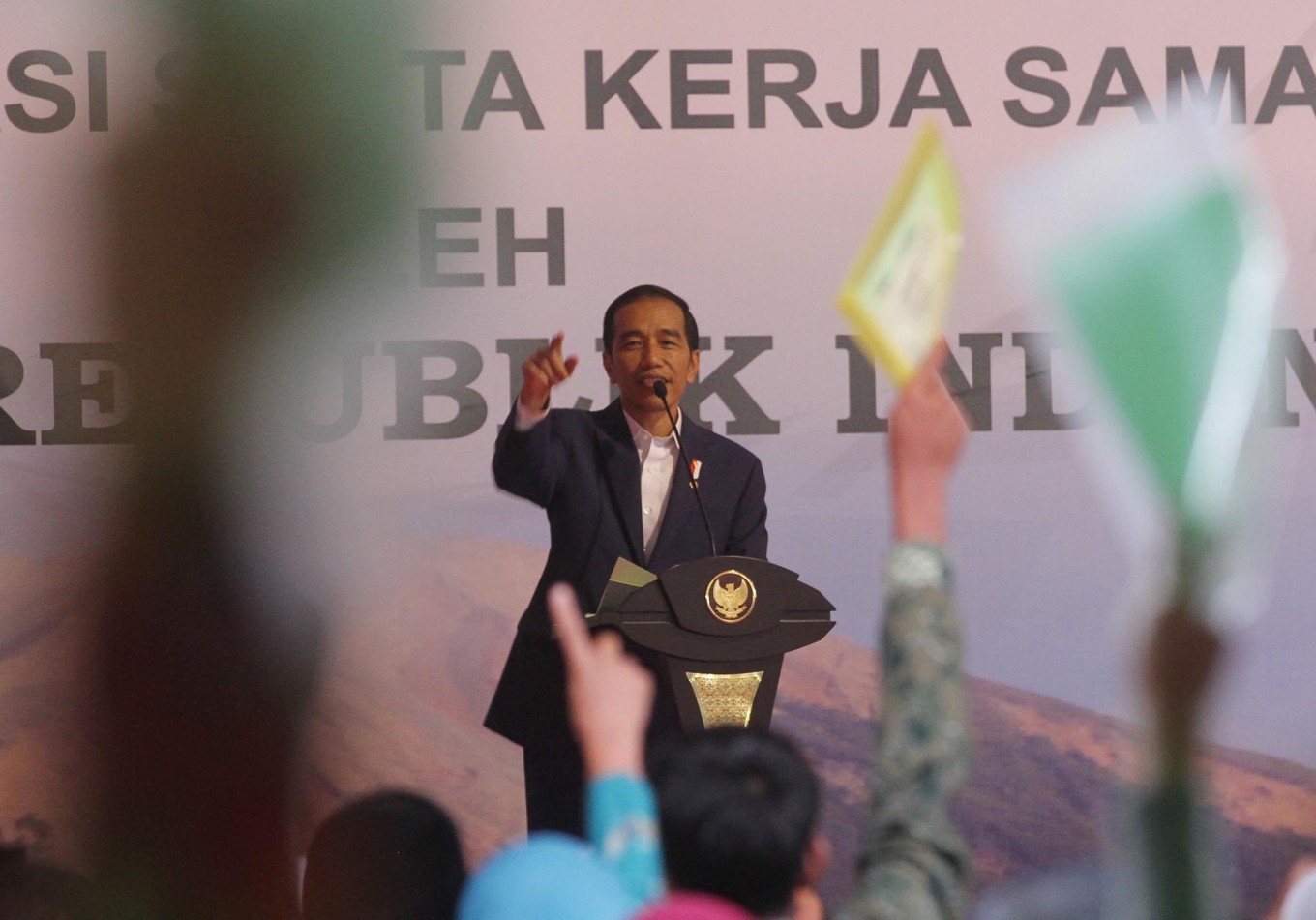 President Joko "Jokowi" Widodo delivers a speech during a recent work visit in Malang, East Java. (Antara/Ari Bowo Sucipto)
While the House of Representatives' protracted deliberation of the Election Bill sees an imminent deadlock, President Joko "Jokowi" Widodo emphasized on Saturday that his administration would defend the government's proposal to maintain the presidential threshold of between 20 and 25 percent.
The presidential threshold is the minimum share of votes a political party or a coalition of parties must have in order to nominate a presidential candidate.
The threshold is one of five crucial issues in the bill that have yet to be settled.
Jokowi said maintaining the threshold would make the 2019 simultaneous legislative and presidential elections simpler.
He also said that, in the future, the number of political parties should also be reduced.
"The development of our political system must be consistent in striving for simplification. If previously, we set [the threshold] at 20 percent, why should we go back to zero?" Jokowi said in Semarang on Saturday.
Read also: House agrees to an additional 19 legislative seats for 2019 election
He added that changing the threshold should not be for the sake of accommodating short-term political goals.
Jokowi said he had ordered Home Minister Tjahjo Kumolo to convince the House.
Jokowi's ruling Indonesian Democratic Party of Struggle (PDI-P) won the 2014 legislative poll with 19 percent of the vote.
Tjahjo, a senior PDI-P politician, earlier said that if the House insisted on lowering or scrapping the presidential threshold, the government would retract its participation in the deliberation to stall the process and Jokowi would issue a Perppu (Regulation in Lieu of Law) to return to the old election law.
Jokowi, however, said that there was no plan to issue a Perppu yet, because the government was still lobbying lawmakers. (bbs)
Join the discussions