80 people killed in police's war on drugs: Amnesty International
Marguerite Afra Sapiie

The Jakarta Post
Jakarta |

Tue, September 19, 2017

| 05:28 pm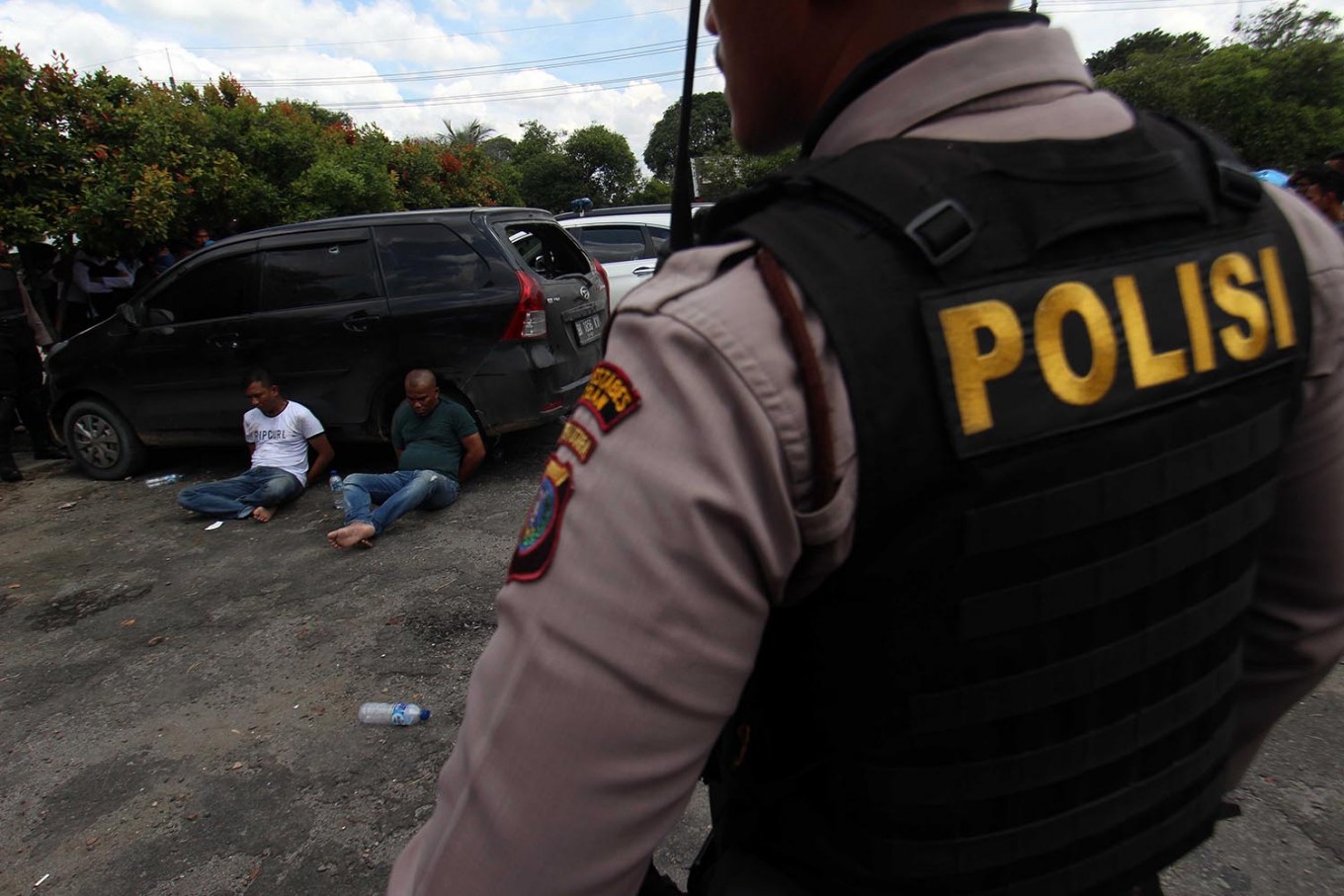 A policeman guards two drug trafficking suspects during a raid at KM 10 on the Binjai-Medan road, March. 1. (Antara/Septianda Perdana)
The tough stance taken by the government against drug dealers has taken a deadly turn that has seen a significant rise in the number of victims being shot dead by law enforcement personnel, Amnesty International Indonesia has said.
A researcher for the organization, Bramantya Basuki, revealed that based on Amnesty's data, 80 people have died between January and Sept. 19 this year.
"The number is four times higher than the 18 people shot dead last year," Basuki said on Tuesday.
In a meeting discussing gun usage by the police, Amnesty questioned whether the police had conducted an internal review regarding the increasing cases of alleged drug dealers being shot dead when resisting arrest.
The growing number of incidents has raised concerns that Indonesia's fight against drugs could mimic the controversial anti-drug policy being conducted in the Philippines.
"There is a reason why the number of deaths is so large. We are concerned that if there is no review and internal investigation, these incidents will snowball, similarly to what is happening in the Philippines," Basuki said.
Amnesty International had recorded that up to February 2017, 7,000 people were killed in anti-drug operations in the Philippines, that has allegedly been marred by many irregularities.
Read also: Sending drug dealers to God is my business: Jakarta Police chief
Basuki added that his organization did not reject the shoot-to-kill policy or gun use by members of the police.
"But what we really want to emphasize is for all members to comply with National Police regulations," he said.
The National Police had previously announced that Indonesia had become the main target of international drug syndicates following tougher anti-drug policies imposed by neighboring countries like the Philippines, Singapore and Malaysia. Police argued that a tougher stance is needed to eradicate drug trafficking in the country. (rin)
Join the discussions