Sending drug dealers to God is my business: Jakarta Police chief
Callistasia Anggun Wijaya

The Jakarta Post
Jakarta |

Tue, August 8, 2017

| 07:41 pm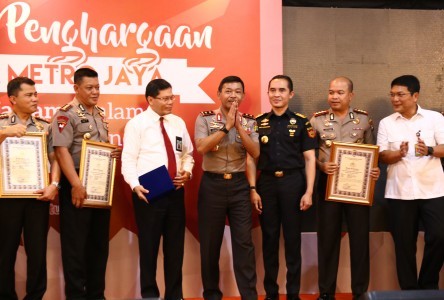 Jakarta Police chief Insp. Gen. Idham Azis (center) poses during an award ceremony held on Tuesday, Aug. 8 for police investigators who succeeded in foiling the smuggling of a record-breaking one ton of crystal methamphetamine, or sabu-sabu, in Anyer, Banten in July. (Antara/Reno Esnir)
The newly appointed Jakarta Police chief Insp.Gen. Idham Azis has vowed to combat drug dealers, especially those from other countries, and will take responsibility for his subordinates' actions if they shoot alleged drug traffickers during raids.
"If the drug dealers want to apologize, it is their business with God. Sending them to God, on the other hand, is my business," Idham said at the Jakarta Police headquarters on Tuesday.
Idham, who was inaugurated as the Jakarta Police chief on July 26, expressed his appreciation to the team of investigators that thwarted the record-breaking smuggling attempt of one ton of crystal methamphetamine, locally known as sabu-sabu, in Anyer, Banten last month. In the raid, investigators arrested three Taiwanese nationals and shot dead another alleged to have resisted arrest.
He asserted that he would also dismiss his subordinates if they failed to handle the mass drug trafficking in the capital.
Under his leadership, he said he would give all drug units in all police precincts under the Jakarta Police's authority a month to crack down on drug dealers.
"There will be no compromises. If the drug unit chiefs cannot enforce the law against drug dealers, I will replace them," he said.
Greater Jakarta has the highest demand for drugs of all provinces in the country, according to the National Narcotics Agency (BNN). The National Police announced that Indonesia had become the main target of international drug syndicates following tougher anti-drug policies imposed by neighboring countries like the Philippines, Singapore and Malaysia. (wnd)
Topics :
Join the discussions