Gerindra seeks to form 'elephant' coalition
Nurul Fitri Ramadhani

The Jakarta Post
Jakarta |

Thu, April 12, 2018

| 12:45 pm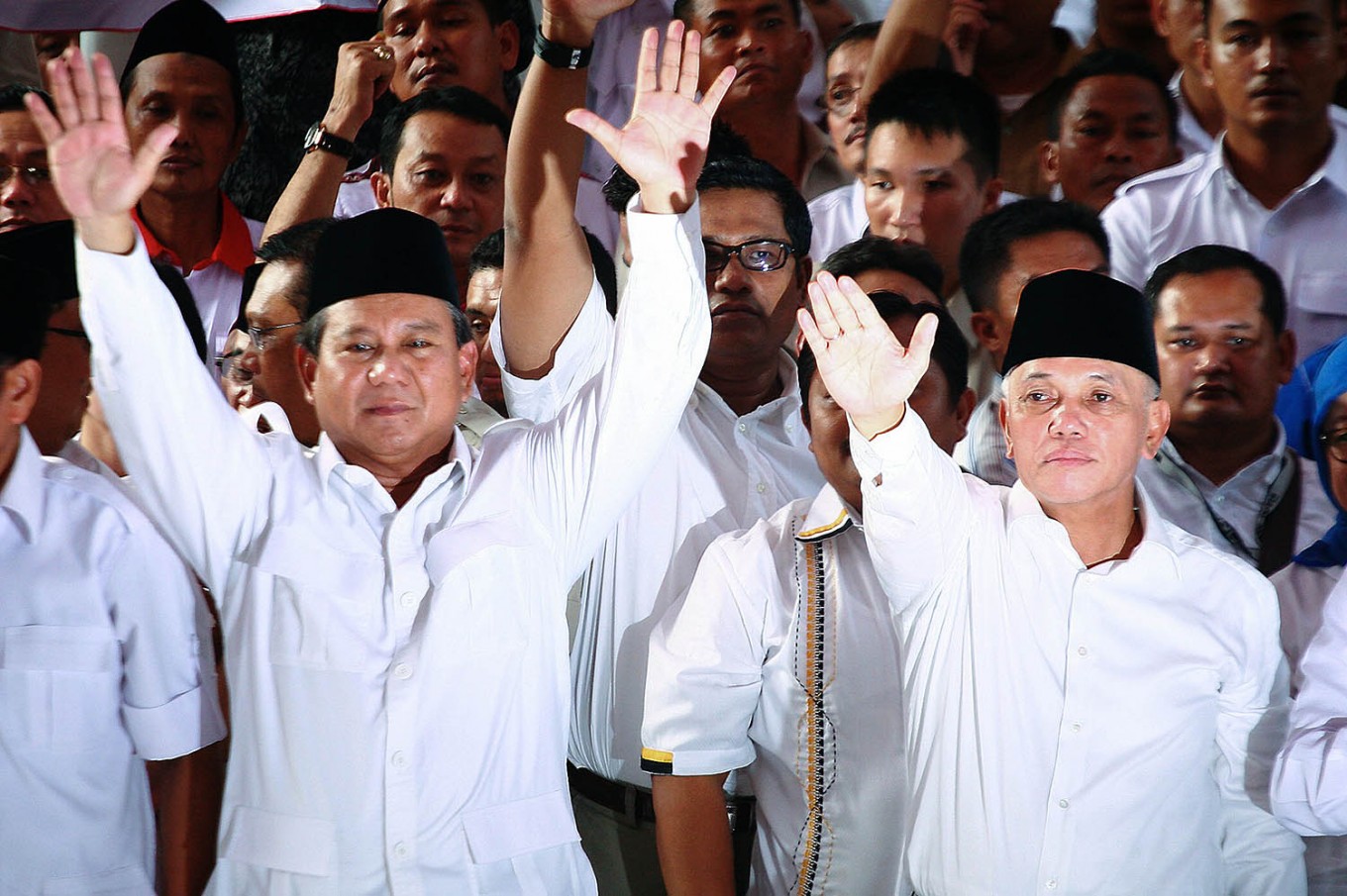 This May 19, 2014 file photograph shows presidential candidate Prabowo Subianto (left) and running mate Hatta Rajasa waving in Jakarta as they declared their candidacy for the 2014 presidential election. (AFP/Str)
The Gerindra Party is intensifying its lobbying of other political parties to create what it has dubbed "the elephant coalition" to back the presidential bid of its chairman and chief patron, Prabowo Subianto.
The party has so far secured only the support of the Prosperous Justice Party (PKS).
Meanwhile, five major parties and two minor parties are backing President Joko "Jokowi" Widodo for reelection in 2019.
Gerindra is hoping that the National Mandate Party (PAN), National Awakening Party (PKB) and the Democratic Party, which have yet to enter into any formal agreements, will join its coalition.
"We are maintaining intensive communication with PAN. We hope that it will eventually join us, like the PKS," said Gerindra deputy secretary-general Andre Rosiade late Wednesday.
"We are also building our communication with PKB and Democrats. We predict that [we will see] a big 2014 rematch," he added, referring to the 2014 presidential election when Prabowo and Jokowi ran head-to-head.
Prabowo accepted his party's mandate to run for the presidency in next year's election during Gerindra's national coordination meeting on Wednesday in Hambalang, Bogor, West Java.
Gerindra executive Ahmad Riza Patria cited Prabowo as saying that he would only contest the election if he was supported by an "elephant-sized" coalition.
PKS chairman Sohibul Iman, PAN chairman Zulkifli Hasan and PAN patron Amien Rais attended the meeting, with several reports saying that PKB chairman Muhaimin Iskandar had also been invited, but did not show up at the event. (ahw)
Topics :
Join the discussions