2018 Asian Games mascots Bhin Bhin, Kaka, Atung bring the hype
News Desk

The Jakarta Post
Jakarta |

Tue, July 10, 2018

| 11:52 am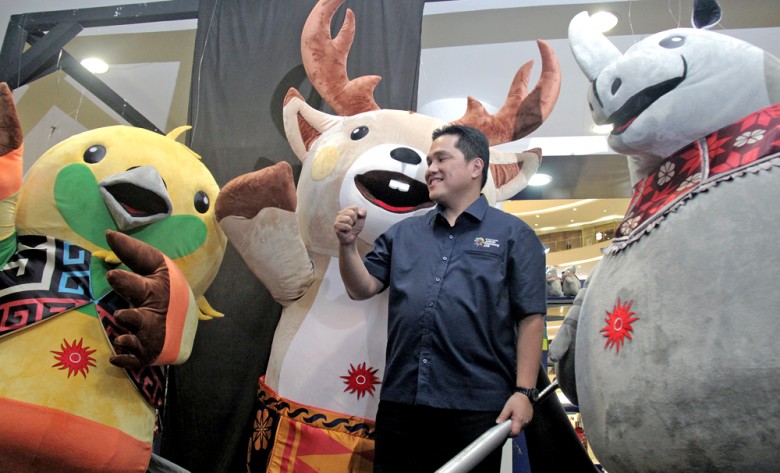 Asian Games 2018 Organizing Committee (INASGOC) head Erick Thohir poses with mascots of the multisport event to present Asian Games merchandise in Jakarta on Friday. Some 200 types of products produced by 20 local and international companies have been marketed. (JP/Steven)
As the 2018 Asian Games approaches, its three cute mascots are bringing an air of excitement to the city.

Found on digital billboards, street lamps and footbridges, Bhin Bhin, a bird of paradise, Atung, a deer, and Kaka, a one-horned rhino, represent the spirit of the Games.

Wearing a vest adorned with a Papuan asmat motif, Bhin Bhin represents strategy, while Atung, dressed in a sarong with Jakarta's tumpal pattern, embodies speed.

Kaka wears a neckpiece with a traditional Palembang flower motif and represents strength.

The three mascots also appear in animated forms on social media and are used in information campaigns and advertisements released by government institutions.

Created by Feat Studio, they are being promoted by a creative team under the Indonesian Asian Games Organizing Committee (INASGOC).

"The team was formed by recruiting graphic designers and creative personnel from several design agencies and advertising agencies. It is assisted by several agencies, especially [those that focus on] social media management and digital media," said Elwin Mok, the creative team's communications director.

In posters recently released by the police, Bhin Bhin tells road users to mind the speed limits. Elwin said the team had created graphic files and templates that were handed over to the Jakarta Police, which then created their own custom graphics internally.
Halo SobatPolri 🙏🏻
.
Bhin-Bhin mau ngasih beberapa tips aman meninggalkan rumah pada saat SobatPolri mudik nanti.
.
Yuk dicermati dengan baik 👆🏻#polisi #polri #reskrimum #poldametrojaya #ditreskrimum_pmj #dkijakarta #humaspolri #divisi_humaspolri #divisihumaspolri pic.twitter.com/qdxDmQvaV5

— ditreskrimumpmj (@ditreskrimumpmj) June 4, 2018
The INASGOC creative team gave the mascots around 100 different looks using Adobe Photoshop and Illustrator. The designs were later handed to various parties, such as government bodies and foreign agencies, for promotional purposes.

According to Elwin, the creative team comprises six designers divided into two departments.

One team is responsible for "city beautification" and capturing through its designs the essence of the Games. It has dealt with mascot installations in places such as Soekarno-Hatta International Airport.
The second team, which focuses on communications, handles all other issues related to the mascots and approves all designs made by the other team.

Elwin said designs always went by him, before going to Francis Wanadi, an INASGOC official.

The team, which is also assisted by students of Bina Nusantara University (Binus), decided to have the mascots represent different sports.

"Each discipline gets one mascot, as does each sport," Elwin said, adding that they were not always featured together.

"These mascots are one unit and cannot be separated because they are a representation of our country's motto 'Unity in Diversity'," said Feat Studio.

The studio won a government competition held two years ago and later gave its designs to the government. It told The Jakarta Post that the entire team was happy with the positive response from the public.

"We never imagined that our proposal would be chosen," it said in a statement.

Currently, the small graphic design studio, based in Jakarta, is now receiving more clients thanks to its bolstered portfolio.

"We are continuing to work as usual, trying even better in the field we are working in," it said. (acr)
Join the discussions