Dutch expertise contributes to promising future for heritage railways
Ben de Vries

The Jakarta Post
Ambarawa |

Tue, October 17, 2017

| 09:33 am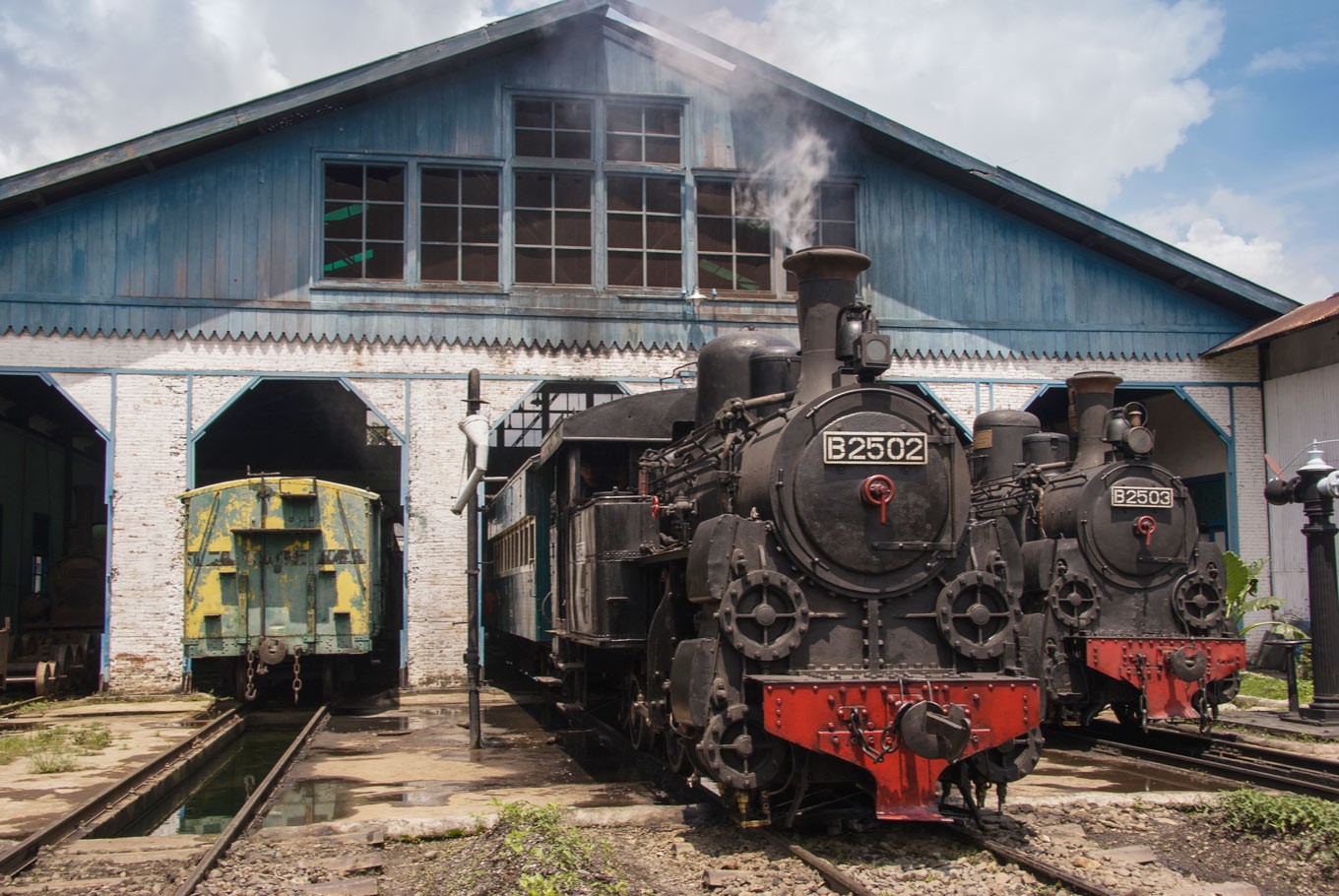 The drive rods sigh and the air is black with smoke. At Ambarawa Railway Museum in Ambarawa, Central Java, visitors are transported back to the past. (Shutterstock.com/Anges van der Logt )
The B 2503 rack-and-pinion locomotive, a product of Germany's Esslingen engineering works, groans and creaks into motion.
The drive rods sigh and the air is black with smoke. At Ambarawa Railway Museum in Ambarawa, Central Java, visitors are transported back to the past.
The most delightful attraction is a ride in a wooden carriage, drawn by a century-old steam locomotive, with stops along the way for a snack, a selfie or a spot of souvenir shopping at the picturesque railway stations of Bedono and Jambu.
Along with Ambarawa, these stations are located on a route that branches off from the main line that runs from Solo to Yogyakarta, also known as the Vorstenlanden line.
In the past eight years, Indonesian Railways have breathed new life into their heritage railways and stations.
The focal point of this renewed attention has been the Ambarawa railway museum with its remarkable collection of locomotives, carriages and coaches. Much of this vintage rolling stock was made in the Netherlands. Due to this historical connection, Indonesia asked the Dutch Cultural Heritage Agency to contribute its expertise and advice.
Indonesia's first railways were built in the second half of the 19th century. In 1860, King William III of the Netherlands ordered a feasibility study on the construction of a railway in what was then the colony of the Dutch East Indies.
This initiative led to the founding of the privately run Dutch East Indies Railway Company, which gave the go-ahead for the building of the first railway line on the island of Java. The first section was opened 150 years ago on Aug. 10, 1867, a railway that ran from the port of Semarang to Tanggung, 25 kilometers inland.
In 1873, this was followed up with a branch line to the garrison town of Ambarawa, a route primarily intended for military transport to Fort Willem I in Ambarawa.
In addition, rail transport played a vital role in opening up access to areas where sugar cane, coffee, tobacco and rice were grown, enabling these products to be efficiently transported to Semarang, which is now the capital of central Java, for shipment to Europe.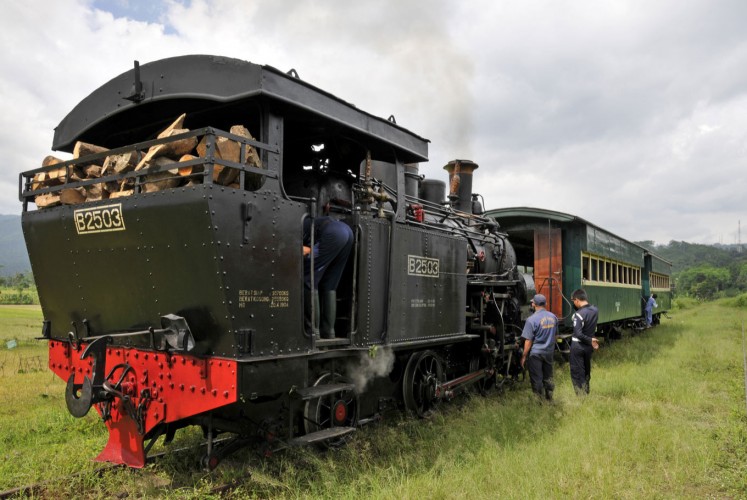 Choo, choo: The B 2503 brought up to steam for a trip from Ambarawa to Bedono on the rack and pinion railway. (Shutterstock.com/Richard Susanto)
Indonesia's age of steam did not end until 1976. A few years later, Ambarawa Station was converted into a museum. Despite the presence of dozens of steam locomotives and an operational rack-and-pinion railway, visitor numbers to the museum were disappointing.
This was mainly due to its old-fashioned style of presentation and its poorly organized outdoor areas. Since its opening in the late 1970s, investment had been minimal.
In 2009, a special heritage division of the Indonesian Railways (PT Kereta Api Indonesia) decided it was time for a change.
As owner of the historical rolling stock, it contacted the Cultural Heritage Agency with a request to organize a training program in cooperation with Indonesian partners.
Interested parties from museums, universities, tourism organizations, governments, heritage institutions, project developers and railway enthusiasts participated in a succession of workshops. With these local partners and with several Dutch partners, like TiMe Amsterdam, a firm foundation was laid for a new heritage policy and an improved collection management.
An initial inventory of Indonesia's railway heritage produced immediate and impressive results, not least an Indonesian publication featuring twenty of the country's most beautiful stations. This selection included Ambarawa, a station which still has its original roof spanning 22 meters.
Dutch architects and engineers built no less than 700 station buildings, about 450 of which are still in operation.
A select few even became listed buildings and were subsequently earmarked for substantial renovations.
Alongside basic painting and maintenance work, unsightly advertisements and air-conditioning units were removed to show off the building's architectural features to their fullest effect.
At the request of Indonesian Railways, the Cultural Heritage Agency organized workshops with the aim of encouraging local support and promoting storytelling in relation to heritage.
Tourism organizations, project developers and government agencies discussed the value of historical rolling stock in Indonesia and the reasons underlying its appreciation. Heritage primarily draws its significance from the values accorded to it in the present day.
In 2015 another intensive training course on collection management for historical rolling stock was set up.
The participants learned about the current state of affairs as regards conservation, management and collection development. They carried out practical assignments in the railway museum and laid the foundation for a practical collection plan and a comprehensive database.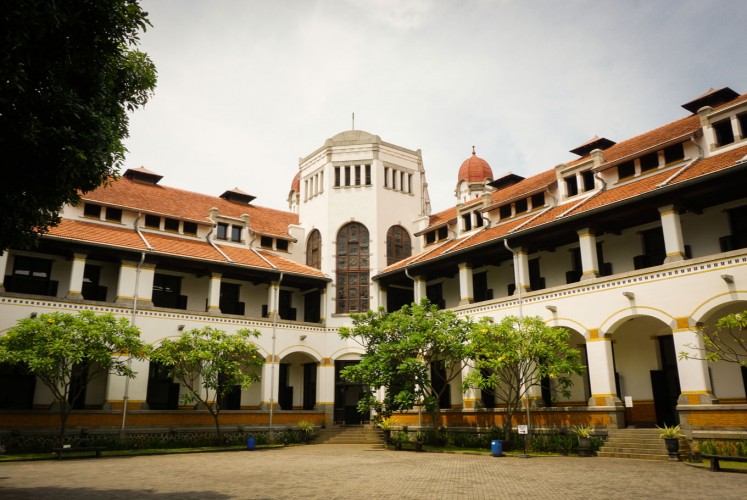 The headquarters of the Dutch East Indies Railway Company in Semarang, Central Java. The place is also known as Lawang Sewu. (Shutterstock/File)
A number of workshops took place in Lawang Sewu, the former headquarters of the Dutch East Indies Railway Company in Semarang.
This impressive listed building, designed in the early 1900s, has recently been restored to its former glory and now attracts tens of thousands of architectural enthusiasts, tourists and young people eager to snap a selfie in the glow of the stained glass windows.
Museological improvements have not only given more depth to the narrative on and around the heritage railways, but have also boosted support and involvement and created a sense of belonging among the local population.
The local community will only embrace a museum — or another aspect of heritage — if there are local benefits.
Partnerships between public and private parties can heighten an area's attractiveness in terms of cultural tourism.
Many tangible traces of a rich local history can be found in and around Ambarawa; from the Hindu-Buddhist temples of Gedong Songo to monuments that recall the struggle for independence, from plantation houses and hill stations to monumental bridges and tunnels.
Organizing heritage routes for tourists, for example in collaboration with local plantation owners, presents an attractive prospect for the railway museum's directors.
The historical rolling-stock project has now been completed and was awarded a prize in 2016 for the best project in the field of conservation and revitalization by the Indonesian Federation of Architects.
The railway museum has undergone a successful makeover.
For example, a new entrance pavilion has been built and a better routing for visitors has been developed and a story wall has been created in a half-open gallery, echoing Indonesia's tradition of wall art. This richly illustrated bilingual exhibit gives a fascinating account of the long history of Indonesia's railways.
The open-air presentation of the dozens of old steam locomotives has also been improved. Manufactured by Esslingen, Beyer Peacock, Hanomag, Hartmann and Werkspoor between 1890 and 1930, these locomotives are under cover at last, sheltered from the merciless tropical climate.
Moreover, the historical railway line to Tuntang and Kedungjati has been revitalized and soon the line to Secang will be extended to give passengers a day trip to the famous Borobudur Temple.
These positive developments represent a strong impetus for regional train tourism.
Other developments — from smart marketing campaigns and good educational materials to a museum shop, a playground and catering and hotel facilities — are still in the starting blocks. The museum still has some way to go, but its future certainly looks promising.
***
Ben de Vries (MA) is a historian and is working at the Cultural Heritage Agency of the Netherlands, part of the Dutch Ministry of Education, Culture and Science. He is author of the report: Identification mission historical rolling stock in Indonesia ( 2015 ), which is online as a pdf: https://cultureelerfgoed.nl/publicaties/identification-mission-historical-rolling-stock-indonesia
Join the discussions