Three selfie-worthy spots in Semarang
News Desk

The Jakarta Post
Jakarta |

Sun, November 12, 2017

| 09:07 am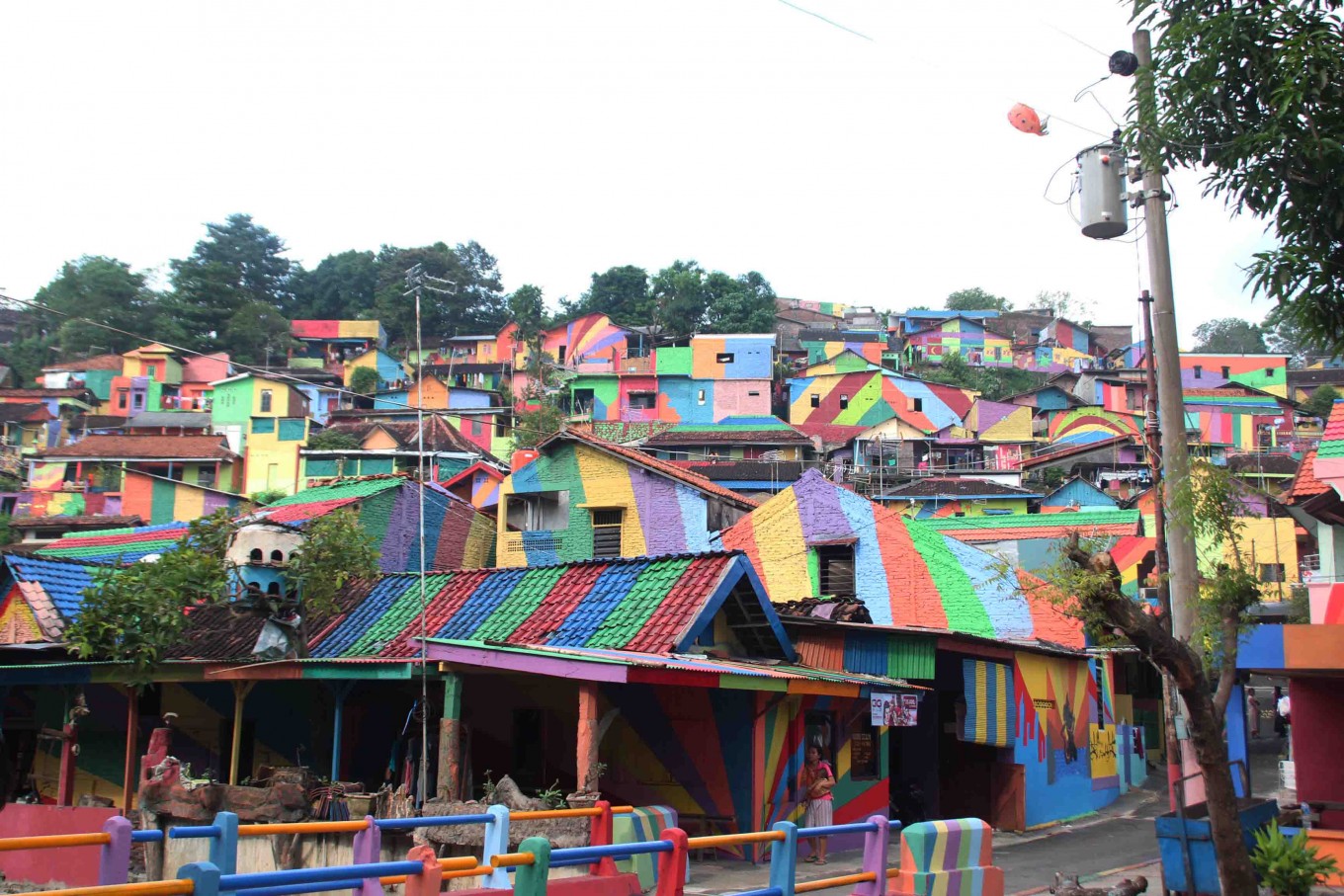 Originally named Kampung Wonosari, Kampung Pelangi has over 230 brightly colored houses in two community units (RWs) in Kampung Wonosari, Randusari subdistrict, South Semarang district. (JP/Suherdjoko)
For selfie enthusiasts who are looking for travel destinations, you may want to visit Semarang, Central Java. As compiled by Antara news agency, the capital of the province has three selfie-worthy spots that will provide you with unique backdrops to brighten up your Instagram feed.
Kampung Pelangi (Rainbow Village)
Nestled in the Brintik Mountain area, Kampung Pelangi was known prior to its color treatment as the slum of Semarang. Thanks to the locals taking the initiative to paint the roofs and walls of their houses in various colors, the village was propelled to worldwide fame when it caught the attention of Vogue.
In response to the rising number of tourists following the village's fame, the local government plans to add visitor facilities in Kampung Pelangi, such as a parking area and food stalls.
Read also: Sketchers make their mark in Semarang's old town, Borobudur temple
Brown Canyon
Visually similar to the Grand Canyon in the United States, the panorama of Brown Canyon in Tembalang, Semarang, has long been a favorite subject for photographers. The uniquely shaped canyons are results of the site's history as a sandstone mine.
Brown Canyon is located 15 kilometers from Semarang, and the ideal time to visit is very early in the morning to catch the sunrise or in the afternoon to watch the sun set. Coming in the midday is discouraged as it will be too hot and trucks passing in busy hours will kick up heavy dust from the road.
Negeri Atas Awan (Land on the Clouds)
Located in Talun Kacang Village, Gunungpati, Semarang, Negeri Atas Awan is one selfie-worthy place, especially for those looking for a quirky setting. Visitors are welcomed by a three-meter high bamboo structure decorated by white cloth, imitating the form of clouds. As the height of the structure makes it dangerous in the wet, the management closes down the site when it rains. To enter the site, visitors must pay an entrance fee of Rp 5,000 (US$0.03 cents). (asw)
Join the discussions