Surabaya's 'House of Mathematics' welcomes students
News Desk

The Jakarta Post
Jakarta |

Mon, January 9, 2017

| 11:45 am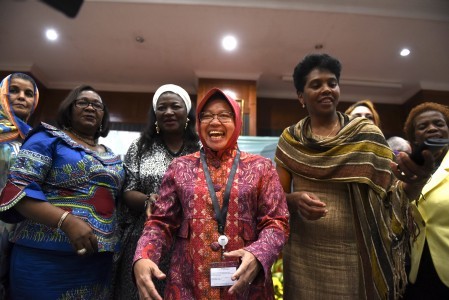 Surabaya Mayor Tri Rismaharini is all smiles during a meeting with her fellow female mayors who are participants of PreCon III UN-Habitat during a meeting of Asia Pacific Mayors in Surabaya, East Java on July 24. She has just inaugurated the opening of Rumah Matematika (House of Mathematics), which is designated for elementary and junior high school students in Surabaya, East Java, on Thursday. (Antara/Zabur Karuru)
Surabaya now has a government-initiated mathematics learning house.
Mayor Tri "Risma" Rismaharini inaugurated Rumah Matematika (House of Mathematics), a learning venue that will cater to elementary and junior high school students in Surabaya, East Java, Thursday.
"Whenever I visit, they always look anxious when they're about to have mathematic tests. They say that it is because the subject is hard. Many of them received a mark below 6," Risma said in the opening ceremony at Balai Pemuda building, as quoted by Antara.
She said the learning house, which is located in the Balai Pemuda building, was built because many students had the wrong perception of mathematics, that math is a scary and difficult subject.
"I believe that the students can actually do math well but are hampered by their fear," she remarked.
(Read also: Two female Bandung students conquer Vinson Massif peak)
Risma stated that in the house, mathematics prowess would not be judged only by scores. The subject will be promoted as something fun and relevant to daily life.
"Students should know that mathematics is not only something in textbooks, it is also applicable in daily life," she said, noting that there are tendencies to separate the two things.
Mathematics will be taught by volunteers in the house from 2 p.m. to 4 p.m., continuing with a second session from 4-5.30 p.m. Students can register at the Balai Pemuda building to study at the House of Mathematics and discuss their preferred schedule.
Martadi, chairman of Surabaya's education council has expressed appreciation for the Surabaya city government's initiative.
"From the test data, it is known that the [students'] mathematic ability is still low. It is not only in Surabaya, but also in Indonesia," he said.
"That is why I think that this house is important," he added, hopeful that the House of Mathematics will help students who have problems with mathematics. (mas/asw)
Topics :
You might also like :
Comments