Doubt over refugees living in Indonesia
Thomas Brown

Australian researcher based in Indonesia for the last 18 months looking at refugee issues in the country
Jakarta |

Thu, February 2, 2017

| 01:28 pm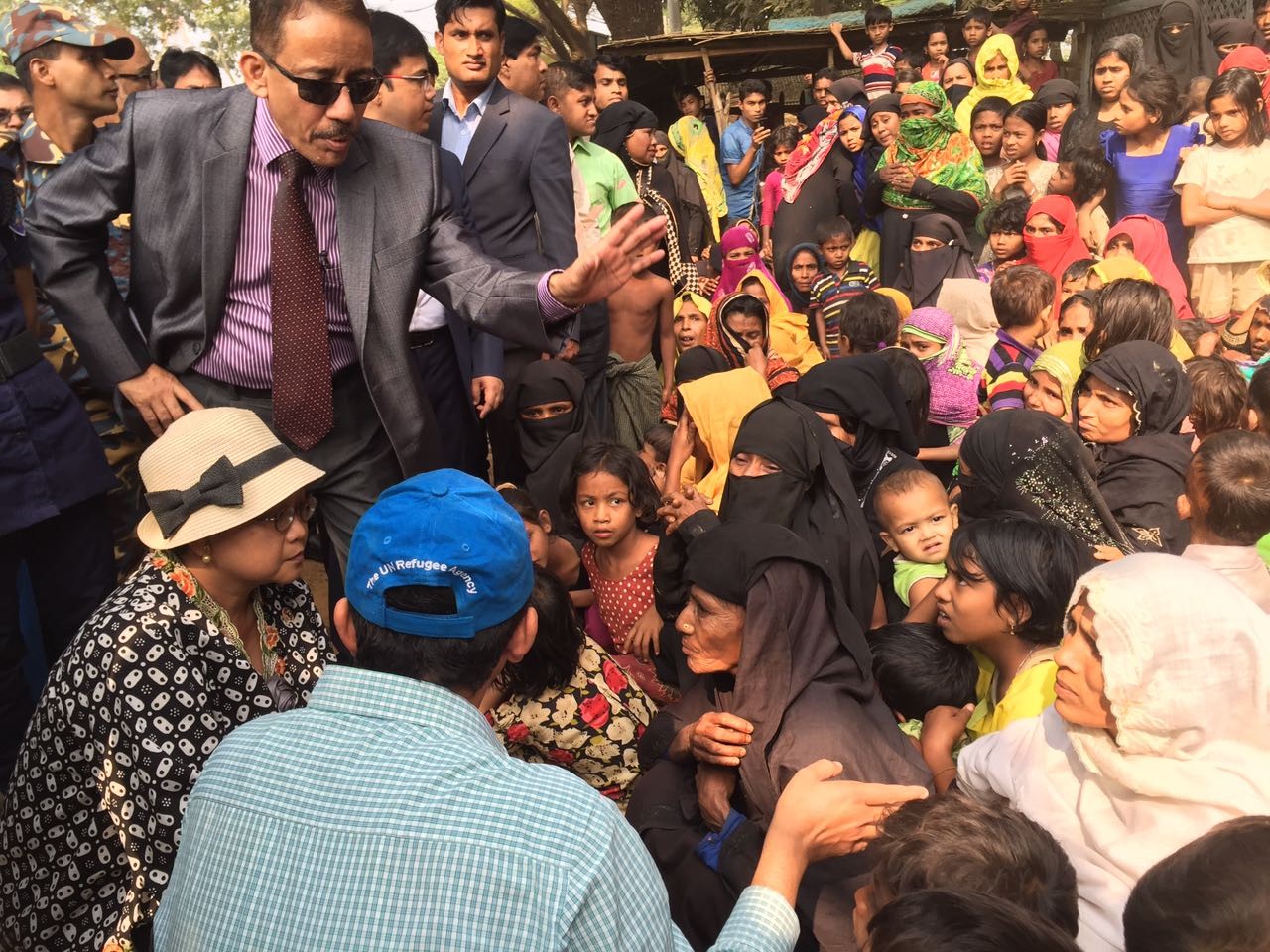 Among the people: Foreign Minister Retno LP Marsudi (left, crouching) speaks to refugees who fled Myanmar's Rakhine state and ended up in the Kutupalong refugee camp in Ukhiya, Cox's Bazaar, along the borders of Bangladesh and Myanmar. (BAM-Kemlu/File)
American President Donald Trump's executive order to suspend the United States refugee program and bar entry for citizens of seven Muslim nations could not come at a worse time for the almost 14,000 asylum seekers and refugees living in Indonesia.
As part of this, refugee admissions will be suspended for four months and entry into the US will be barred for 90 days for those from Iraq, Syria, Iran, Sudan, Libya, Somalia and Yemen, citing Islamic terrorism as the reason.
Indonesia hosts many asylum seekers and refugees from these countries. In particular 6.6 percent are from Iraq, 4.6 percent are from Iran and 9 percent are from Somalia. Around 50 percent are from Muslim-majority Afghanistan.
The refugee suspension and apparent pushback against Muslim immigration will greatly affect those in Indonesia, since in recent years America has been resettling the majority of refugees from the country.
According to United Nations High Commissioner for Refugees (UNHCR) statistics, of the 1,226 refugees who were resettled from Indonesia in 2016, 62 percent went to the US.
The other major resettlement location was Australia, who accounted for 28 percent of the 2016 figure.
Although it used to once resettle most refugees from Indonesia, Australia's intake from Indonesia has been declining, with 808 refugees resettled in 2013, to 526 in 2014 and 425 in 2015 and finally 347 in 2016. With its policy to refuse resettlement for asylum seekers who arrived in Indonesia after July 2014, the number will continue to decline.
European countries also used to provide a number of places, but with the refugee crisis on their doorstep this has all but stopped, with just a handful of refugees resettled to Sweden last year.
It comes at a time when Indonesia finds itself overwhelmed with relatively high numbers of people seeking asylum in the country. In 2010, the UNHCR had registered 2,882 persons of concern in the country, but as of February 2016 the number had reached 13,829.
Although not a signatory to the 1951 Refugee Convention or the 1967 Protocol, Indonesia allows refugees to remain in the country until they can be resettled to a third country. Unable to work or access education, they spend years living in limbo waiting to be resettled.
Under the Obama administration, the US demonstrated leadership in addressing the global refugee crisis, increasing the intake targets from 70,000 in fiscal year 2015, to 85,000 in fiscal 2016 and finally setting a new target of 111,000 refugee admissions in fiscal 2017.
By contrast, in the first weeks of his presidency, Trump has suspended refugee intake, plans to halve the target for 2017 to 50,000 and is appearing to push back against Muslim immigration more broadly. In his executive order, Trump has asserted that Christians and other minority religions would be given priority over Muslims. This will greatly affect refugees in Indonesia, who are predominantly from Muslimmajority nations.
With the number of forcibly displaced persons around the world reaching record highs, the UNHCR in Indonesia is finding it increasingly difficult to find resettlement countries. As a result refugees are forced to spend longer in the country, as waiting times continue to increase.
With Australia reducing its intake, and Europe overwhelmed, this latest decision by President Trump casts serious doubts over the fate of refugees in Indonesia. With resettlement to the United States off the table, they have few options left available.
***
The writer is an Australian researcher based in Indonesia for the last 18 months looking at refugee issues in the country. He also works for Same Skies, an NGO that works with refugee populations in transit in Southeast Asia .
---------------
We are looking for information, opinions, and in-depth analysis from experts or scholars in a variety of fields. We choose articles based on facts or opinions about general news, as well as quality analysis and commentary about Indonesia or international events. Send your piece to [email protected] For more information click here.
Disclaimer: The opinions expressed in this article are those of the author and do not reflect the official stance of The Jakarta Post.
Topics :
Join the discussions