EDITORIAL: Fighting 'rubber clauses' again
EDITORIAL

The Jakarta Post
Jakarta |

Tue, February 6, 2018

| 08:02 am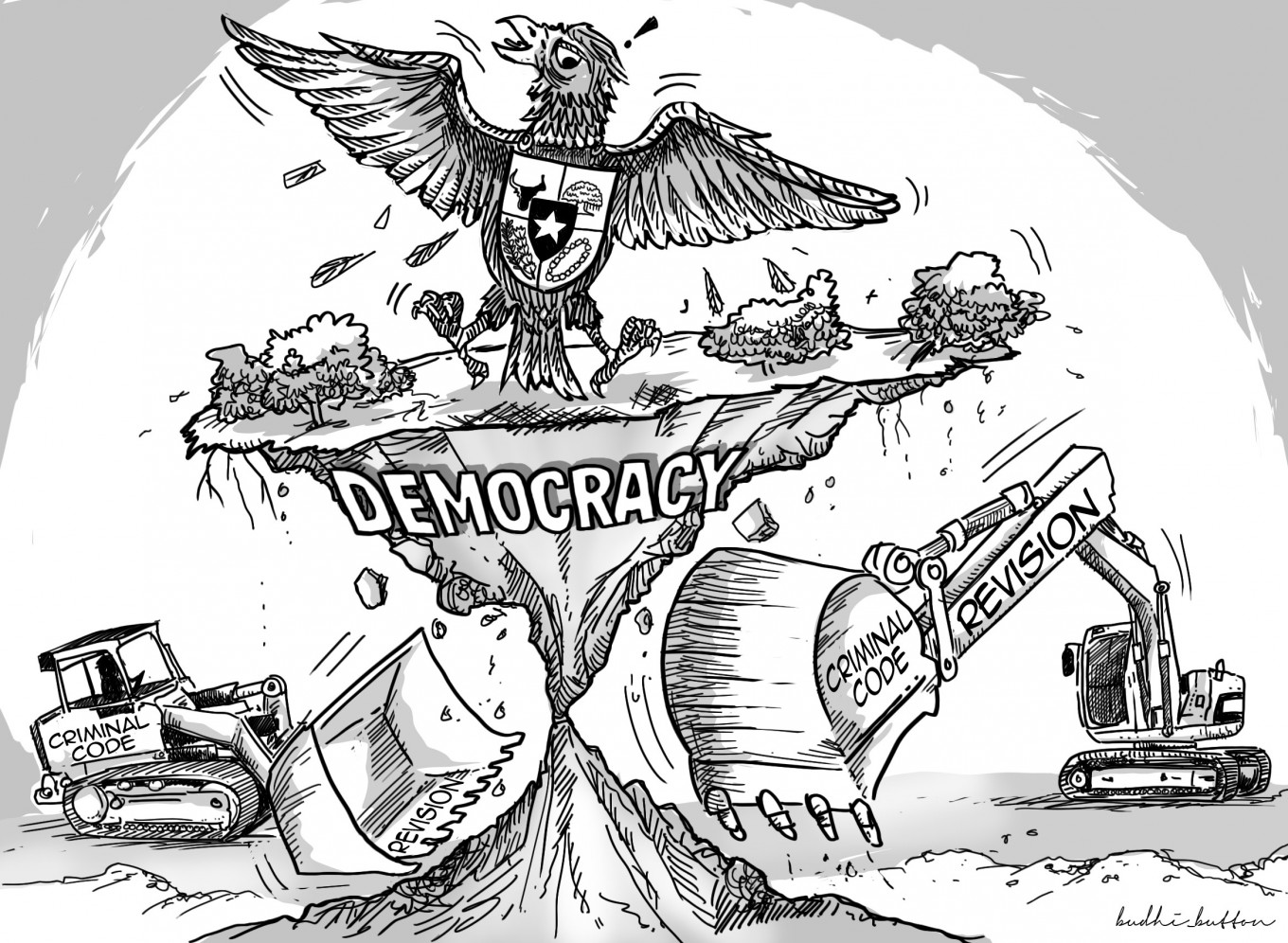 Attempts to revise the KUHP, a legacy from colonial rule, have been ongoing since the 1990s. (JP/Budhi Button)
We have no king in charge of the country, except for traditional royal houses, which we continue to respect and seek to preserve as part of our heritage. Yet we might need to be extra cautious, like our neighbors in the kingdom of Thailand, where the lèse majesté law is in place. The Constitutional Court in 2006 ruled that insulting the President and Vice President is not a crime, so we need to be aware if the revised Criminal Code (KUHP) recriminalizes such actions, especially with the upcoming 2019 presidential election.
In the face of public outrage, lawmakers are still hunched over the bill's deliberation following reports over threats to criminalize insulting the highest offices, homosexuality and adultery, among other things.
In the latest bill, one can avoid charges of insulting the President and the Vice President if one can prove that the "insult" was made "for the sake of public order, truth or self defense." The media could easily find justification to safely raise criticism when necessary for the public good. Yet there's little comfort here from the tendency of those in power to pass "rubber clauses" — clauses that are vague — especially for the individual citizen who feels disadvantaged by certain policies.
After 20 years of reformation, we continue to progress and regress in civil liberties. The silver lining is that we're forced to be ever more wary against any sign of return to authoritarianism.
The revised KUHP may see lighter penalties for treason, for which the current maximum sentence is life. But as several critics of President Joko "Jokowi" Widodo have been charged under the articles, we must brace for persistently flexible interpretations of what constitutes "insulting " the leaders and what could be considered "treason."
In our indefinite "democratic transition," we have become used to every new batch of politicians, who are not necessarily better than the last. But precisely as we cannot afford to return to authoritarian rule, citizens need to scrutinize attempts to discourage hard-won freedom of speech and opinion.
Attempts to revise the KUHP, a legacy from colonial rule, have been ongoing since the 1990s. What has greatly encouraged the latest phase in the process has been the interplay of politicians and citizens who have demanded criminalization of this and that in their search for shortcuts to what they deem to be a more orderly and moral society. That shortcut includes throwing out the urgent need to develop a culture of healthy debate, which in turn needs an atmosphere conducive to the respecting of different views.
Yet we have seen heightened intolerance of differences, whether of political views, diverse faiths and other variations in our plurality. Elders have proven to be poor models of wisdom for digital natives. Alas, the old generation has proven adept at mudslinging online and offline, egging on politicians to instill law and order in a chaotic, still fledgling democracy.
The revision of the KUHP is just one battle to take one step forward in accepting differences, which citizens must support for their own sake.
Topics :
Join the discussions