After Lombok's earthquakes: Now phantom quakes?
Lombok |

Fri, September 14, 2018

| 02:35 pm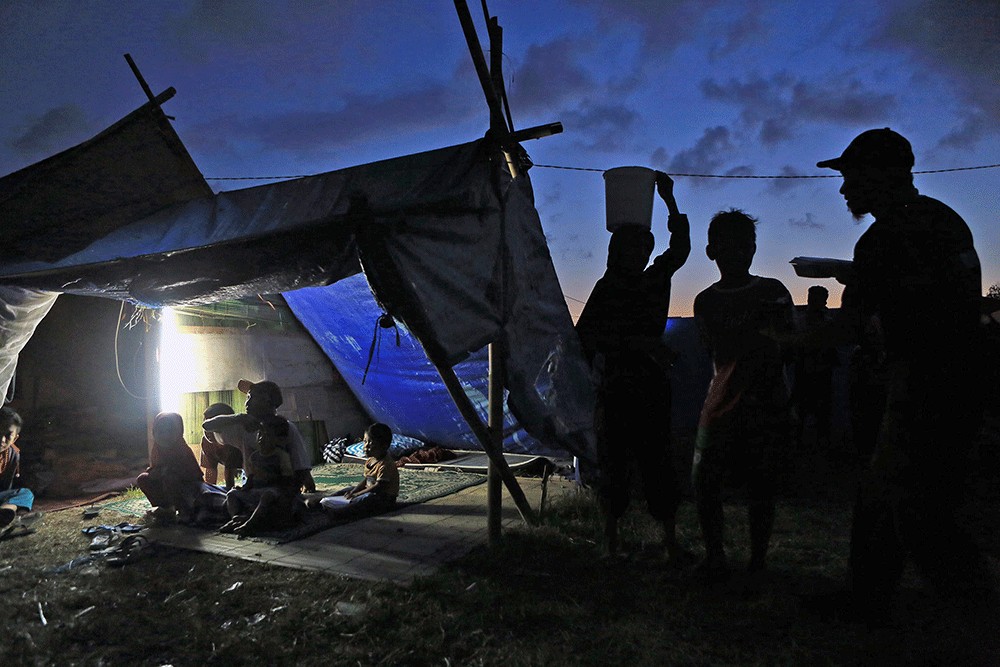 Surrounding regions around Lombok have also been under a constant barrage of almost daily aftershocks since the first destructive earthquake. (The Jakarta Post/Seto Wardhana)
Multiple massive earthquakes have devastated Lombok, sending panic through the already battered island. A series of quakes were recorded throughout July 29, the first measuring 6.3 shortly before midday which triggered landslides and sent people fleeing for cover.
It was followed 7 days later by a powerful and destructive 7.0-magnitude tremor and more than 1900 other quakes (and counting) after nearly four weeks. Unfortunately, there's little likelihood of them abating anytime soon. At least 500 people died and thousands were injured. This has made hundreds of thousands homeless and damaged tens of thousands of facilities and businesses across Lombok. Lights often went out, causing further panic. Badly damaged roads, particularly in the mountainous north of the island, are a headache for relief agencies trying to distribute aid.
Surrounding regions around Lombok have also been under a constant barrage of almost daily aftershocks since the first destructive earthquake. Anyone caught up in the disaster may also experience the uncanny sensation of "phantom quakes".
One survivor, a 44-year-old nurse, says she sometimes thinks the ground is shaking even when it is not. When she sees a tree branch swaying in the wind, she fears an earthquake. This sensation is just one symptom of phantom quakes, that many survivors now have to contend with, on top of everything else.
The term refers to a collection of sensations that earthquake survivors sometimes experience, even long after the ground stops trembling. It describes the uncanny, frightening phenomenon when earthquakes throw people's equilibrium into dissaray. People experiencing phantom quakes are convinced the earth is rumbling under their feet although it is perfectly still.
More disconcerting is that the faux-quakes are accompanied by attendant feels of dizziness, panic, and weak legs. If it's any consolation, it's normal.
The brain's balance system keeps us upright by analyzing signals sent by the ears, eyes, and feet and uses this data to predict which way is up. Normally, if you make an unpredictable movement, like stepping on something lower than you think, your motor cortex quickly adapts as it knows what the real world is like. However, experiencing an earthquake temporarily shakes these assumptions, so a misstep can possibly trigger a mini "earthquake" that is all in your mind.
"Sometimes I'm sitting with my friends and I tense up and say, 'Do you feel that?'" says Dian, an office worker in Mataram, Lombok, "and they haven't because it was in my imagination." Studies have revealed this sensation happens for the same reason as "sea legs", the swaying feeling people sometimes experience when they first get off a boat.
Are there any other symptoms? Yes – anxiety. Understandably, earthquake survivors commonly worry that another big one could happen at any moment. That concern has been impossible to ignore especially in the quakes epicentrum in northern Lombok where hundreds died. Consequently, survivors choose to live outside the buildings – improperly sleeping together on the street, contributing to diseases such diarrhea and acute respiratory tract infection.
For most people afflicted, experiencing phantom quakes is temporary. According to M. Ushio of the University of Tokyo Hospital's Department of Otolaryngology, the sense of being unbalanced will fade away in anywhere between a couple of hours to several days. Much like motion sickness, patients can be relieved by training one eye on a distant object, laying down, or sipping cold or hot liquids. In more severe cases, the use of over-the-counter antihistamines, or motion sickness pills, may be very helpful.
For most people, anxiety is experienced briefly, aren't severe, and dissipate over some days or weeks. However, it can also exact more of a toll on certain individuals. It may exacerbate the anxieties of people who have an underlying anxiety disorder or those subject to traumatic stessors in their past.
If you are among people who experience anxiety from the earthquakes, here are the four easiest things you can do to help the recovery process and reduce anxiety. First, try to remain involved in life and stick to normal routines. Second, express your concerns and fears to supportive friends and family members. Third, get sufficient rest, relaxation, and exercise. Last, adequately prepare for a future emergency by learning about emergency preparedness.
If the symptoms associated with your anxiety are especially severe or linger for more than four weeks; if you are unable to engage in work, family or social life; or you are using drugs or alcohol to cope, you may need to speak with the healthcare professional.
After all, phantom quakes are nothing more than our mind playing tricks with us.
***
The writer is a medical doctor practicing in West Nusa Tenggara, and a Master of Public Health in sociomedical sciences candidate for Columbia University.

Disclaimer: The opinions expressed in this article are those of the author and do not reflect the official stance of The Jakarta Post.
Join the discussions