Pilot killed as helicopter crashes in Papua
Nethy Dharma Somba

The Jakarta Post
Jayapura |

Sat, June 4, 2016

| 05:26 pm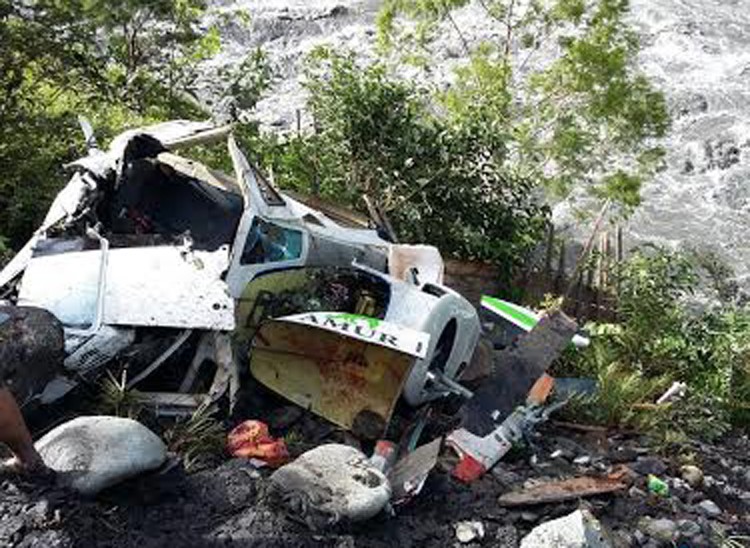 Wreckage of the helicopter from PT Amur Indonesia that crashed in Dogobaida district, Paniai, Papua on Friday. (-/-)
A pilot was killed and three passengers injured when their helicopter crashed in the Dogobaida district of Pania, Papua, on Saturday.
"The pilot, Karmana, was flying a helicopter owned by PT Amur Indonesia with three passengers -- Asmar, Ajo and Darwis. Asmas has been hospitalized in critical condition, while the two other passengers remain near the crash site," Adj. Sr. Comr. Leo Nabu told The Jakarta Post on Saturday.
Leo added that Ajo and Darwis would be evacuated to Nabire as soon as weather conditions allowed.
He said the helicopter had been flying from Nabire to a mining site at KM 99, Degewo, and that the accident had happened minutes before the planned landing.
"Asmar, who is being treated at the ICU of Nabire hospital, said the aircraft had been hit by strong wind before the accident happened," said Leo, adding that apart from transporting the three passengers, the helicopter was also carrying 300 kilograms of goods.
"The cause of the accident is being investigated," said Leo.
Meanwhile, a representative of the National Transportation Safety Commission (KNKT), Norbert Tunyanan, said he had been informed about the accident and would soon send a team to the location to collect information on the incident.
"I have received the report. Tomorrow, the team from Jakarta will go to the location to carry out an investigation. Then we will find out the cause of the incident," he added.
On Feb. 3, another chopper had crashed in Piniai, but no casualties were reported in that incident, which affected a helicopter owned by Aviation Indonesia.
Meanwhile, Norbert said, that a small plane owned by Pegassus Air reportedly hit the fence of an airport soon after landing in Puncak Jaya regency, also in Papua. Only the pilot and co-pilot were inside the plane when the incident happened.
"The pilot and co-pilot are safe, while the plane was severely damaged. The plane did not crash. The incident occurred when it had already landed. I will go there tomorrow," he added. (bbn)
Topics :
You might also like :
Comments