Jokowi installs new Air Force chief of staff
Haeril Halim

The Jakarta Post
Jakarta |

Wed, January 18, 2017

| 04:09 pm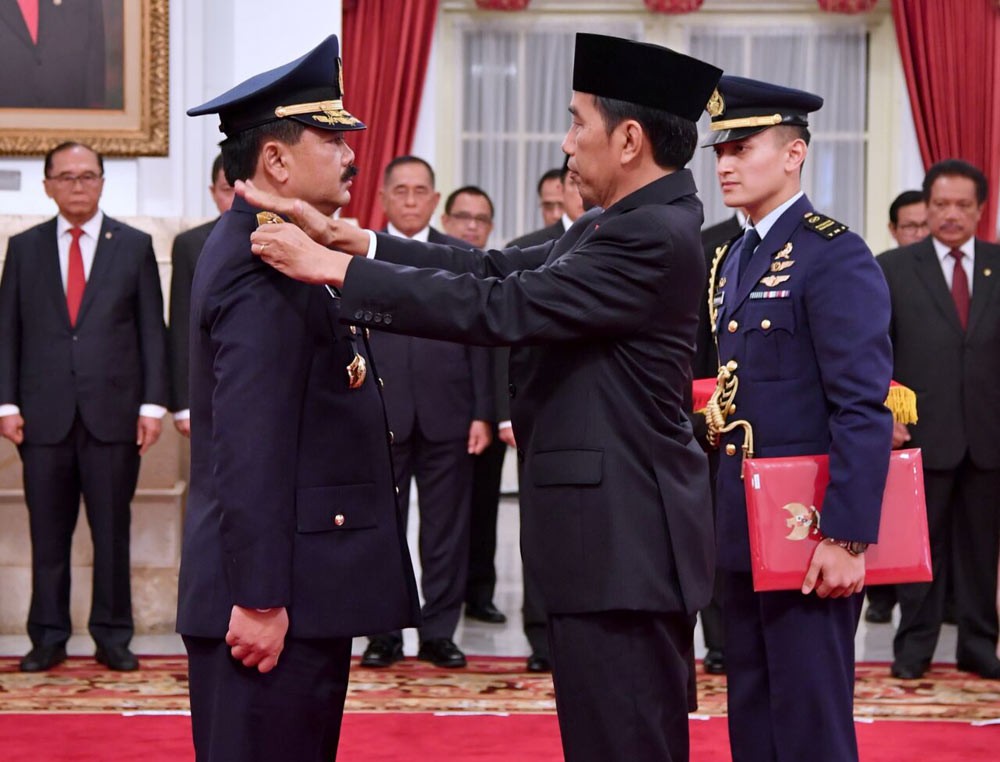 President Joko "Jokowi" Widodo (right) puts insignias on newly inaugurated Air Force chief of staff Air Chief Marshal Hadi Tjahjanto at the State Palace on Wednesday. (Biro Pers Istana/Layli Rachev)
President Joko "Jokowi" Widodo has inaugurated the former Defense Ministry's inspector general, Air Chief Marshal Hadi Tjahjanto, as the new Air Force chief of staff, replacing retiring Air Chief Marshall Agus Supriatna, whose tenure ends on Jan. 20.
The handover ceremony took place at the State Palace on Wednesday.
The President had upgraded Hadi's military rank to that of a four star Air Chief Marshal to make the 53-year-old eligible for the post.
Hadi, a 1986 Air Force Academy graduate, is no stranger to the President. He served as head of the Adi Soemarmo air base in Surakarta, Central Java, when Jokowi was Surakarta mayor in 2010 and 2011.
In 2013, Hadi became the spokesman of the Air Force, and two years later he was assigned to become commander of the Malang Abdurrahman Saleh air base in East Java.
Jokowi, who was sworn in as the country's seventh President in October 2014, later promoted Hadi to become presidential military secretary in 2015.
Under Jokowi's administration Hadi's military career skyrocketed. Also in 2015, Hadi received another promotion to become the Defense Ministry's inspector general, and the State Palace increased his rank from a two star to three star Air Force general.
Hadi was among three generals recommended for promotion by Indonesian Military (TNI) commander Gen. Gatot Nurmantyo. The two other candidates were National Resilience Institute (Lemhanas) deputy governor Air Marshal Bagus Puruhito and deputy Air Force chief of staff Air Marshal Hadiyan Sumintaatmadja.
Given his relatively young age as Air Force chief of staff and his close relationship with Jokowi, rumors have it that Hadi will be prepared to become the next TNI commander when Gatot retires in 2018. Hadi has denied such speculation, saying "I am just a soldier following instructions from my commanding officer."
Topics :
You might also like :
Comments