KPK remains tight-lipped over Setya status
Kharishar Kahfi and Bagus BT. Saragih

The Jakarta Post
Jakarta |

Tue, November 7, 2017

| 09:07 pm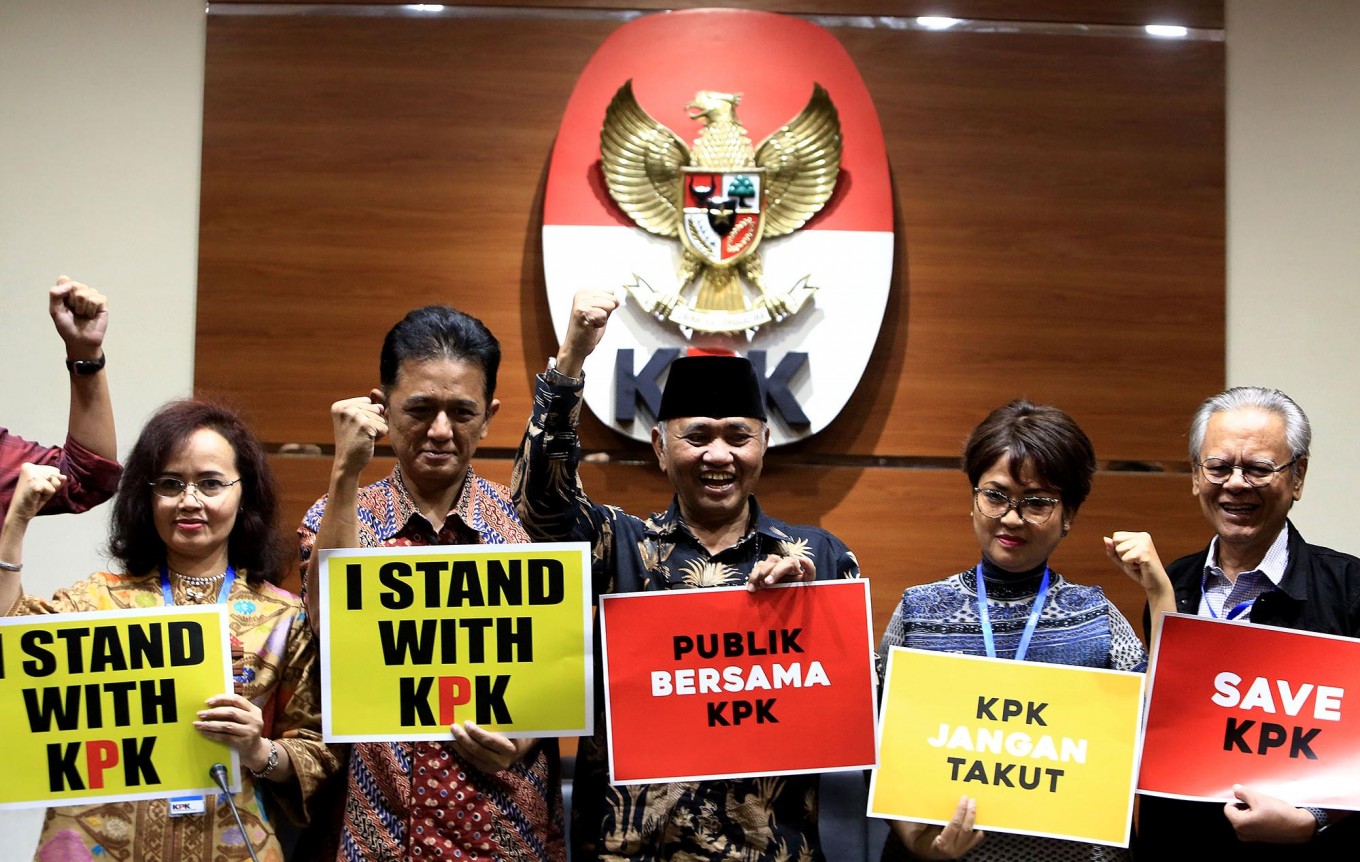 The good fight: Corruption Eradication Commission (KPK) chairman Agus Rahardjo (center) poses with Save the KPK Coalition members after a press conference in Jakarta on Sept.28. The coalition members are Betti Alisjahbana (second left), Chandra Hamzah (third left), Catharina Widyasrini (second right) and Erry Riyana Hardjapamekas (right). (JP/Dhoni Setiawan)
It doesn't take much to get people talking about Setya Novanto these days.
The seasoned politician, a close ally to President Joko "Jokowi" Widodo, has made a series of successful legal maneuvers, much to the dismay of those in the forefront of the country's anti-corruption struggle.
In a recent pretrial challenge, the South Jakarta District Court ruled that evidence and testimony against Setya were inadmissible and so the Corruption Eradication Commission's (KPK) decision to name him a suspect was declared void.
The House of Representatives speaker and Golkar Party chairman had previously been named a suspect for his alleged role in corruption pertaining to the budget for e-ID procurement from 2011 to 2012, which allegedly resulted in Rp 2.3 trillion (US$170 billion) in state losses. It is one of the biggest cases in the KPK's history.
Pessimists said the ruling was just another example of Setya's influence and power to utilize Indonesia's imperfect judiciary system.
Setya's deft but controversial moves include a recent police report against netizens who posted satirical memes deemed to be ridiculing him. It took only days for the police to track down and arrest one suspect.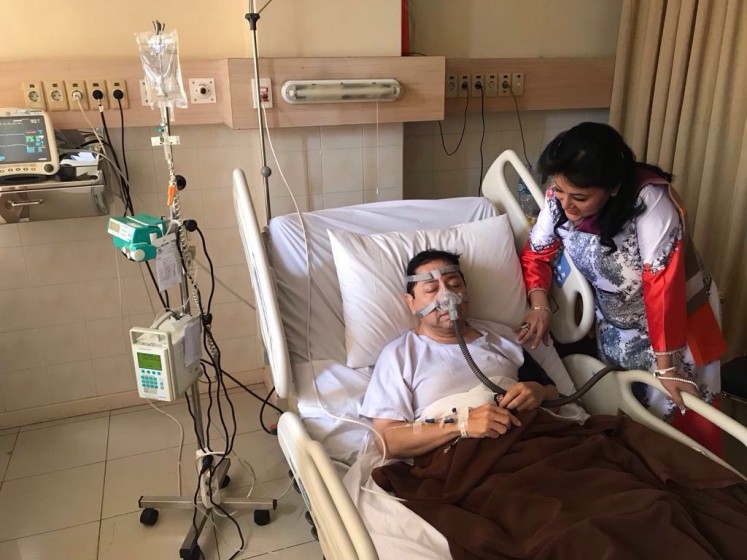 This photograph of House of Representatives Speaker and Golkar Party chairman Setya Novanto receiving intensive care at Jatinegara Premier Hospital drew widespread criticism that he had posed for the shot, and inspired a slew of satirical memes. (Twitter/Twitter)
But antigraft activists, and those who still have faith in the country's anticorruption movement, kept their fingers crossed. The law allows the KPK to rename Setya a suspect so they believe he is not totally off the hook yet.
Inevitably, a viral image that suggested the KPK had just named Setya a suspect again quickly raised the spirits of such people on Monday.
The letter depicted in the image bore the KPK letterhead and appeared to be signed by KPK director of investigations Brig. Gen. Aris Budiman on Nov. 3. The letter also implied that a new sprindik (letter ordering the start of an investigation) into Setya had been issued on Oct. 31.
Many media outlets were too impatient to wait for official confirmation from the antigraft body and decided to run the story, with at least two major national newspapers making it their cover story.
KPK Bantah Ada SPDP Baru untuk Setya Novanto - News Liputan6https://t.co/BezMINfkJU
"Dari Awal saya ragù berita tsb - mana Berani KPK"

— Muhammad Said Didu (@saididu) November 6, 2017
And on Tuesday, KPK spokesman Febri Diansyah confirmed it had indeed issued a new sprindik related to the e-ID case.
"It's a new sprindik with the name of the suspect in it," he told reporters. However, he declined to reveal further details when asked about the viral image.
Setya's lawyer, Fredrich Yunadi, brushed off the circulating image saying he had never received such a letter.
Also on Tuesday, KPK investigators questioned several politicians as witnesses in the case, including Golkar's Chairuman Harahap, Agun Gunandjar Sudarsa and Rudy Alfonso, as well as Teguh Juwarno from the National Mandate Party (PAN) and Miryam S. Haryani from Hanura.
Chairuman and Agun remained tight-lipped about their questioning on Tuesday, while Rudy gave a brief response to journalists' questions.
"[This is] about SN," he said, referring to Setya.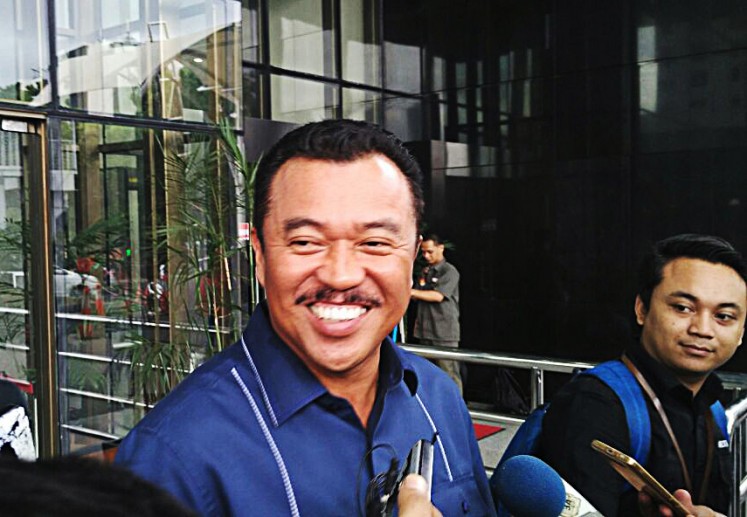 Golkar Party member Rudy Alfonso responds to journalists' questions at the Corruption Eradication Commission's (KPK) headquarters in South Jakarta on Tuesday. Rudy attended a questioning session at the KPK as a witness in the high-profile e-ID graft case. (The Jakarta Post/Kharishar Kahfi)
Indonesia Corruption Watch (ICW) deputy coordinator Agus Sunaryanto said it was understandable that the KPK needed more time to work on the e-ID investigation and possibly rename Setya a suspect.
"However, the KPK should move quicker. I'm worried that many political moves such as the House's inquiry into the KPK will affect its performance," Agus told The Jakarta Post.
Former senior Home Ministry officials Irman and Sugiharto have already been found guilty in the case. Businessmen Andi Agustinus, aka Andi Narogong, and Anang Sugiana Sudihardjo have also been implicated, with the former currently on trial.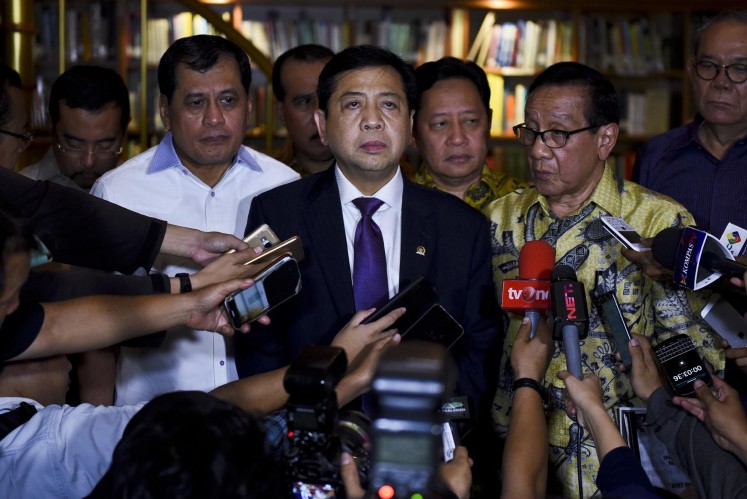 Suspect: Golkar Party chairman Setya Novanto (center) gives a statement to the press after meeting with Golkar's ethics council chairman BJ Habibie in Jakarta on July 24. (Antara/Hafidz Mubarak A)
Join the discussions