State plantation firm PTPN III back in black
Stefani Ribka

The Jakarta Post
Jakarta |

Wed, November 15, 2017

| 11:08 am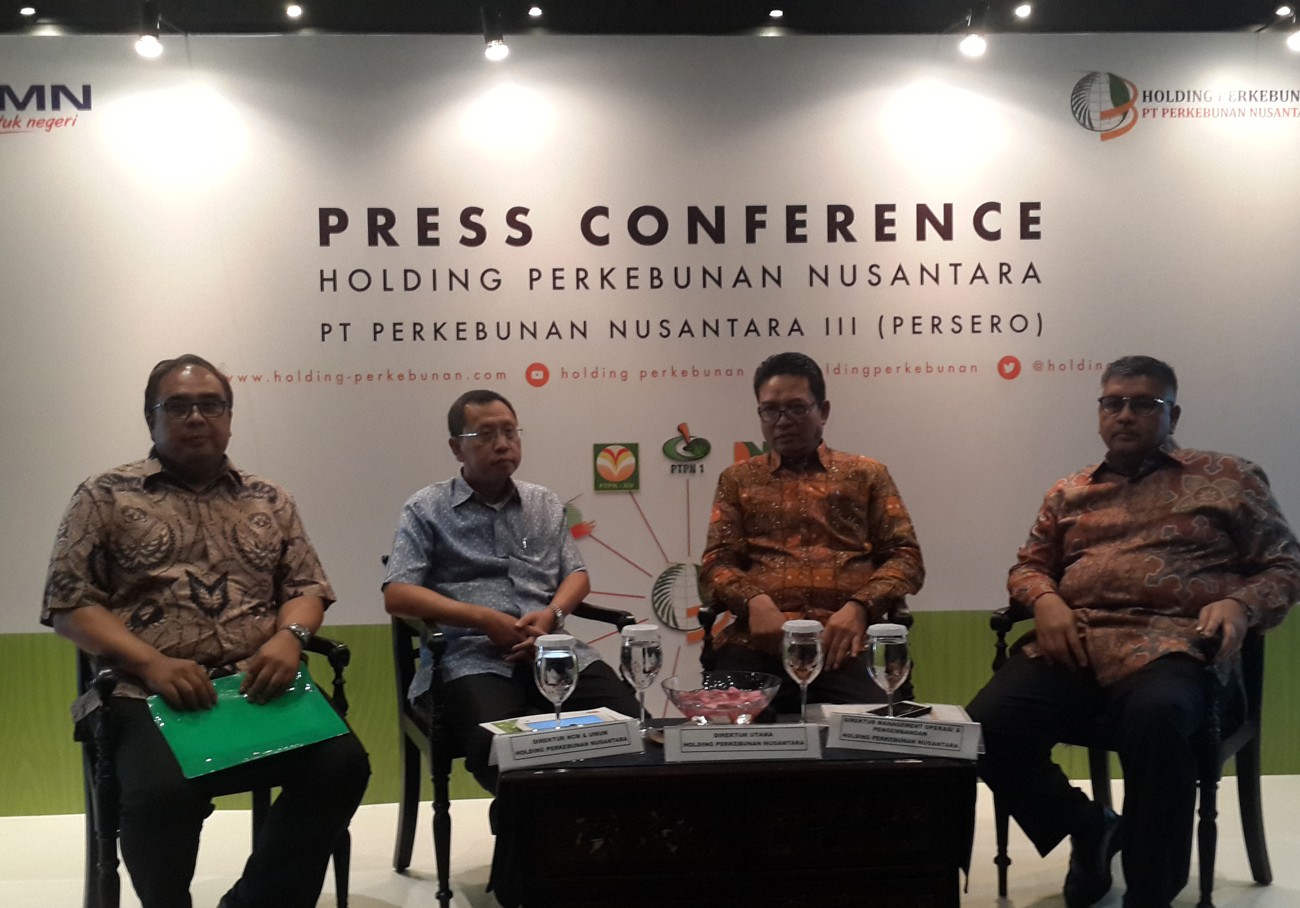 State plantation firm PTPN III president director Dasuki Amsir (second right) speaks at a press conference in Jakarta on Nov. 14, accompanied by corporate secretary Furqan Tanzala (left), human capital management and general affairs director Seger Budiarjo (second left) and operations management and development director Erwan Pelawi. (JP/Stefani Ribka)
State plantation firm PTPN III, a holding company of 14 PTPNs, was back in the black again after booking Rp 921.2 billion (US$67.9 million) net profit as of October, a contrast to the net losses of Rp 805.5 billion it booked in the same period last year.
"Sales and profit have been seeing positive trends this year, thanks to better commodity prices, higher productivity and cost efficiency," Erwan Pelawi, the firm's operation management and development director, said at a press conference on Wednesday.
By the year's end, estimates peg profits to hit Rp 1.2 trillion and sales to reach Rp 37 trillion. As of October, sales were up by 5.2 percent year-on-year (yoy) to Rp 28.2 trillion.
Read also: PTPN III allocates Rp 15t in capex next year
The price of crude palm oil along 2017 is estimated to stand at Rp 8,500 per kilogram in average or 13.3 percent up yoy, while the rubber price is estimated to stand at Rp 24,000 per kg, a 41.1 percent recovery from last year.
Production was also up. Fresh oil palm fruit bunches, for example, was up by 13.1 percent to 6.9 million tons.
Cost efficiency through online procurement – a change from the manual method – contributed to Rp 400 billion in cost cuts.
PTPN III finance has been fluctuating in the past five years with net losses of Rp 1.2 trillion last year and Rp 955 billion in 2015.
As of October, all PTPN profits are in the black, except for PTPN IX and XIII. (bbn)
Join the discussions